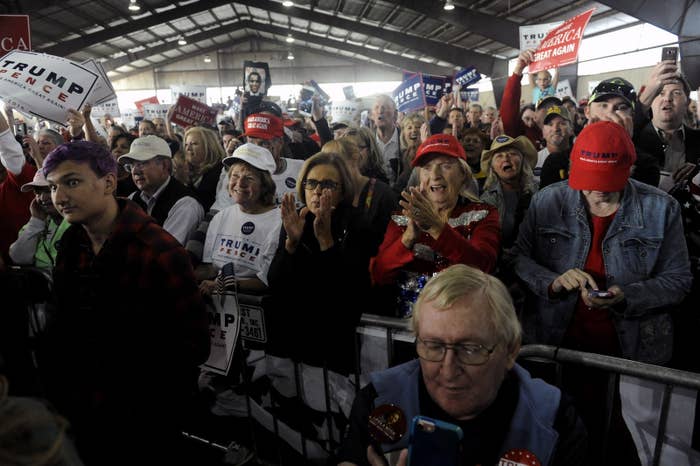 COLORADO SPRINGS, Colorado — Ask women who plan to vote for Donald Trump about his wife, Melania Trump, and they'll list off glowing qualities: "elegant," "supportive," "composed," "strong." But they may also add a caveat.
"She's gorgeous," offered Mattie Van Deusen, a 26-year-old Denver resident who attended Trump's Tuesday afternoon rally in Colorado Springs. "But I don't know a lot about her."
"I don't know all that much about her," echoed Janet Miller of Colorado Springs. "But I'll take Melania over Bill [Clinton] any day."
"I don't really know her," said April Manke, 33, also of Colorado Springs, who wore a Women for Trump pin on her sweater. Does she want to hear more from Melania? "Absolutely. They could utilize her a little more. It wouldn't hurt them."
For as much as she has achieved first-name-only recognition — "Melania Moments" has become a recurring segment on Saturday Night Live — the Slovenia-born 46-year-old ex-model has not played a significant role in her husband's campaign, apart from famously plagiarizing Michelle Obama in her speech at the Republican National Convention. But on Monday night, the eve of the Colorado rally, the Trump campaign appeared to try to "utilize her a little more," granting CNN's Anderson Cooper a sit-down with Melania — her first since Trump's 2005 hot-mic comments to Billy Bush surfaced.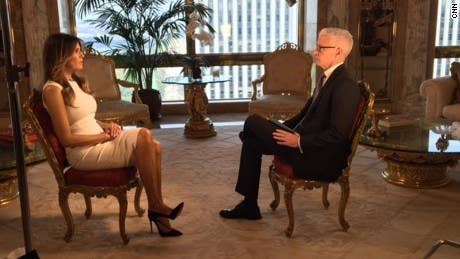 In the interview, Melania said she is "not an attention-seeker" and that she has a "great marriage and strong relationship" marked by independence. "I'm very confident, and I live my life. I take care of myself, and our son, and my husband. I'm doing great," she said.

But the interview's most notable moment came when Melania defended her husband's 2005 comments as "boy talk," adding that he was "egged on from the host to say dirty and bad stuff."
"Sometimes I say I have two boys at home — I have my young son and I have my husband," Melania said.
At his Tuesday afternoon rally, Trump veered away from the ongoing allegations of sexual misconduct against him and stuck mostly to his campaign issues, rousing the crowd with lines like "drain the swamp in Washington, DC," and vowing to rebuild the military and take care of veterans, pleasing residents of a region that's home to five military centers. But Trump did briefly mention Melania's interview, in the context of the "dishonest media" who've "attacked my wonderful family."
"You all saw Melania last night," Trump said. "That she even has to do that is a shame."
Across the board, women who identified themselves as Trump supporters at Tuesday's rally told BuzzFeed News they admired Melania's responses to the tape, which they said have been simultaneously condemning and supportive.
On Melania's "boy talk" observation, Van Deusen — who wore a T-shirt with an illustration of former President Bill Clinton and the word "Rape" in the style of Shepard Fairey's President Obama "Hope" image — said she could "relate" to it.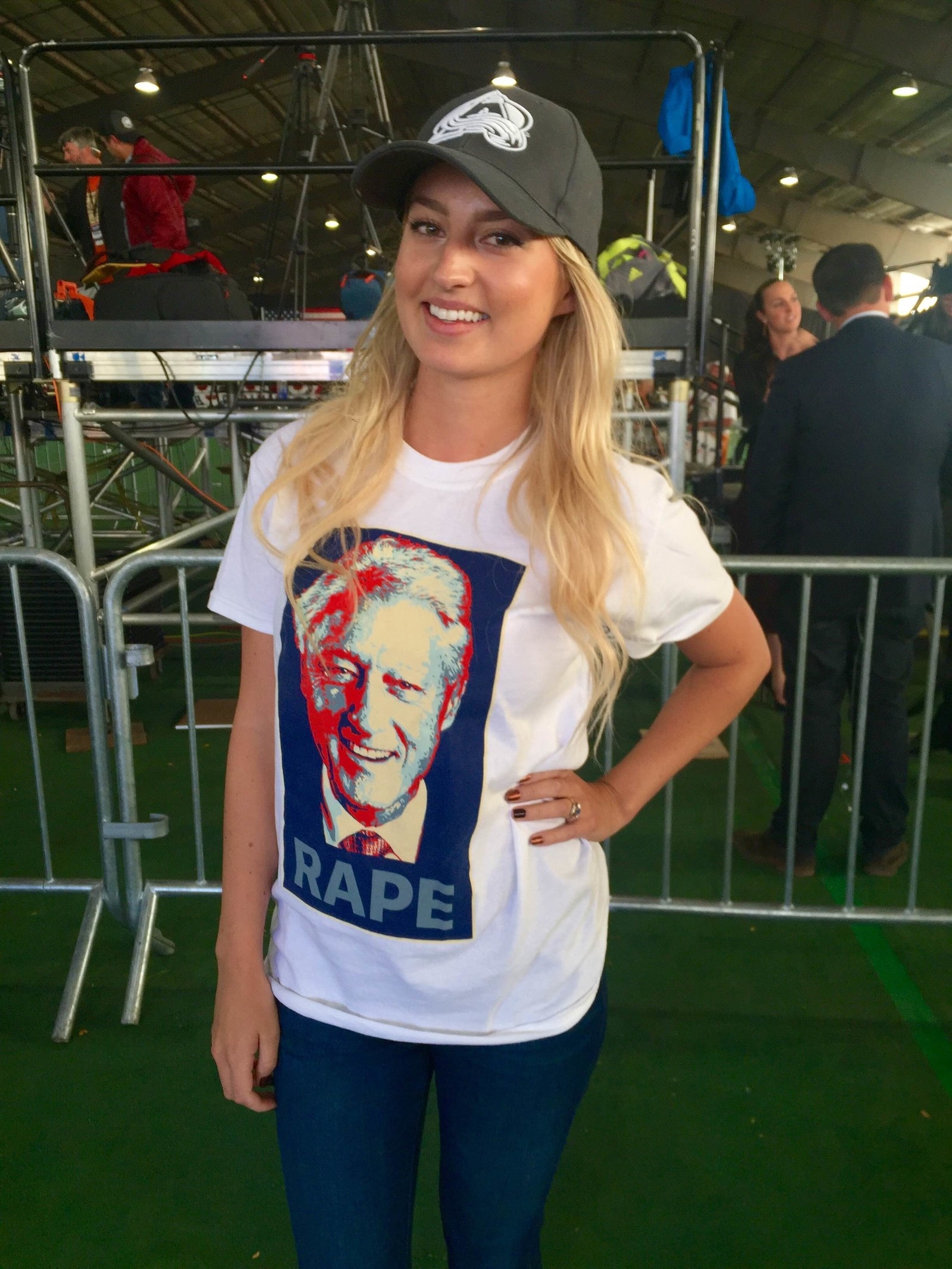 "I like to hang out with guys. I have a potty mouth. I'm not saying men should speak that way, but I don't think it's sexual assault," she said. "People say stuff in private. I know a lot of guys who say messed-up stuff like that."
Stephanie Sandoval, a supporter from Colorado Springs, said she also could relate: "Us girls get together and talk, and we know the boys do the same. We've known that since we were 15. Any real girl knows that."
But non-Trump supporters at Tuesday's rally had different takes. Kristine Huesman, an undecided voter, called Melania's defense of Trump "bullshit," saying "it's not fair to make Billy Bush a scapegoat."
"[Trump] was 59 years old. He was an adult man," said Taryn Shockey, a Gary Johnson supporter and a student at the University of Colorado at Colorado Springs.
"He's strong enough not to be egged on," said Sarah Haertl, a 44-year-old from Lakewood, Colorado, who supports Hillary Clinton but brought her 14-year-old daughter to Trump's rally to educate her about elections. Still, Haertl called Melania's attempt at defending Trump on CNN "a pretty good stab."
"Melania came across as very polished. I don't understand why they don't put her on the trail more. She helps soften him," Haertl said. "An immigrant could be first lady — that's a great story. She might be a better role model than her husband. She's one of the best things his campaign has going for it."
Many Trump supporters agreed with Haertl's call for more Melania.
"I'd frankly like to see more of her at his events," said Sheryl, a Colorado Springs resident who declined to give her last name. "Our country needs strong families and strong couples — [the campaign] could make use of that more often."
Sandoval compared Melania's image to that of Princess Diana. "She's what every girl wants to be: popular, beautiful, smart, well-off, and a good person." Sharon Raehling, a Trump supporter from Littleton, called Melania "well-spoken" with "a lot of charisma," the "best character analysis of Donald Trump that we have," and "totally for America."
But other women supporters said they're not terribly interested in Melania and don't need her to be a public figure like Michelle Obama, whose speeches often draw as much attention as her husband's — and sometimes more.
"We don't see [Melania] on the trail because she wants to be a mother first," said Cindy Schneider of Colorado Springs. "I think that's great. He's strong enough by himself."
And some said they felt it was important for Melania to maintain a more private life, for her own well-being. Lisa Low of Colorado Springs said she's "had a need to pray for Melania since the beginning because I knew she was going to be attacked for being a model."
"I think they're keeping her safe — keeping her out of harm's way," Sandoval echoed. Clinton's campaign "would tear her down and eat her up," Rahling said.
In her Monday night interview, Melania herself said the media has been "mean" to her. It wasn't the first time she's criticized the press; in April, when GQ published a story about Melania's past, she borrowed from her husband's vocabulary, blasting the "dishonest media and their disingenuous reporting." More recently, she threatened legal action against People after a writer for the magazine said Donald Trump sexually assaulted her at the candidate's Mar-a-Lago club. Melania's legal threat centered on an exchange the writer said she later had with Melania on the street in front of Trump Tower.
But in the face of the "dishonest media," Melania said Monday night, she was still "very strong," challenging the vision of some of her husband's supporters as needing protection.
"People, they don't really know me," Melania told Cooper. "People think and talk about me like, 'Oh, Melania, oh, poor Melania.' Don't feel sorry for me. Don't feel sorry for me. I can handle everything."