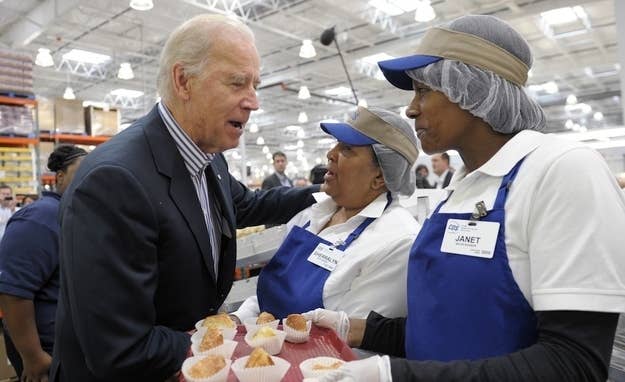 At Thursday's grand opening, Biden met with Costco CEO Craig Jelinek and co-founder Jim Sinegal, who spoke at this year's Democratic Nation Convention. The Vice President reportedly flashed his Costco card to get in and shopped alongside Costco employee Ivey Stewart, who handled his cart.
Biden also spoke briefly about fiscal cliff negotiations, telling customers "folks don't need to see their taxes go up," according to a pool report. His purchases included children's books, fire logs, a 32 inch Panasonic TV and an apple pie. He apparently needed help deciding whether to buy a watch:
Unknown if he bought a watch, though he spent considerable time at the counter looking at them, including a $1,200 one, and put in a call to his daughter, Ashley, saying he needed to "get some guidance"

Before leaving, he placed a call on Ivey Stewart's phone. Couldn't hear what he said, but she broke into tears and got a vice presidential hand on the shoulder and a hug

Biden also availed himself of several Costco food samples, and looked like he enjoyed them ...

He did a loop of nearly the entire store, including bakery and frozen foods

But Biden turned down the employees who were trying to lure him to the
tire department.

"Hey man I don't need tires," he said "I don't drive anymore."