Jesse Jackson Jr. Sentenced To 30 Months In Prison For Misuse Of Funds
"I didn't separate my personal life from my political life, and I couldn't be more wrong," the former congressman said. His wife, Sandra, was sentenced 12 months in prison.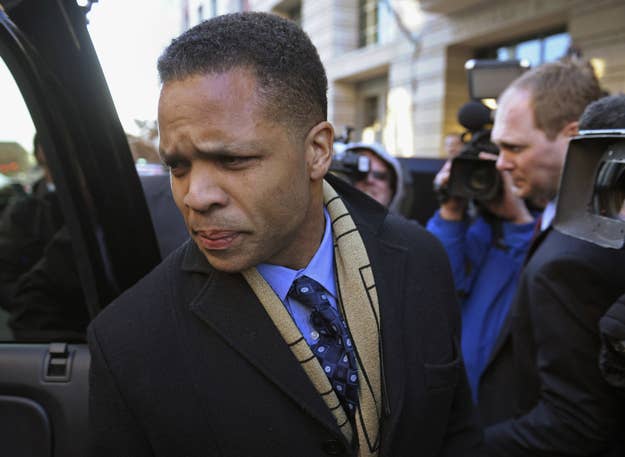 Former United States Rep. Jesse Jackson Jr. was sentenced to 30 months in prison and three years of supervised release Wednesday after admitting to stealing more than $750,000 in campaign funding for his personal use.
"I didn't separate my personal life from my political activities, and I couldn't have been more wrong," he told a Washington, D.C., court in a tearful apology.
Jackson, 48, pleaded guilty in February to conspiring to defraud his campaign for his own benefit. He used funds to buy Bruce Lee and Michael Jackson memorabilia, a Rolex watch, elk heads, and furs.
His wife, former Chicago Alderman Sandra Jackson, who signed off on the congressman's fraudulent tax returns, was sentenced 12 months in prison after asking the court on Wednesday for the chance to be a "support system that my babies will require in the difficult months ahead." (The Jacksons have two children.)
According to the Chicago Sun-Times, Jackson wept Wednesday as he asked the court for mercy in sentencing his wife.
"Give me her time," said Jackson, who's been treated for bipolar disorder and famously won reelection while in rehab.
"This is not [Bernie] Madoff," said Jackson's lawyer Reid Weingarten, who tried to secure an 18-month sentence for Jesse and probation for Sandra. "This is not a Ponzi scheme. The courthouse is not ringed with victims demanding his head."
Jackson reportedly asked the court to send him to federal prison in Alabama, where it's "a little inconvenient for everybody to get to me."