Jeremy Epstein Is (Still) Famous
The 20-year-old "old soul" was the unexpected star of Tuesday's presidential debate — and despite the flood of well wishes, he's never had any trouble with the ladies. His little sister translates the internet: "IM FAMOUS HES FAMOUS WERE ALL FAMOUS."
Jeremy Epstein would like to kill just one rumor.
"I was not wearing my dad's suit," Epstein says. "I'm much taller than my dad. The back of the suit kind of rose while I was sitting and I was too nervous to pull it down."
On Tuesday, the full-time junior at Long Island's Adelphi University stood before President Obama, Mitt Romney and 65.5 million viewers across America to ask the first question of the night's town-hall debate.
"Mr. President, Governor Romney, as a 20-year-old college student, all I hear from professors, neighbors and others is that when I graduate, I will have little chance to get employment," said Epstein, visibly nervous in that hunched-over suit. (Watching from their two-story home in the quiet suburb of Valley Stream, Long Island, Epstein's mother screamed in excitement the moment she saw the back of his head.)
"Can — what can you say to reassure me, but more importantly my parents, that I will be able to sufficiently support myself after I graduate?"
By the end of the night, 13,000 people would tweet the words "Jeremy" and "debate," according to analysis from Topsy — he became a trending topic almost immediately. Reporters and comedians called him the winner of the debate. And everyone wanted to talk to him.
"I think it was CNN, they called my house the minute I asked my question," he says. "My dad almost hung up on them after they said, 'Is Jeremy there?' He was like, 'Are you kidding? He's on TV.'"
Over the next few days, Epstein appeared on Chuck Todd's The Daily Rundown, Piers Morgan Tonight, major networks and local affiliates. And on Saturday, he was played by Fred Armisen in the cold open of Saturday Night Live.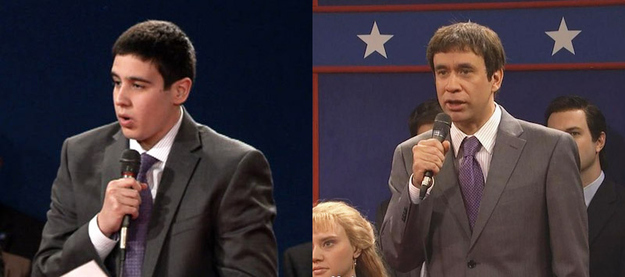 "I enjoyed it, especially Fred Armisen. I mean, he used to play the president," Epstein told BuzzFeed on Monday, his Long Island-via-Brooklyn accent slower and sleepier than it was on Tuesday. "I felt so proud and ashamed at the same time. The worst part is that I tweeted at SNL and said, 'If you're going to parody me, can I at least be in the audience?' They never replied."
Epstein will watch Monday's debate at ABC News' New York studio as part of a Google+ Hangout. He's relatively new to social media, but is catching on quickly, particularly to Twitter. He joined in 2009 "because Shaquille O'Neal had one," but got bored and deactivated his account. After the debate, his sister urged him to bring it back.
In fact, 17-year-old Kayla Epstein has played a big role in Epstein's strange newfound fame. Not only did she offer a connection for all the reporters trying to find his online trail — tweeting, "JEREMY EPSTEIN IS MY BROTHER IM FAMOUS HES FAMOUS WERE ALL FAMOUS." But she's also the reason he was invited to the debate at all.
Gallup representatives looking for debate participants in Nassau County had already called the Epsteins at random once before, but Jeremy's mom ignored it. The second time, Kayla answered, recognizing Gallup's name on caller ID from a statistics project she did. She's not old enough to vote, so she passed the phone to her older brother, who lives at home. Jeremy was asked if he was undecided — yes — and interested in attending the debate. One background check later, he was submitting his four questions to CNN's Candy Crowley (and, he admits, pestering her before the debate to see if one had been chosen).
Unlike his peers, Epstein doesn't consider himself very Internet- or technology-savvy. He didn't know what a meme was — and that he had become one — until Kayla explained it to him.
"They were funny, I'm not gonna lie. But my sister was the one going crazy over the memes," Epstein says. "I'm an old soul in a 20-year-old's body. I was like, 'Kayla, I have no idea what that even is.'"
For the past week, Epstein's 15 minutes have burned hot and fast, driving him dozens of media and Facebook requests alike. People claim to be his cousin, or know him from sleepaway camp. (Epstein has never been to sleepaway camp.)
"The other day, I went to eat lunch in the school cafeteria after a long day of doing interviews," he recalls. "Right then, my face was on the TV — some show was doing a debate recap. So all the sudden, every student watching slowly turned their heads and stared at me."
People do double-takes when they see Epstein at the mall. And when he went to his high school's homecoming last week, he was flooded with people wanting pictures with him. But he doesn't think he would have gotten this same reaction at a town-hall debate eight years ago.
"Everything happens so fast, and the Internet has made it so people take small portions of a large answer or moment and focus on that," he says. "There's me, there's the binders full of women comment. People took these pieces instead of the debate as a whole."
Epstein, a Yankees fan who plays basketball to blow off steam (and even invited Obama for a round), says he would vote for the President if he had to vote today. He was raised in a generally middle-class, Democratic, Jewish home — his mother teaches at a Brooklyn junior high and his father is a school athletic director. He's garnered a few job offers since the debate, but he doesn't want employers to hire him for being the dorky college kid at the debate. He says he wants to get a job (in either exercise science or sports journalism) based off his resume and hard work.
That's not to say he isn't enjoying his 15 minutes. In addition to the suit gags, Epstein was well-aware of another running joke about him Tuesday night.
"Jeremy Epstein might have a hard time getting a job out of college, but he certainly won't have a hard time getting laid this weekend," musician Mark Ronson tweeted (and more than 270 others retweeted).
Of course, Epstein saw this — and many more like it.
"You know, before the debate I didn't have any trouble with that," he says. "But this whole thing certainly hasn't hurt."