ISIS Appears To Behead American Photojournalist In YouTube Video
Updated: Family grieved Tuesday for James Wright Foley, who was kidnapped in November 2012 in Syria. In the video, the Islamic State of Iraq and Syria, or ISIS, indicates the killing is a response to recent American operations in Iraq.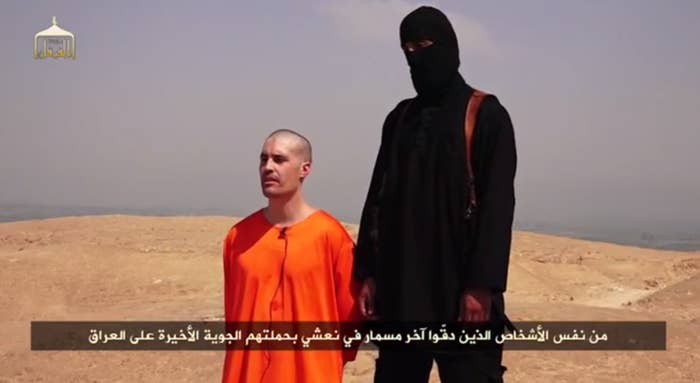 "A Message to America," a video uploaded Tuesday to YouTube, begins with a clip of President Obama announcing his recent authorization of targeted airstrikes and a humanitarian operation in Iraq. Then, around the two-minute mark, a man believed to be James Wright Foley, 40, delivers a statement:
"I call on my friends, family and loved ones to rise up against my real killers: the U.S. government," he says, before specifically addressing his brother John, a member of the U.S. Air Force. (A full transcript of his last words was posted online by the blogger Brown Moses and can be found here.)
About two minutes and 20 seconds later, the man is apparently beheaded. His executioner, whose face is covered, has what sounds like a British accent and threatens that "any attempt by you, Obama, to deny the Muslims their rights of living in safety under the Islamic caliphate will result in the bloodshed of your people."
Shortly after the video was posted, two people who know Foley said the man in the video appears to be him, and that the voice sounds like his. Later on Tuesday, his mother Diane Foley begged his kidnappers to spare the lives of other hostages.
"We have never been prouder of our son Jim," she wrote. "He gave his life trying to expose the world to the suffering of the Syrian people."
The FBI is "in the process of evaluating the video posted by the Islamic State to determine if it is authentic," GlobalPost CEO Philip Balboni said in a statement. Foley and his translator were working for GlobalPost in Binesh, Syria, when they were taken.
The propaganda video ends with a shot of another kneeling man in orange, believed to be missing journalist Steven Sotloff. "The life of this American citizen, Obama, depends on your next decision," the executioner says.
While on Air Force One, the president was briefed by Deputy National Security Advisor Ben Rhodes on a recently released video by ISIS. The president will continue to receive regular updates, Principal Deputy Press Secretary Eric Schultz said.
A version of the clip viewed by BuzzFeed was removed from YouTube after about 20 minutes, though others have been uploaded since.
"YouTube has clear policies that prohibit content like gratuitous violence, hate speech and incitement to commit violent acts, and we remove videos violating these policies when flagged by our users," a spokesperson for YouTube said. "We also terminate any account registered by a member of a designated Foreign Terrorist Organization and used in an official capacity to further its interests."
"We have seen a video that purports to be the murder of U.S. citizen James Foley by ISIS," said NSC spokesperson Caitlin Hayden. "The intelligence community is working as quickly as possible to determine its authenticity. If genuine, we are appalled by the brutal murder of an innocent American journalist and we express our deepest condolences to his family and friends. We will provide more information when it is available."
GlobalPost also revealed Tuesday evening it had launched "an extensive international investigation" into Foley's whereabouts shortly after his kidnapping.
"Although GlobalPost's investigation at one point led us to believe that James was being held by the Syrian government, we later were given strong reason to believe he was being held by Islamic militants in Syria," Balboni said in his statement. "We withheld this information at the request of the family and on the advice of authorities cooperating in the effort to protect Jim. GlobalPost, working with a private security company, has amassed an enormous amount of information that has not been made public."
Northwestern University, where Foley studied journalism, also issued a statement on Wednesday
Our Medill family is shocked and deeply saddened by the news of the murder of Jim Foley. He was a courageous reporter who risked his life repeatedly to seek the truth around the world.

Journalists face threats in many forms as they try to report difficult stories that need to be told, but the attack on Jim was barbaric. It was, in a larger sense, an attack on freedoms necessary in a civilized society and across strained cultures. Jim endures for us as a beacon reminding us of the risks implicit in shedding light where inhumanity can take hold.

Our thoughts today are with Jim's parents, Diane and John, and the entire Foley family and their friends. We ask that all Medill and Northwestern students, faculty, staff and alumni join us in remembrance of Jim Foley. The loss of such a distinguished alum affects us all.