International And Domestic Support For Syria Intervention Continues To Diminish
Everything you need to know about the crisis in Syria. Friday, Aug. 30, edition.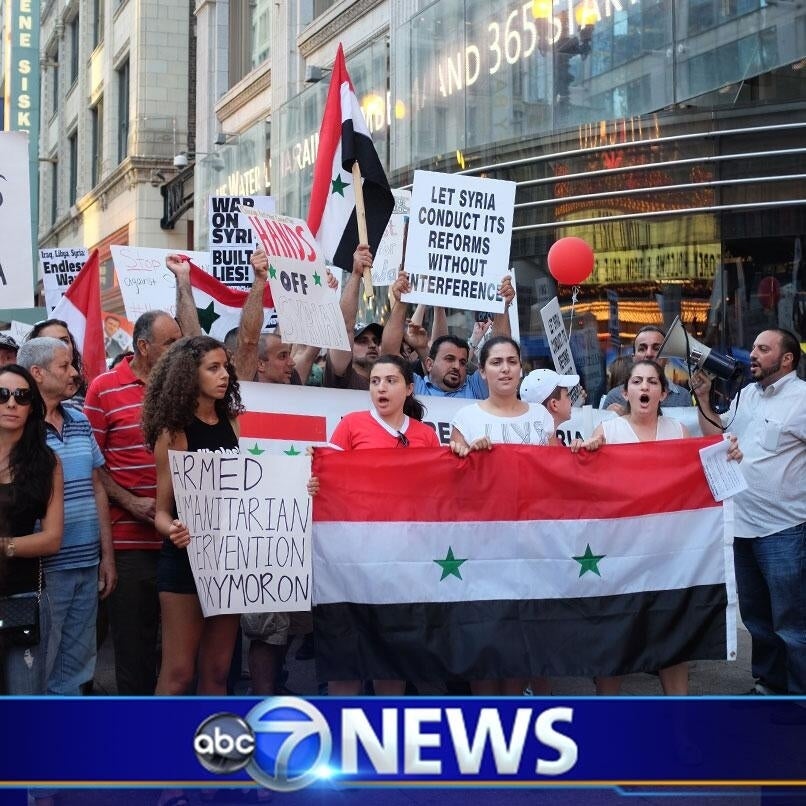 • Small anti-intervention protests broke out in Chicago and D.C., as polls show that Americans are divided over military action in Syria.
In a poll conducted by NBC News, 50% of Americans said they are against U.S. intervention in Syria following the apparent chemical attack that killed hundreds in a Damascus suburb. Fifty percent, however, favor a U.S. intervention plan that involves launching cruise missiles from naval ships.
According to the poll, nearly 80% of Americans want congressional approval before the U.S. takes any military action.
While the results aren't ideal for those who favor swift intervention, the numbers are much higher than those in an Aug. 24 Reuters/Ipsos poll that found only 9% of Americans think Obama should act in Syria.
• On Friday, the White House is expected to publish the declassified version of an intelligence report on the gas attack. Options for intervention were shared in a call with some members of Congress Thursday night.
CBS News reports that Friday's report will be released along with a legal justification for U.S. intervention without United Nations approval — a step the U.K. government also took before debating the measure in the House of Commons Thursday night.
As part of its full intelligence report, CNN reports, the U.S. has intercepts of Syrian officials discussing the gassing before and after it apparently happened.
During Thursday's teleconference with members of Congress, top U.S. officials reportedly said the gas attack's death toll was 1,300, according to Rep. C.A. Dutch Ruppersberger, contradicting the widely accepted Doctors Without Borders count of 355.
In a statement about the call, Sen. Jim Inhofe, a Republican on the Senate Armed Services Committee, said the White House failed to present a comprehensive plan for intervention.
"The Administration informed us that they have a 'broad range of options' for Syria but failed to lay out a single option. They also did not provide a timeline, a strategy for Syria and the Middle East, or a plan for the funds to execute such an option."
Sen. Carl Levin, the Democratic chairman of the Armed Services Committee, also issued a statement following the call, in which he said the U.S. should postpone its decision until United Nations inspectors publish their report from the Damascus neighborhood where the attack is believed to have occurred.
"I have previously called for the United States to work with our friends and allies to increase the military pressure on the Assad regime by providing lethal aid to vetted elements of the Syrian opposition. Tonight, I suggested that we should do so while UN inspectors complete their work and while we seek international support for limited, targeted strikes in response to the Assad regime's large-scale use of chemical weapons against the Syrian people."
After the call, House minority leader Nancy Pelosi joined Speaker John Boehner in urging President Obama to consult "all members of Congress" about intervention.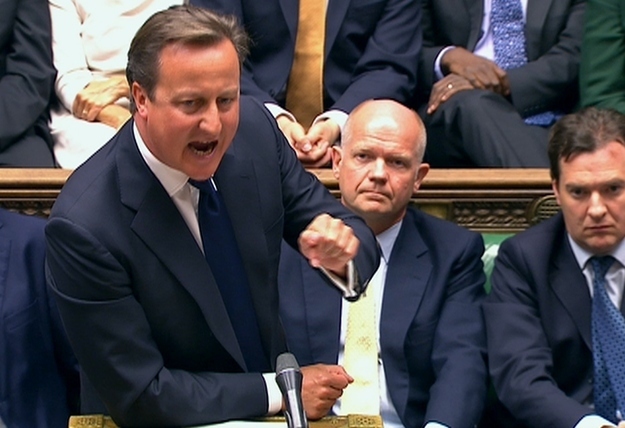 • The "humiliated" U.K. government will continue to support U.S. efforts while respecting Parliament's decision to not move forward with intervention.
On Friday, Prime Minister Cameron said again that he will respect the House of Commons' very close decision to not intervene in Syria. Cameron said he doesn't need to apologize to the U.S. and will continue to advocate for a "robust response" in Syria.
"I was faced with three things I wanted to do right and do in the right way," Cameron said after his so-called humiliation:
"First of all, to condemn absolutely and respond properly to an appalling war crime that took place in Syria. Secondly, to work with our strongest and most important ally who had made a request for British help. Thirdly, to act as a democrat, to act in a different way to previous prime ministers and properly consult parliament. I wanted to do all those three things. Obviously politics is difficult - that involved going to parliament, making an argument in a strong and principled way but then listening to parliament. I think the American people and President Obama will understand that."
Labour leader Ed Miliband, who had withdrawn his support for intervention prior to the vote, said he doesn't "think the government should wash its hands of this issue. I think all of the focus of the prime minister and the government in the coming days needs to be working with our allies to find other ways to press President Assad."
The White House issued a statement saying the House of Commons' vote will not affect "President Obama's decision-making."
"The U.S. will continue to consult with the UK government — one of our closest allies and friends. As we've said, President Obama's decision-making will be guided by what is in the best interests of the United States. He believes that there are core interests at stake for the United States and that countries who violate international norms regarding chemical weapons need to be held accountable."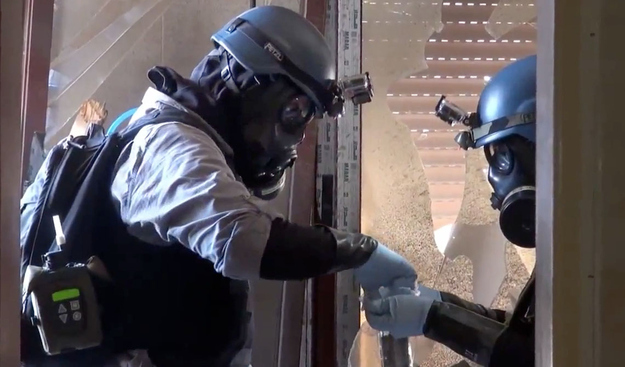 • U.N. officials are finishing up their investigation in the Damascus suburbs where the attack apparently occurred, while clashes break out around them.
Early on Friday, the Syrian army reportedly bombed rebel-held neighborhoods of Damascus.
"Violent fighting is pitting regular armed forces against rebels on the northern and western fronts of Moadamiyet al-Sham," the Syrian Observatory for Human Rights said on Friday, referring to one of the neighborhoods affected by the alleged gas attack.
Meanwhile, The Washington Post reports, about 8,000 Syrians who fled Damascus following the apparent gas attack are stranded at the Syria–Jordan border, blocked from entering the neighboring country.
"We have no money, no food, no home and now nowhere left to go," one Ghouta refugee told the Post. "Sometimes I believe we would be better off dead."
• More international reaction:
France's parliament is expected to debate intervention on Friday. President Francois Hollande told Le Monde that the "chemical massacre of Damascus cannot and must not remain unpunished."
Germany's foreign minister said the country has ruled out joining any intervention. "The U.N. Security Council has to consider this," said Steffen Seibert, a spokesman for German Chancellor Angela Merkel.
Reuters reports that Turkey's foreign minister says there is "no doubt" the Syrian military is responsible for the apparent attack.
China is urging the U.S. to wait for the U.N. investigators' report. "Before the investigation finds out what really happened, all parties should avoid prejudging the results, and certainly ought not to forcefully push for the Security Council to take action," Foreign Minister Wang Yi reportedly told U.N. Secretary-General Ban Ki-moon.
Russia, Syria's chief ally, is reportedly pleased with the British Parliament's vote. "People are beginning to understand how dangerous such scenarios are, especially when (the use of force) is not sanctioned," said Yuri Ushakov, an aide to President Vladimir Putin. "Russia is actively working to avert a military scenario in Syria."
In a Wednesday phone call with Putin, Iran President Hassan Rouhani reportedly said Iran will "apply all efforts to prevent" U.S. military action in Syria, which would "have a big amount of costs for the region."