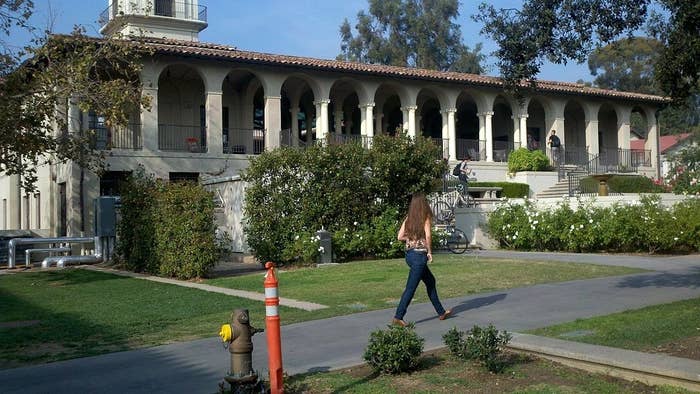 LOS ANGELES — Festering complaints that Occidental College's administration has retaliated against those who speak up about sexual violence have broken open with new revelations of how faculty and students were allegedly treated after they reported sexual assaults or supported those who did.
The tony liberal arts college was thrust into the spotlight last week when the Los Angeles Times fired investigative reporter Jason Felch, who had been covering how the school handles cases of sexual misconduct.
The Times dismissed Felch after Occidental representatives provided evidence that he got a key figure wrong in a Dec. 7 story. Separately, Felch disclosed to his editors an "inappropriate relationship" with a source who provided information for that story.
For the first time, the woman Felch was involved with — a faculty member critical of Occidental's administration — has told her story, describing acts that she said are reflective of the suspicion and tension felt by the school's critics on campus.
For example, she said, while serving as a faculty advocate for a female student allegedly raped by a tennis player last spring, a tennis ball — bearing the letters SCIAC, for the Southern California Intercollegiate Athletic Conference — was placed and replaced in her campus mailbox for weeks. Days before the school approached the Times for a correction, her workspace was broken into; while nothing was stolen, she said, pages from her journal that referenced her relationship with Felch were laid out on her desk.
Other faculty members also told BuzzFeed of break-ins and activities they found suspicious. Last summer, Caroline Heldman, chair of Occidental's politics department, added a disclaimer to the bottom of her work email signature: "Please be aware that Occidental College administrators are tracking this email." She told BuzzFeed her office was broken into three times last spring, in what she suspects were attempts to intimidate her into quelling her criticism of the school.
Allegations of retaliation at Occidental have been formally lodged in a confidential "Title IX" complaint with the Department of Education's Office for Civil Rights. Title IX is a federal law that requires schools to "respond promptly and effectively" to sexual violence and harassment, prevent recurrence, and address its effects.
In that document, obtained by BuzzFeed, current and former Occidental students, faculty, and staff allege that they were verbally reprimanded or even lost jobs at the college after speaking up about the school's sexual misconduct policies or supporting those who did.
The complaint alleges that the school downsized the responsibilities of the director of the school's sexual assault prevention and education program after he showed support to those critical of the administration. A staff member wrote that he believed his job was terminated while on medical leave because he criticized the administration for how it reported sexual assaults.
While the existence of this complaint has been known, most of its specific allegations have not previously been reported.
In a statement to BuzzFeed, Occidental Director of Communications Jim Tranquada said the college hasn't seen the Title IX complaint but takes "the issue of retaliation seriously and responds quickly and appropriately when such allegations are made."
He said that neither the college nor its PR firm had "played any role" in Felch's firing. In dealing with the Times, the college's only goal was to ensure accuracy, he said. Felch's story didn't meet the standard of responsible journalism, Tranquada said, "and it was for this reason alone the college lodged its successful protest."
"[Some] critics are suggesting that Occidental's effort to set the record straight is part of a larger conspiracy to silence critics and distract attention from Title IX deficiencies," Tranquada said. "They have even gone so far as to accuse the college of snooping on faculty email and breaking into faculty offices. As we have said repeatedly, these allegations are false and completely unfounded."
But with Felch's firing, the standoff between the faculty and the administration appears to have intensified. A recording obtained by BuzzFeed of a March 18 meeting between Occidental President Jonathan Veitch and the faculty captures the acrimonious atmosphere. During the 30-minute question-and-answer session, one faculty member alleged "dirty tactics" were being used, and another said Occidental is "not the kind of college I want to be at."
Told that BuzzFeed had obtained the recording, college spokesman Tranquada called the leak "disturbing and unlikely to help rebuild trust on campus."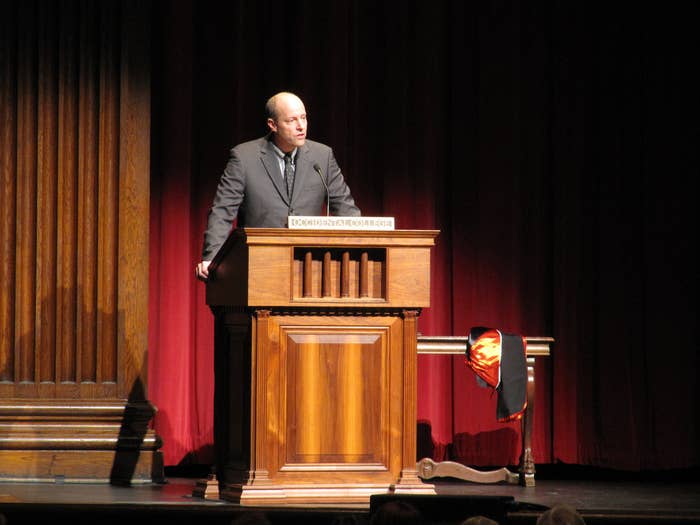 The controversy at Occidental — a small, private college in Los Angeles' Eagle Rock neighborhood that charges $44,570 a year in tuition and fees — dates back to at least April 2013. That's when Caroline Heldman and others with the Oxy Sexual Assault Coalition — or OSAC, a campus advocacy and awareness group unaffiliated with the administration — filed Title IX and Clery Act complaints, alleging Occidental didn't follow federal laws in investigating and disciplining sexual misconduct. The Clery Act requires that schools disclose crime statistics, including forcible and non-forcible sex offenses, that occur on campus, in public areas adjacent to campus, and at certain "non-campus facilities."
In October 2013, Felch and fellow reporter Jason Song wrote that Occidental acknowledged its failure to disclose 24 reports of sexual assault to federal officials in 2010 and 2011. On Dec. 7, Felch wrote that Occidental failed to report an additional 27 allegations in 2012.
On Jan. 20, the college said, it hired G.F.Bunting, a crisis communications firm headed by former Los Angeles Times editor Glenn Bunting. Another executive at the firm is Ralph Frammolino, Felch's former reporting partner and co-author of Chasing Aphrodite, a book about the J. Paul Getty Museum's dealings in the illegal antiquities. Frammolino and Felch have since fallen out, according to three sources familiar with the circumstances of Felch's firing.
Occidental president Veitch explained why the college hired the firm: "As I heard that Ralph had written a book on the Getty with Jason Felch, that seemed to be a great way to understand how Jason was thinking about the story," he said at the March 18 faculty meeting. "If [the firm] didn't have any connection we wouldn't have had access to the Los Angeles Times. We chose somebody that had worked for that newspaper before."
Veitch said he knew Frammolino and Felch had a "financial relationship" that presented a "conflict of interest," which is why, he said, Frammolino was kept out of discussions with the Times.
Still, one faculty member at the meeting said, "It looks like we hired a firm that had somebody who could find a way of discrediting [Felch] and ruining his career, and that's the kind of aggressive behavior on the part of the college — if that's what's going on … If that's the way we're operating in this public arena, that's not the kind of college I want to be at."
Citing the firm's nondisclosure agreement with its clients, G.F.Bunting officials declined to comment. Felch also declined to comment.
On March 3, six weeks after G.F.Bunting was hired, it approached the newspaper with concerns about Felch's reporting, according to the three sources. In two meetings, the firm presented information to Times editors indicating that "the 27 incidents did not fall under the [Clery Act's] disclosure requirements for a variety of reasons," according to a March 14 editor's note.
In that note, the Times also said that Felch revealed to editors that he had an "inappropriate relationship with someone who was a source for the Dec. 7 story and others Felch had written." Felch told the Times of the affair right after he learned that G.F.Bunting had contacted the paper, the sources said.
Felch later said in a statement that he was "dismissed for creating the appearance of a conflict of interest," and disputed some of Occidental's version of events, with outlets from the Washington Post to The Wrap covering the imbroglio. The Los Angeles Times referred all of BuzzFeed's questions regarding Felch's firing to its editor's note.
When pressed at the March 18 faculty meeting, Veitch said Felch's "inappropriate relationship" was "news to us." Later, in its statement to BuzzFeed, the college clarified that the "first time Occidental learned about the relationship and firing was immediately prior to online publication of the editor's note."
The source who was romantically involved with Felch said she believes she's suffered retaliation and worries about more. When approached by BuzzFeed for this article, she initially agreed to be named but later changed her mind.
She described a series of events beginning in the spring of 2013, when she ramped up her work advocating for victims of rape and sexual assault. About a month before the tennis balls began appearing in her mailbox, she spoke to reporters about Occidental's failure to notify students about an on-campus rape report. Five days later, college president Veitch sent a campus-wide email expressing dismay at " a number of well-intentioned people [who] have chosen to cast our motives into doubt; vilify dedicated, hard-working members of Student Affairs; question the sincerity of our response; and actively sought to embarrass the College on the evening news." (Two weeks later, in a separate campus-wide email, Veitch apologized for his tone.)
Around this time, she and Heldman said, administrators would reference matters that they had discussed in private emails with other people. Once, after meeting with sexual assault policy consultants hired by the school to compose its own investigation, the source returned to her office to find her previously locked door wide open. A stack of student papers had been removed from her desk.
These incidents all occurred before the source met Felch in late August 2013, she said. They began an extramarital affair in late December 2013, lasting "intermittently for a period of time," though the relationship has since definitively ended, she told BuzzFeed. The source said she believed no one knew about the relationship while it lasted.
In February, the source said, concerned about her office's safety, she reserved a private locked library carrel, only telling four colleagues about it. She said that she arranged for the carrel via Occidental email, and that the carrel was unmarked, with no sign or indication that it belonged to her.
She recalled that on March 1, as she went to use the carrel for the second time, she discovered that it was broken into and vandalized. Her work was shredded in pieces on the floor and desk, apparent in photos she showed BuzzFeed. Most disturbing, she said, was that a few loose-leaf pages from her journal that she had stored inside a textbook were removed and laid out on top of the desk. Those pages referenced her relationship with Felch. She said she notified a librarian, who called Occidental Campus Safety.
In his statement to BuzzFeed, Occidental spokesman Tranquada said "the College and its PR firm had nothing — nothing — whatsoever to do with the March 1 break-in." The college told BuzzFeed its investigation is still ongoing.
The source said she firmly believes the college has retaliated against people who've been critical of the school's sexual misconduct policies. But she emphasized that while she finds the timing of the carrel break-in "peculiar," she doesn't know who's responsible for it. Still, "to see that it had been vandalized and broken into was another reminder to me that this is not a safe place for you to be," she said. "And for whoever's doing it, for whatever reasons, it's terrifying."
Today, when discussing issues related to the college, Felch's source only uses a "burner" phone — a black, lightweight, modern model, made to resemble a Blackberry — that she bought after the March 1 break-in. She paid for her new phone in cash.
"It's not about, 'They're tracking my location,' or anything like that," she said. "It's just to be able to speak freely and not have to worry about what I'm saying."
For weeks, she said, her personal iPhone had been acting strangely: flashing every few minutes while she wrote text messages or emails, as if the phone were taking screenshots, and running the battery down seven or eight times a day. She would restore the phone to its original settings and those problems would stop, only to gradually return.
She alleged the most recent digital oddity came on March 14, the day of Felch's firing. She said she "never deletes anything," but on that day she noticed files missing from her digital archive, where she stores documentation about the school's handling of sexual assault cases, including recent notes about its hiring of G.F.Bunting.
"As if with surgical precision, anything regarding the PR firm has been removed from that archive," she said. "I don't know who would have had the capabilities to do this."
"I sound so conspiratorial," she said. But surveillance is one of her research areas; she said she knows how easy and untraceable electronic monitoring can be. And now she knows the feeling of being watched.
"My ability to work has been shattered — my ability to concentrate," she said. "Whether or not you're actually being surveilled, if you think you are, it's still destructive."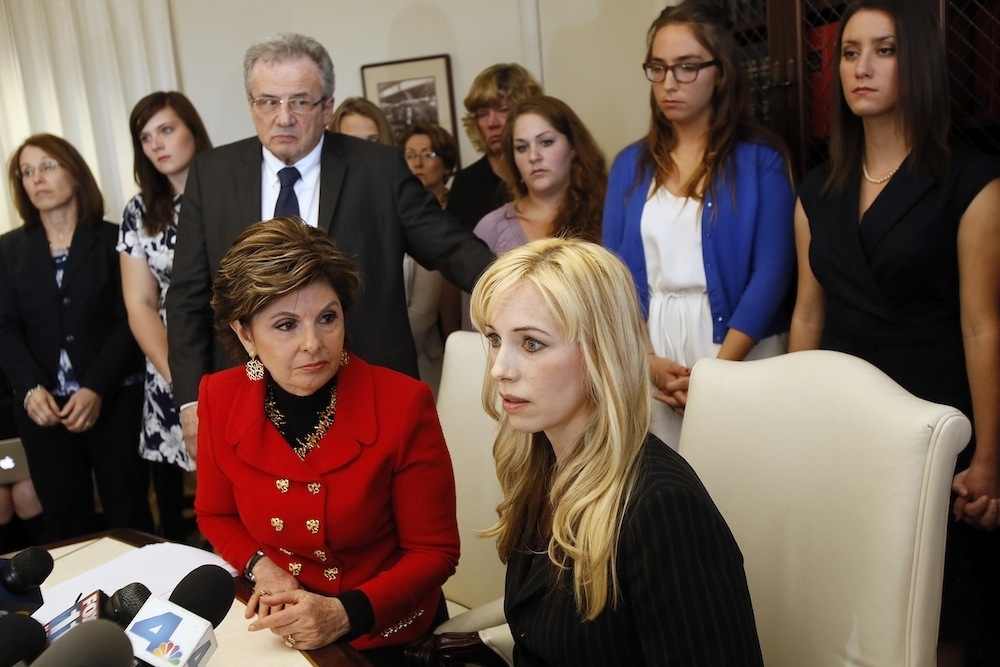 The most complete record of retaliation allegations against Occidental is the Title IX complaint, which Heldman filed on behalf of 37 complainants last April. The following month, the Department of Education's Office for Civil Rights opened an investigation into the college. Since then, 16 additional people have joined the complaint, Heldman said.
In the version of the complaint obtained by BuzzFeed — updated last week — at least 17 individuals or groups of people describe acts of retaliation.
Occidental said it doesn't have a copy of the Title IX complaint and hasn't had the chance to review any of these allegations.
One Occidental student alleged that two weeks after speaking publicly about her assault at a campus event — calling for the school to take students' concerns seriously — she was told her work-study job in an administrative office was being eliminated at the end of the semester. The basis for the decision, she was told, was a specific conversation she and another complainant had with a third party about sexual assault issues in the office. (Both students said that they didn't remember this conversation, according to the complaint.)
"I thought these were people I could trust and now I feel like they are waiting for me to mess up at something for an excuse to fire me," one of the students said in the complaint. "I feel that I'm being watched carefully by my employers for anything I say or do that might give them a reason to treat me unfairly; I feel like they are trying to limit my voice on campus."
In another allegation in the complaint, a student employee with ties to OSAC said that one night she drove an alleged rape victim who was bleeding vaginally to a hospital's sexual assault reporting center. Days later, after being initially praised by superiors, she was told by two deans that they saw her actions "as an attack" on her department, according to the complaint.
Three students who were programming assistants at Project SAFE — the school's sexual assault prevention and education program — said in the complaint that they were retaliated against for supporting OSAC. One of the three, who identifies as a rape survivor, wrote that she was verbally reprimanded for joining an on-campus demonstration and that her responsibilities steadily diminished throughout that school year.
The complaint also includes two faculty members saying they and six others had their laptops seized by the college last summer. They were told it was the school's "legal obligation to preserve all information in its possession, custody or control which is or may be relevant to the [Office for Civil Rights'] investigation and the possible litigation," according to an email from the school's chief technology officer included in the complaint. The faculty members believe, however, that they were targeted in the seizure as "vocal and helpful advocates to students involved in rape adjudication cases."
It was after the laptop seizures, Heldman said, that she added the warning on her work email that the college might be "tracking" her correspondence. Multiple other faculty members told BuzzFeed they believed their work communications could be monitored, while acknowledging that the school may have the legal right to do so. Last summer, former philosophy professor Kory Schaff sent an email to the faculty listserv about why he left the college:
The culminating reason I did not apply for tenure at this college can be traced to an incident in May 2009 involving the violation of my email privacy by Sandy Cooper (former General Counsel). Not only did she read an email I did not send to her, she attempted to use her official position to violate my academic freedom of speech regarding said email. Although I filed a grievance against her by following Faculty Handbook procedures, no facts were discovered about how she acquired that email, or who gave it to her, or who authorized her failed attempt to intimidate me.
Cooper could not be reached for comment.
Tranquada told BuzzFeed, "Occidental College does not monitor or inspect, and has not directed anyone to monitor or inspect the email of any faculty, staff, student or administrator without their knowledge in any way."
Some Occidental students have tried to raise men's awareness of sexual assault on campus. But Tyler Kintz, a Title IX complainant and former Occidental football player hired at Project SAFE to help engage with male athletes, told BuzzFeed that he lost his programming assistant job in 2012 over his criticism of the dean of students and assistant dean of students. He said he was told to resign or be fired, and that he chose to resign.
"They wanted me to be a silent partner in what they were doing," he said. "I didn't want to be part of that."
Another student — who is not a complainant — told BuzzFeed about a March 2013 meeting he attended with one sophomore and one junior from each men's athletic team, just before the federal complaints were filed and while the alleged rape case involving a male tennis player was unfolding.
According to the student, the meeting was led by the school's general counsel at the time, Carl Botterud, who talked about creating an on-campus group of male students to stand against rape but also to counter the "radical" OSAC. The student recalled that Botterud talked about how he'd "seen too many times when women have came back and filed sexual harassment against their ex-boyfriend a month later or a year later, as backlash or something like that." Botterud's comments appeared to upset many of the athletes, the student said. At one point, Botterud said "fuck 'em," referring to OSAC, the student said.
In a statement to BuzzFeed, Botterud clarified that while he didn't recall his exact words, he's sure he "never said 'fuck 'em' referring to members of OSAC."
Botterud said he told the men they need to be absolutely certain that they have consent. "As part of my efforts to get them to think about acts and consequences, I also said that I had seen cases where allegations were brought after relationships had ended, where the issue of consent during the relationship [was] raised as part of a complaint lodged after the relationship had ended. Seeing that happen even once is too many times for me."
After Heldman filed a formal complaint over what she heard occurred in the meeting, the school found Botterud not responsible for creating a hostile environment. But the faculty later passed a vote of "no confidence" in Botterud.
Heldman also told BuzzFeed that her office was broken into three times in the month before she filed the Title IX and Clery Act complaints. In each instance, she said, nothing was taken, and the damage was minor — business cards and pens would be dumped or thrown around.
"Lots of really stupid things where it's just threatening, right?" she said. "It's this idea that I was in your office, and I can come into your office whenever I want. That was the message that was, loud and clear, sent to me."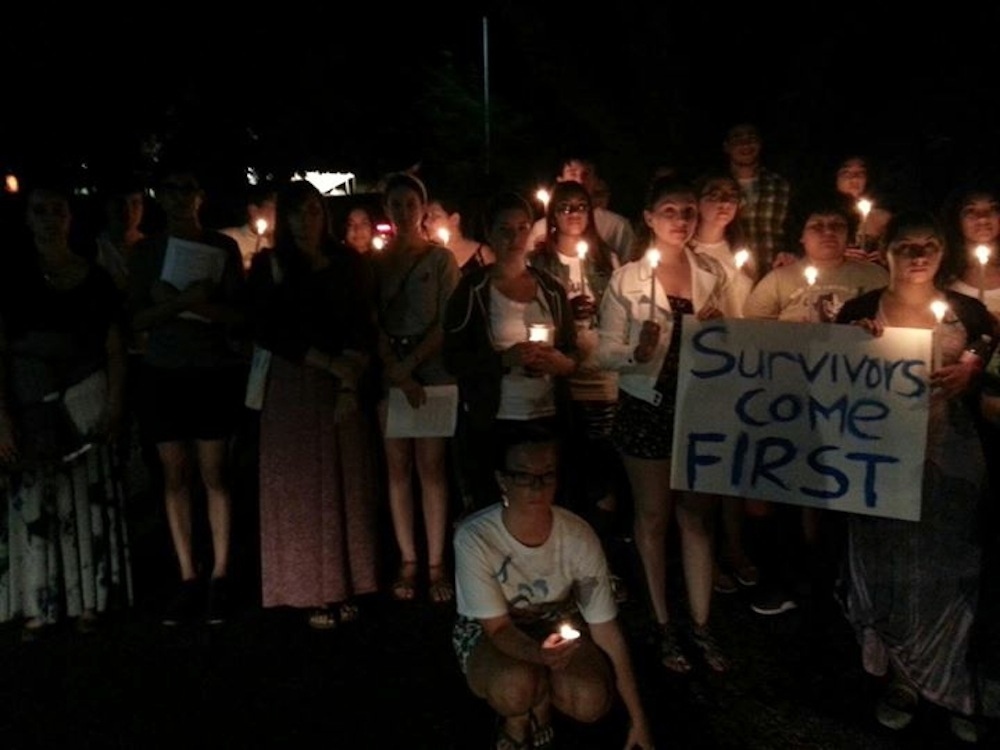 Some members of the faculty, including the source who had the relationship with Felch, said that whatever the Los Angeles Times drama may reveal about Occidental, it has overshadowed their larger concern that the school still isn't properly handling sexual assault cases.
At the March 18 faculty meeting, Veitch acknowledged that the college has "chosen to fight this battle publicly, rather than internally." He said that "this is a reputational concern for all of us," and that "there are serious consequences at stake."
"I think what makes me just so wary of this whole thing is this allows us to get involved in all kinds of gossip and other stuff," one faculty member responded. "Forgetting the fact that the college has an abysmal record of dealing with sexual assault before that article was even written, and I suspect even since."
Veitch asked that judgments be reserved until investigative reports by the federal government and by the college are released. "I think you're right to be skeptical, but it's too early to draw conclusions that we have an abysmal record," Veitch said at the meeting. "I think we have a problematic record on Clery and a better record on Title IX."
Just before the meeting, associate sociology professor Richard Mora sent an email to the faculty listserv, urging his colleagues to keep the Felch scandal in perspective.
"The past relationship between two consenting adults — a reporter and a member of the Oxy community — has nothing to do with Oxy's inadequate sexual assault policies, the troubling issues related to sexual assault reports, and hearings that have come to light, or the repeated delay and the consultant's final report," Mora wrote. "Thus, I hope the faculty will stay focused on the matter at hand — ensuring that the College provides all students with the safest possible learning environment."
According to Occidental Campus Safety's crime log — which does not take into account incidents revealed to confidential reporters, such as medical professionals — the last on-campus rape report was made anonymously to Campus Safety on Jan. 31.
The incident, according to the log report, happened in September.