Indian Woman Allegedly Gang-Raped On Orders From Her Village Council
A 20-year-old woman was reportedly assaulted by 12 men after attempting to marry a man belonging to a different ethnic group.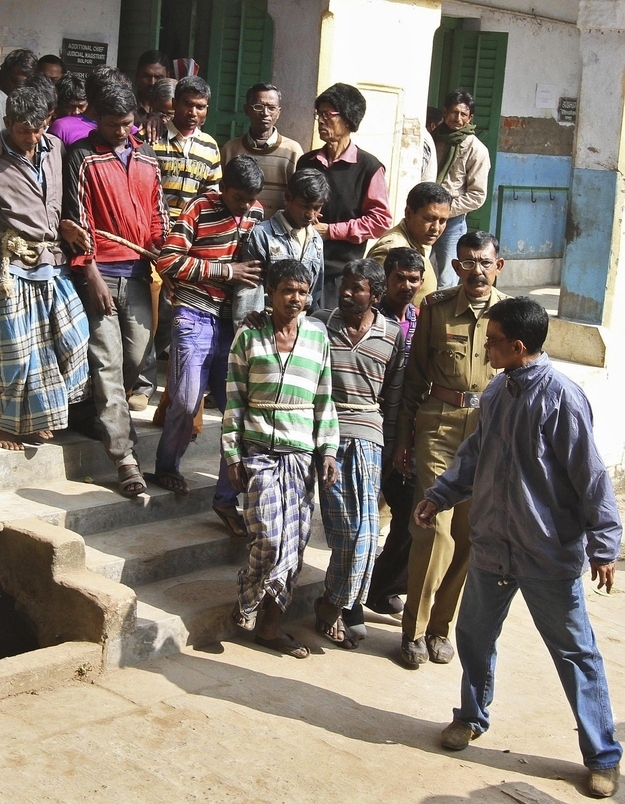 A 20-year-old woman reportedly gang-raped on Jan. 20 told police she was attacked on orders from her village's council of elders.
It is believed the woman was being punished by Subalpur — a village more than 100 miles outside Kolkata, the capital of West Bengal — for her relationship with "a man from a different ethnic group," according to the Associated Press. Twelve men suspected of participating in the gang-rape have been arrested, along with village chief Balai Mardi. The woman remains in "serious condition" at a local hospital.
Reports vary on the events that led to the woman's rape. The New York Times identified the woman's significant other as Khaliq Sheikh, a Muslim from a neighboring village. The Times reported that on Monday, Sheikh proposed marriage, and the woman accepted. The AP reported that Sheikh was stopped by villagers on his way to the woman's house to propose.
According to both reports, villagers then tied Sheikh and the woman up while the council determined their punishment. The Times reported they were ordered to pay 27,000 rupees (about $442) each, while the AP reported the fine was 25,000 rupees (about $403) each.
The man was reportedly able to pay the fine, but the woman and her family couldn't afford it. A police officer told the Times that when Mardi eventually ordered the woman's rape, he told villagers "to enjoy her."
Reuters reports that she was raped in a mud house while Sheikh remained tied up.
As the AP points out, village councils are not uncommon in India, though they have no legal authority.
Such councils are not legally binding in India, but they are seen as the will of the local community. The councils decide on social norms in the village, and in some cases they dictate the way women can dress or who they can marry. Those who flout the councils risk being ostracized.