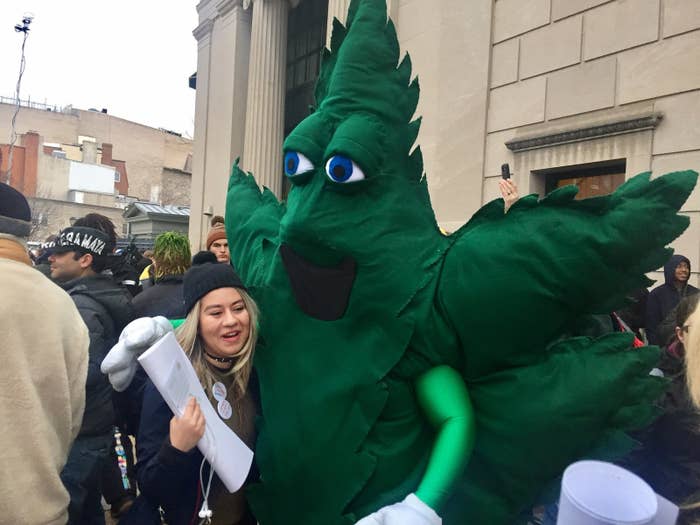 His name was Hempy, and everyone wanted a photo with him. The walking, talking marijuana mascot cheerfully loomed over the crowd at Dupont Circle with cartoonish heavy-lidded eyes and Mickey Mouse gloves, courtesy of a medical marijuana card evaluation clinic. The crowd loved Hempy, scrambling to take selfies with him, and Hempy loved the crowd right back. But Hempy was only the second-most popular attraction at Friday's #Trump420 rally. More than a thousand people didn't line up to see him — they lined up for the free weed.
Early Friday morning on Inauguration Day in Washington, DC, was unusually calm. Locals couldn't stop commenting on the eerily empty streets. Around the city, prior to the main event — Donald Trump's swearing-in at the White House at noon — not much was going on, despite various anti-Trump rallies and demonstrations scheduled to start as early as 7 a.m.
One notable exception: The sidewalk outside a PNC Bank in Dupont Circle, where a legalization advocacy group called DCMJ promised to hand out 4,200 free joints. (They ended up dispensing 9,000.) After giving away the grass, the DCMJ organizers' plan was to march to the National Mall, then light the joints together four minutes and 20 seconds into Trump's presidency.
A line formed right at 8 a.m., quickly lengthening from about 200 to 500 to 1,000 people, stretching more than a half mile away from DCMJ's makeshift dispensary. As the queue inched closer to the cage where four volunteers handed out joints — two joints to each person, though some people were seen walking away with as many as four, or just one — the line became more of a block party. Burritos were sold for $2, cookies for $1. Two preteens in unicorn onesies handed out hot chocolate from a wagon. Signs calling for marijuana legalization were raised in between bouts of sprinkling rain. Reggae blasted from a perpetually roving stereo. Hempy posed for photos.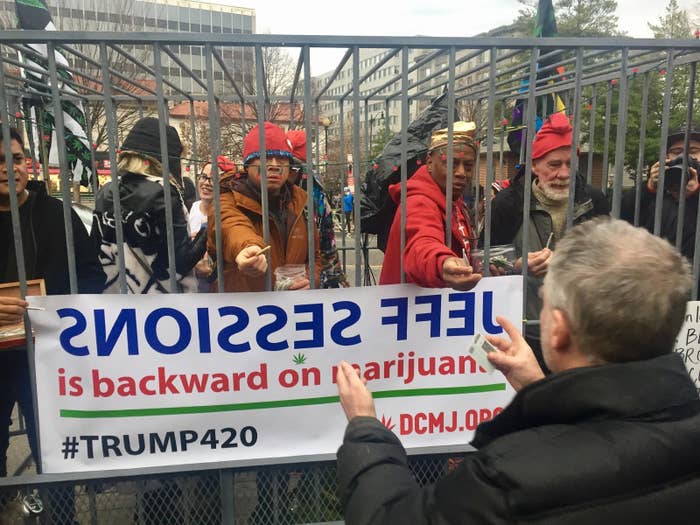 The mood was jovial in an almost apolitical way. The message wasn't "Dump Trump"; the demonstrators were collectively single-issue. They wanted the soon-to-be president to commit to legalizing weed in all 50 states. Stoners giggled while DC cops watched from across the street. There were no attempts by law enforcement to stop the joint disbursement, even when people began smoking them out in the open. Within a few hours, the rallygoers were cheering on the police, calling them "Our boys in blue." Possession of less than 2 ounces of marijuana is legal in DC, and use is allowed on private property, though still illegal in public.
Though the rally was dominated by progressives — more people I spoke to voted for Jill Stein than Hillary Clinton — Trump supporters could be spotted upon careful inspection of the line. There was Virginia couple Joseph, 36, and Kara, 35, who stood out in formalwear. After getting their free weed, they planned to head to the inauguration. But while in line, Kara wore a red beanie over her white "Make America Great Again" hat. For the same reason she didn't want to share her last name with BuzzFeed News, Kara didn't want to be too conspicuous.
"I feel scared — these people are crazy," she said, referring to anti-Trump demonstrators. Still, she shared her views on the election loudly and proudly. So loudly and proudly that a young woman standing a few people behind Kara approached us after about 15 minutes, asking us to "stop talking."
"You've been talking for a while — can you just stop?" the woman said.
"Oh you want me to stop?" Kara shot back. "You want me to just zip it? I have a right to free speech. I have a right to my opinions."
The woman said it wasn't Kara's opinions that she didn't want to hear — she was just sick of the sound of us talking. Kara didn't buy it.
"I'm sorry, I get angry," she said after the woman walked away. Kara and her husband Joseph used to be "leftists," they said, until last year, when they found themselves "disgusted" by the "globalist agenda" of the "criminal Clintons," they said. They came to believe during the election that globalists and world banks wanted to take over the US government.
"For the first time in my life I actually have hope," Kara said, on Trump's presidency. "The more people fight us, the more it invigorates us." Kara and Joseph said they didn't plan to smoke their joints before or at the inauguration. They wanted to stay alert in case they found themselves in a dangerous situation.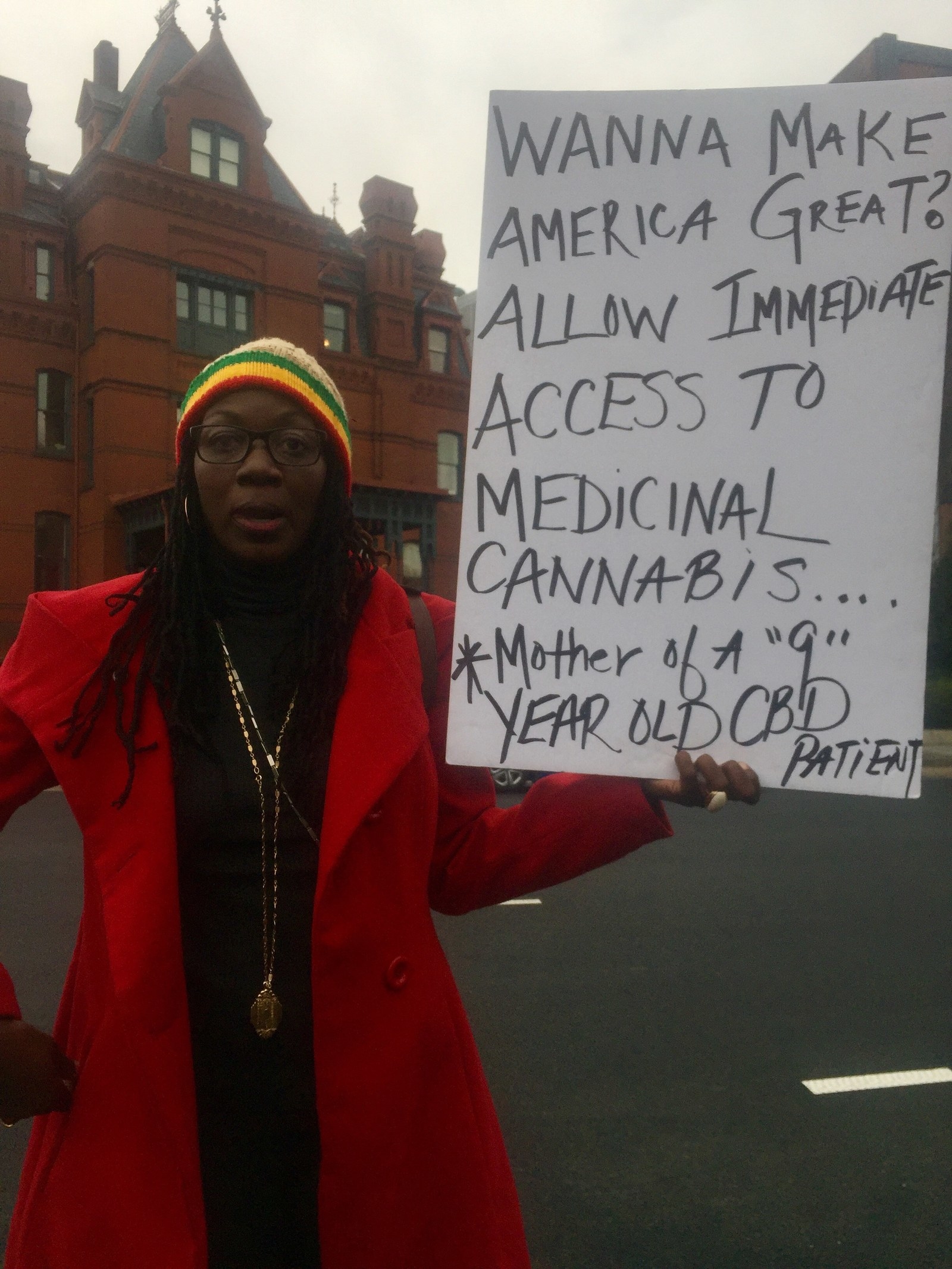 Two blocks up the line — still far from the front of it — a woman was surreptitiously handing out joints from a plastic bag, checking IDs before giving them away. She was Dawn Lee-Carty, a DCMJ organizer. In one hand were her joints, and in the other hand was a large poster with a message handwritten in black marker: "Wanna make America great? Allow immediate access to medicinal cannabis." The sign identified Lee-Carty as the mother of a 9-year-old CBD patient. Lee-Carty, a 42-year-old Jill Stein voter who said she found Trump "not a great role model," explained that her daughter suffered from 50 seizures a day before trying CBD, or cannabidiol, which she said has reduced her daughter's epileptic seizures by "91%."
"I really feel we need to educate not only Trump but Jeff Sessions," Lee-Carty said. Trump's attorney general pick was cited often at Friday's rally, particularly his quote "Good people don't smoke marijuana." The most prominent sign at #Trump420 — the one underneath the hands giving out the free joints — read "Sessions is backward on marijuana."
The rally organizers stuck to at least one law: No one under 21 was given a joint. Throughout the line, IDs were checked up to four or five times. Some teens made it pretty far up the unruly line before ultimately being bounced, while others found a way around the rules — by having their 21-year-old friends wait in line for them.
Just before 11 a.m., roughly 400 people from the crowd started marching. Many still waited in line for joints. As they marched toward the National Mall, the Washington Monument their destination, AC/DC, Drake, and Fall Out Boy played from the roving stereo — now rolling alongside the demonstrators. Black-and-white American flags with weed leaves instead of stars were worn like capes. Marchers applauded the dozens of National Guardsmen, who let them pass unhindered. Boxes of Krispy Kreme seemed to materialize from thin air, passed from one marcher to another. Hempy was still around.
But by the time the march got to the sidewalk outside the Washington Monument gate, only about 100 people from #Trump420 were left. Hempy was nowhere to be seen. The roving speaker began playing the audio from the inauguration stage. Remarkably, Republican Sen. Roy Blunt was speaking as the crowd settled in.
When President Trump took his oath, two girls holding up giant middle fingers cut from poster board looked at each other in anticipation. One finger was neon green and the other neon pink. Four minutes and 20 seconds later, they lit up their joints. Devon Burks, the 22-year-old Virginia college student holding the pink finger, told me through the smoke that she didn't vote.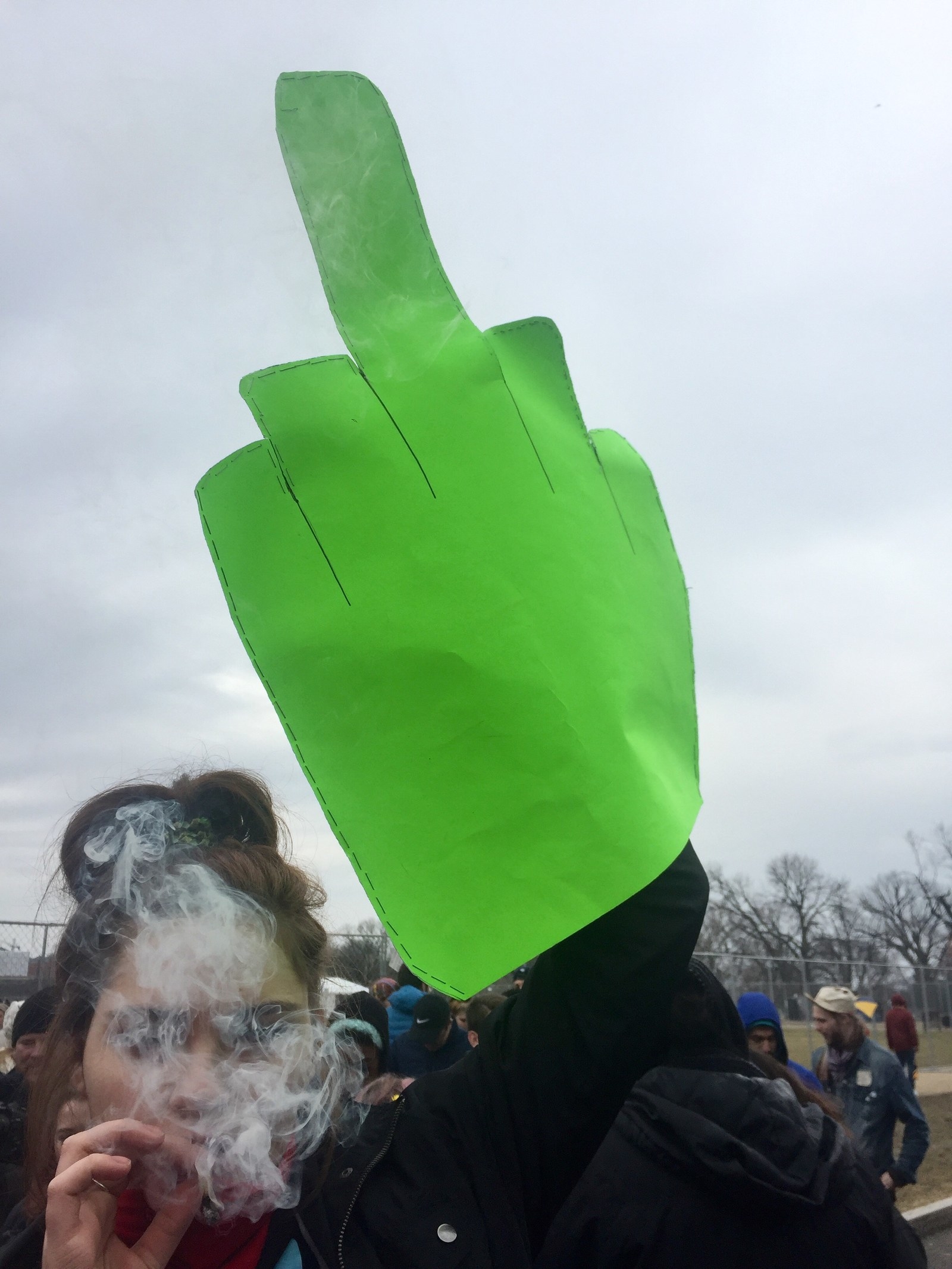 "I was uneducated. I didn't know what to do," she said. When Trump won, she started "getting interested and researching," she said. Politics has become important to her in the last two and a half months, especially as a queer woman studying environmental science, she said. This was her first protest.
After smoking, some of the #Trump420 demonstrators made their way back to Dupont Circle. A short line still formed at the free-joint cage. The odor still hung around the PNC bank, dampened only by the rain.