Has Snowden "Accepted" Venezuela's Offer Of Asylum?
A Russian lawmaker tweeted that he did, only to delete the post moments later.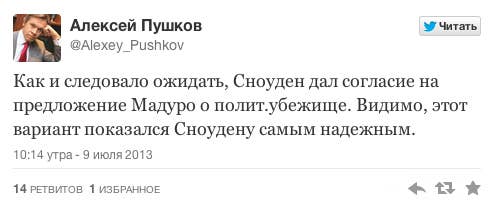 Alexei Pushkov, chair of the International Affairs Committee in the Russian state of Duma, tweeted Tuesday that former National Security Agency contractor Edward Snowden has agreed to accept Venezuela's offer of asylum.
The tweet was quickly picked up and reported by Agence-France Presse and the Associated Press.
Soon after the news spread, Pushkov deleted his tweet. He then explained that he got the information from a Monday Vesti 24 report.
Vesti's last piece on Snowden only reported that Venezuela had officially received Snowden's application.