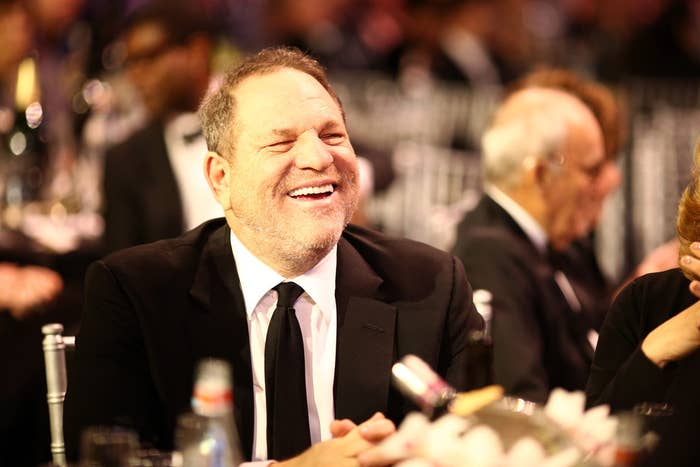 NEW YORK — Harvey Weinstein is under investigation for allegedly groping a woman Friday night in New York City, a spokesman for the New York Police Department confirmed Monday to BuzzFeed News.
A complaint against Weinstein has been filed, police said, and the investigation is ongoing. The NYPD referred BuzzFeed News to the Manhattan District Attorney's office, which declined to comment.
The allegation was first reported by the New York Daily News, which identified the woman who made the report against Weinstein as 22 years old and Italian. The woman reportedly told police Weinstein "touched her private area and her breasts."
According to The Hollywood Reporter, the woman made her report to police at 8:30 p.m. on March 27, "roughly two hours after the alleged incident." The NYPD declined to confirm these details.
A spokesperson for The Weinstein Company didn't immediately return a request for comment.
The producer reportedly met the model on Thursday, during the premiere of "New York Spring Spectacular," a show he is producing at Radio City Music Hall. He then invited the woman to meet him on Friday at an office at the Tribeca Film Center on Greenwich Street, the New York Times reported.
There, Weinstein allegedly asked whether the model's breasts were real and then groped her, the paper reported.
Shortly afterward, the woman reported the incident in person at the local police station, where she was interviewed by officers with the Special Victims Unit. On Saturday, Weinstein was also briefly interviewed at the same police station, but he then requested a lawyer and was allowed to leave the precinct, the Times reported.
On Monday, the scene at Weinstein's offices was quiet. Bike messengers walked out of the building carrying dry-cleaning bags. Women in yoga pants and sunglasses were picked up and dropped off by black SUVs with tinted windows. Several people who said they worked at the Tribeca Film Center told BuzzFeed News they had been warned not to speak to reporters.
Should charges be brought against Weinstein, groping is considered a misdemeanor.