The day before Zahara Green began her prison bid, a medical official with the Georgia Department of Corrections wrote just one comment on her health summary form: "Possible gender issues with housing."
Green was 23, a convicted shoplifter, and a transgender woman about to be housed with men. Two months later, on a separate medical form, a doctor would note her gender identity disorder — then the widely accepted psychological diagnosis for transgender people — along with her bra size. She would be prescribed hormones to maintain the transition she said she had begun six years earlier. All this to say, by the time she entered general population at eastern Georgia's Rogers State Prison in July 2012, Green's identity as a woman was well-documented, despite the "Sex: M" stamped at the top of her papers.
Yet wardens at Rogers would claim they had no "personal knowledge" that Green "claimed to be transgender" until late August 2012. This discrepancy between her medical records and her treatment by officials had an immediate effect. On her first day at Rogers, she said, she was stripped naked and searched alongside gawking men in the "shakedown shack" — a humiliation that feels far away to Green now, after everything else that's happened. When she was assigned a bed, inmates trotted past her as if she were on display. One of these men allegedly approached her that day with an offer of protection, only to soon after threaten her for sexual favors. Two months later, he allegedly raped her.
By Green's account, this assault was not an accident. Between her first day at Rogers and her alleged rape, Green had met with the warden in person, then allegedly wrote to the warden and deputy warden of security for help, then finally asked to be put in protective custody — only to find herself assigned to share her protective custody cell with the man she feared.
These events make up the bulk of a lawsuit Green filed earlier this year, which BuzzFeed News first reported on in September. This is not the first suit of its kind: Transgender inmates all over the country have long alleged systemic mistreatment. But the extent to which this particular prison neglected widely accepted procedures for housing transgender inmates, allegedly ignored Green's pleas for help, and then misplaced evidence after her alleged attack — all detailed here for the first time — reveal just how little circumstances have changed for transgender inmates today, 11 years after the passage of a federal anti-prison rape law that was supposed to help protect them.
Green believes the prison could have prevented her rape. But nine months after her release, she still wonders: Why, exactly, didn't they?

Before entering general population at Rogers State Prison, even while awaiting trial in jail, Green said she had always been segregated — either because of a lack of bed space, she was told, or because prison officials didn't want to put her with men or with women.
At Rogers, a facility with nearly 1,500 beds, she felt like she had been left "out with the wolves."
Darryl Ricard, the inmate who approached her on that first day, walked around "like he owned the place," Green recalled. Ricard told her he was the highest-ranking gang member on the compound, affiliated with Chicago Vice Lords. Ricard also said he was looking for a friend, Green later told an investigator.
"Someone like you is going to need someone to protect you in a place like this," she remembers Ricard saying.
"I was just like, OK, whatever," she said. She said she didn't fully grasp the meaning of Ricard's approach until a gay inmate in her dorm told her that Ricard thought he was her husband.
Soon Ricard began demanding sexual favors, and when Green resisted, he "just went through the roof," according to the interview and a written statement she later gave to the investigator. Ricard allegedly confronted Green with a shank and a belt with a lock on it, threw her against the wall of a bathroom, and told her that if she left, "it will be a blood bath," she said.
Green wrote her mother, vaguely but forcefully telling her she was in trouble: "I have control of the situation for now but once I don't, I might be seriously hurt or killed. I am very scared but I am playing my part," she wrote.
Her mother called the prison — it's only at this point that Brad Hooks and John Brown, the warden and deputy warden of security at Rogers, respectively, said they learned Green "claimed to be transgender." Hooks had Green escorted to his office. But when he asked her what was going on, she didn't tell him anything.
The warden seemed "mad" and "aggressive," Green explained. Ricard's gang also had secret cell phones, Green said, and Ricard allegedly told her he could send her photo out to other prisons if she talked and somehow got transferred.
Hooks sent Green back to general population.
Days later, Green said, she wrote to the warden. She still didn't disclose the situation with Ricard, but she allegedly told Hooks that she believed the prison was dangerous for transgender and out gay inmates — she said cell door locks were not secure and allowed prisoners to move around units freely. Hooks later said in a court filing that he has "no specific recollection" of receiving such a letter.
Meanwhile, Ricard's behavior allegedly escalated. He forced Green to perform oral sex four times over the next few weeks, she estimated. At one point he allegedly gave Green a cloth ring to wear. Green would later call this behavior "crazy psycho stuff," telling an investigator that "one thing I made sure I did not do was confuse him into thinking that I had feelings for him."
This same investigator later asked Ricard if his "relationship" with Green flourished "out of protection ... or did it flourish out of affection?" Ricard responded that he felt "emotional attachment" to Green. He said every night they had "some kind of intercourse" in his bed, where she would stay until 3:30 or 4 a.m. He said "officers have witnessed this."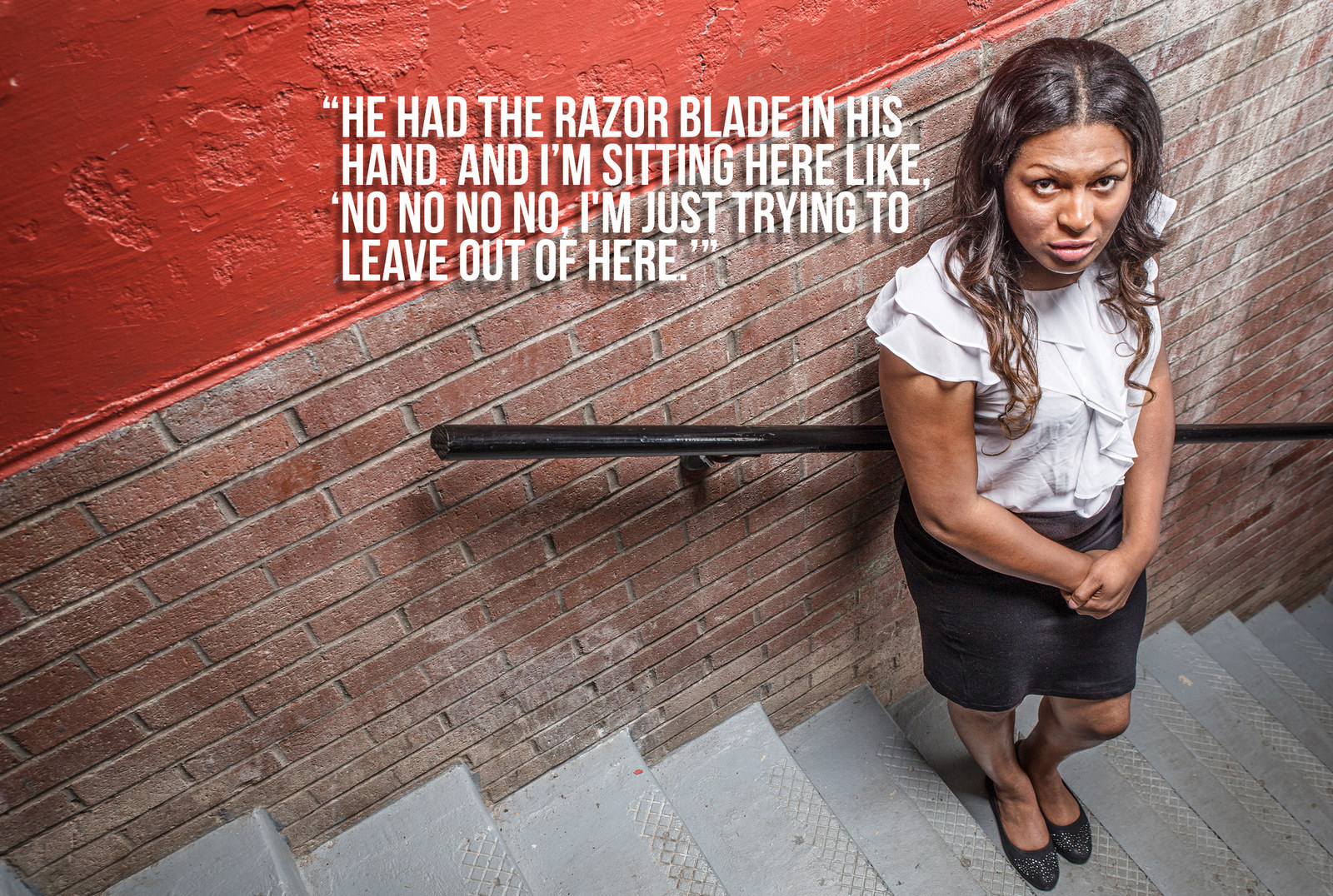 Two years later, Green can't quite finish retelling her story. She's sitting in the poster-lined conference room of a social justice advocacy group called Project South, completely still — arms crossed over her cream button-up blouse, legs crossed over her black slacks, and shoes she doesn't even really like.
The first thing people working on Green's case will tell you is that she's a little quiet and a little shy. But on this October afternoon, it isn't timidness keeping Green's eyes glued to the oversize wood table in front of her — to the dark spots where stray tears have stained her legal pad. As the events leading to her alleged rape come into focus, Green's silence is crushing.
"The reason I get so emotional when I talk about that is because everyone always asks, 'Why didn't you just flat-out tell them?' What I want people to understand, though, is it's not that simple. It's not that easy when you're going through what you're going through. And you have this person threatening you and telling you—" she cuts herself off. "I'm sorry. You're in fear, so you don't know how to do it."
Green's first real attempt to escape Ricard came on Sept. 17, she said, when she allegedly wrote to Brown, the deputy warden of security, and finally named Ricard, disclosing the oral sex and what she later described as "exploitation of fear." Brown, like the warden, has denied receiving this letter.
Later that week, Green saw another opportunity to escape Ricard without the possibility of retaliation. In her dorm, several inmates had told a group of out gay and transgender inmates that they needed to leave. So Green requested protective custody, citing fear for her life. What Green didn't know was that Ricard had also put in a request, claiming he had been forced out with the gay inmates because he "stood up" for three of them, according to prison records obtained by BuzzFeed News.
Under Georgia Department of Corrections policies, an inmate can be placed in protective custody if staff determine it's "necessary for the [inmate's] own protection" or if the inmate requests it. If the latter, the inmate must submit his or her request in writing with a explanation. A classification committee interviews the inmate at a hearing, and the warden then reviews the request.
Green and Ricard entered protective custody early on Sept. 21, 2012. Walking to her new cell, Green said she felt like her dangerous relationship with Ricard was "finally over." Then the guard dropped her off. Green said the door was closing behind her before she could process the situation.
Ricard was there, assigned to the bottom bunk.
"I could have said something while the door was shut, but ... [the guards] don't have a key with them to just open it," she said. "No, they have to get on their walkie-talkie to call someone to open the door, and you never know how long they're going to take. And that gives him the opportunity to do something to me."
Ricard allegedly took that opportunity nearly 24 hours later, after Green finally told him she didn't want to be around him anymore, she said. He threatened her with a razor blade, telling her, "I'm tired of you playing games with me," and, "I got you in a room with me. This is the only time we gonna really be able to do something without nobody being around," Green later told an investigator.
Ricard then allegedly raped her, orally first, then anally.
"I knew he was gonna do it, and I just thought that I'm gonna just lay here and just let him get done," Green told the investigator. She decided she would write a note to the guards about Ricard forcing her to have sex and stick it through the door when he wasn't paying attention; she would write it while pretending to read a magazine; she would act like everything was fine.
In his report on the incident, an officer said he found the note around 1 a.m. on Sept. 22.
When he realized what was happening, "Ricard jumped up and went berserk," Green said. "He had the razor blade in his hand. And I'm sitting here like, 'No no no no, I'm just trying to leave out of here.'"
For about two minutes, she said, while the officer called the sergeant, Green jumped from side to side, dodging Ricard and the blade. When the sergeant arrived, he ordered Ricard to drop the razor and put his hands through the door flap. Ricard initially refused, then surrendered while the sergeant called the captain, according to the sergeant's report.
Green and Ricard were separated. Nine hours later, Green had a sexual assault examination. Seminal fluid was found in her rectum, though the sample did not yield identifiable sperm.
Ricard refused to give a statement that night. But a few days later, during his interview with the investigator, Ricard said he had the razor blade because he was "contemplating cutting myself." He didn't deny the intercourse with Green, but he initially said Green set him up "because she was angry with me," then suggested she had wanted to be able to sue the state.
"She said that if I helped her get her surgery she would take care of me when she got out," he said. "She even asked me to cut her in the forehead and I was like, 'No!'"
Ricard said he thought Green was joking, because she was a "dominatrix, she-queen. She's into rough sex and shit like that."
In November, BuzzFeed News asked the Georgia Department of Corrections for permission to interview Ricard. A spokeswoman said the department doesn't "allow interviews with inmates that gives them a platform to discuss their case or crime." Ricard did not reply to two letters asking for comment. The lawyer who defended Ricard in 2004 no longer practices in Georgia and declined to answer questions about Ricard.

In any kind of administrative segregation, the inmate's cell must be checked — and the check must be documented — by guards every 30 minutes, according to Georgia Department of Corrections policies.
The prison has not turned over the checklists for the 24 hours Ricard and Green were in the cell together. In a deposition, Green's lawyer, Mario Williams, asked why the checklists were missing.
"Well, I can't confirm that they're missing," a prison official said. "All I can tell you, we checked here at Rogers and we didn't find them."
In a report on Green's case, former longtime Federal Bureau of Prisons official Joe Gunja — brought on by Williams to be an expert witness — said the missing checklists "make no sense."
And then there's the double bunking — something only allowed in protective custody under two conditions, according to department policy: an emergency situation, or with a recommendation from the classification committee. The warden must approve that recommendation. In this case, Hooks would have recommended bunking a minimum-security nonviolent offender, Green, with a medium-security sexually violent offender, Ricard.
"It is my professional opinion the risk to [Green] was more than obvious," Gunja wrote. That opinion is supported by a 2007 study out of California, which found that transgender inmates in male facilities are 13 times more likely to be sexually assaulted. Green's attorney has also enlisted an author of this study, Valerie Jenness, as an expert witness.
"By the time Green entered Rogers State Prison, in July 2012, the serious risk of rape to transgender women locked up in detention facilities was widely recognized by and among the corrections community," Jenness wrote in her report.
The Georgia Department of Corrections declined to comment for this story, citing the pending litigation. The prison's responses to Green's legal complaints don't offer any insight into the assignment decision, though the defendants deny being deliberately indifferent or depriving Green of her rights.
In a July 2014 report, the Southern Center for Human Rights described the protective custody system at Georgia prisons as "inadequate, leaving vulnerable prisoners to fend for themselves."
The report also cites ongoing problem with locks "left broken for years" at Georgia prisons. Green says she wrote to the warden about broken locks after their first meeting. Green's attorney argues the insecure locks facilitated Ricard's alleged assaults in the weeks leading up to the protective custody incident.
Joel Reid, an inmate housed with Green in the same dorm prior to the alleged attack, confirmed these conditions at Rogers in a recent declaration to the court.
"I witnessed inmates routinely walking around unauthorized at night to other inmates' dorm rooms — after head count — due to the locks on our doors being unsecure (not locked) and thus permitting unauthorized roaming of inmates," Reid said.

Green was released this March from a transitional facility, her four-year sentence cut nearly in half. Ricard was transferred in November 2012 to Macon State Prison, a close-security prison — Georgia's version of maximum security. At some point in the last two weeks, prison officials moved him to back to a medium-security facility, Dooly State Prison.
The Georgia Department of Corrections says it has a "zero tolerance for sexual contact or sexual misconduct." Under its policy, consistent with the federal Prison Rape Elimination Act, or PREA, "offenders who have nonconsensual sexual contact with another offender will be strongly disciplined and referred for criminal prosecution."
Yet Ricard was not disciplined — something even he pointed out, according to a grievance he filed, obtained by BuzzFeed News. While still at Rogers, Ricard wrote prison officials to protest being held in solitary and his security classification being changed from medium to close without explanation.
"I was accused of rape by my ex-lover," Ricard wrote. "I was not charged with anything: No D.R. or criminal charges."
After its internal investigation, the Department of Corrections handed its findings to the Hinesville District Attorney's Office. This spring, the DA presented two charges of aggravated sodomy against Ricard to a grand jury. Grand juries, which only see what prosecutors present to them, need only to determine that there is "probable cause" a crime occurred for an indictment — a low standard that prosecutors typically find easy to meet.
Green declined to discuss what was said in the grand jury hearing when she was called as a witness. But she felt members of the jury — convened in an area where the Georgia Department of Corrections is one of the top 10 largest employers — were confused about her transgender identity.
"I guess you're in a small town in the South, and so many people have probably never even seen it, heard it, or anything," Green said. "A lot of people was confused, because they thought that, OK, is this a woman at a male prison? How did she get here?"
Once her identity was explained, though, "you could just see how some people really stopped listening," she said.
On July 16, the grand jury returned a "no bill," declining to charge Ricard. When asked whether she felt the prosecutor adequately presented her case, Green replied "absolutely not." The district attorney in Hinesville, Tom Durden, did not respond to several requests for comment on what led to the "no bill" or whether his office would try to prosecute again.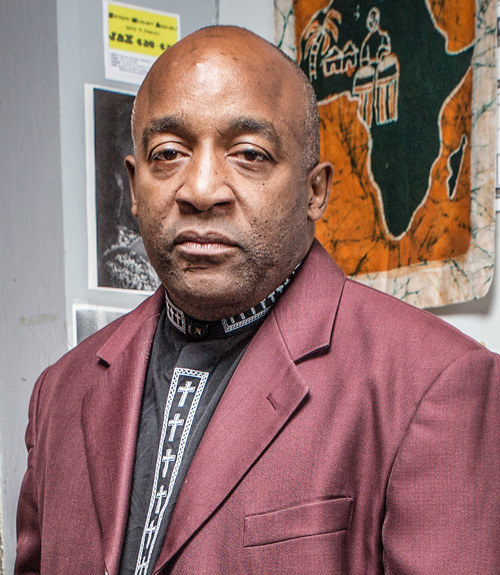 Kenneth Glasgow, an Alabama pastor and activist who spent 14 years in prison and has become an advocate for Green, said he's also awaiting answers from the district attorney's office. In this case, Glasgow argues, prosecuting Ricard would have also meant implicating the prison.
"Here's my question: How was he not indicted? Why are you protecting a rapist? Does it have anything to do with the lawsuit?" he said. "Are you protecting officers that facilitated a sexual act within a facility and caused a person to be victimized like Zahara Green? No one, no one, no one has looked at what happened in this case."
When Glasgow first met Green this spring, before he offered to help in her case, he was worried about the questions that might be raised for a nondenominational Christian pastor — and the younger brother of Al Sharpton Jr. — to be a sort of spokeperson and adviser for a transgender woman. Today, that moment of reluctance and the anger that followed makes him cry.
"This is one of the most delicate, loving people that you could ever meet that was totally violated because of the lifestyle she chose. And I got infuriated … because I had to deal with my own bias. I got mad at me. Because I'm a human rights advocate, and I had to deal with the fact that I even questioned me standing up for this person that was violated.
"The violations supersede any kind of bias or prejudice," Glasgow continued. "Here I am an ex-offender, ex-convict, ex-everything, ex-drug addict, and I had the nerve and the audacity to question fighting for somebody like Zahara Green, who was violated so dramatically."
One of Green's key assertions in her lawsuit is that prison officials "had a duty to know" she was "a high-risk sexual assault victim." Her complaint alleges that the prison violated her Eighth and Fourteenth Amendment rights by placing her in "substantial risk of physical injury," "showing deliberate indifference," and "creating an environment that led to her actually being anally raped."
The Georgia Attorney General's Office, which is representing prison officials in Green's lawsuit, declined to comment for this story.
On Nov. 6, a spokeswoman for Georgia Gov. Nathan Deal told BuzzFeed News, "[We] have not been made aware of this litigation and are not in any position to comment." Kenneth Glasgow said he sent a letter to the governor's office about Green's case on Oct. 20.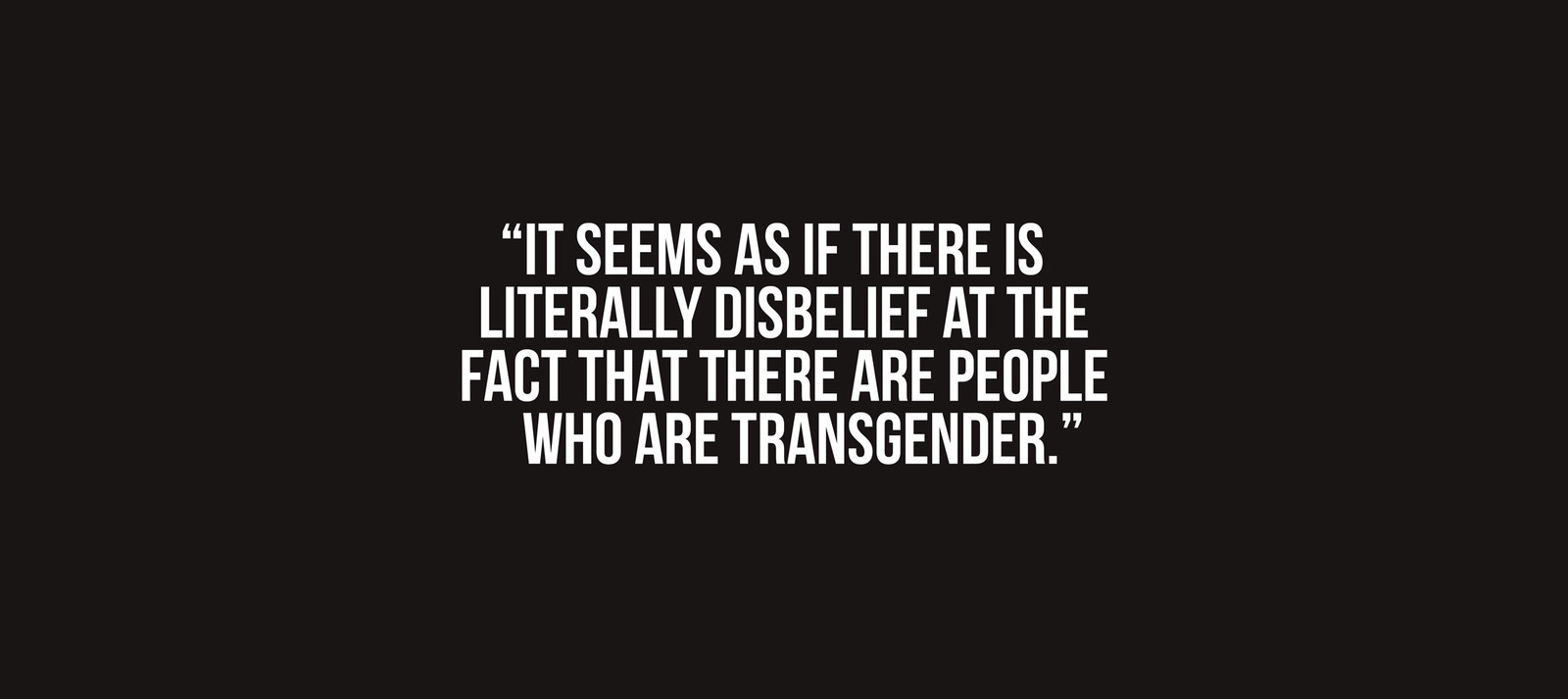 Green isn't the only transgender woman suing Georgia Department of Corrections officials. Ashley Diamond, currently an inmate at Valdosta State Prison, has filed suits against prison administrators for both failing to stop sexual violence and harassment against her and for not providing her hormone treatment.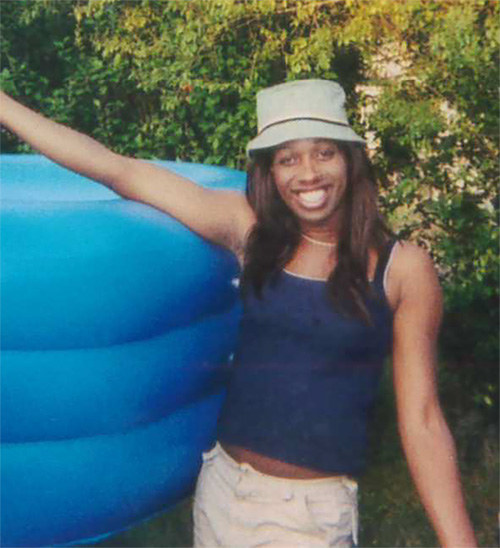 The Southern Poverty Law Center has pressured the Georgia Department of Corrections to comply with Diamond's medical requests. The organization is in the process of preparing a federal lawsuit after several failed attempts to work with the department and "beating our head up against a wall," said David Dinielli, SPLC's deputy legal director.
Dinielli said the department's internal policy is not to allow inmates to begin transitioning if they haven't already, but to maintain the level of transition at which they entered. This is also the policy of the U.S. Bureau of Prisons.
"That's not what happened with Ashley," Dinielli said. "She was told she needs to spend her time learning coping mechanisms."
Since being denied medication, Dinielli said, Diamond has experienced extreme physical changes. Her breasts have disappeared, her voice has dropped, and she's begun growing facial hair. "This to her is really a form of torture," Dinielli said.
Diamond has also been reprimanded for behaving in a way that prison officials have interpreted as "insufficiently masculine," Dinielli said.
In the prison system, "it seems as if there is literally disbelief at the fact that there are people who are transgender," Dinielli said. "Unlike gay and lesbian people, whom people have begun to realize do in fact exist, there is out-and-out denial that Ashley is a transgender woman."
This summer, Diamond filed a grievance over not being allowed to maintain her eyebrows. In a response to her complaint, the Valdosta State Prison warden repeated prison policy: "Facial adornments are prohibited, unless medically indicated." Then he added, according to the document obtained by BuzzFeed News: "There is no medically indicated reason for you to adorn your face by manipulating your eyebrows. This is a male facility and your gender is male."
Diamond has also told Dinielli that she's been sexually abused at least seven times in two and half years of incarceration. In a sworn affidavit, one of Diamond's roommates said that he's "watched her have to 'fight off' predators and beg staff for help only to be ignored or called derogatory names."
During one incident, the roommate said, when Diamond asked guards for help, a lieutenant "verbatim told Diamond it was her fault because she was transgender and accused her of sleeping with inmates and screaming rape at every camp she goes to."
"Diamond's treatment has been less than humane," the inmate wrote. "No one should ever be treated this way period."
Diamond's latest possible release date is Nov. 1, 2023. She was found guilty of burglary, theft and entering a vehicle charges, state records show.
Dinielli calls these "survival crimes," common among transgender people living in poverty. And according to a report from the National Black Justice Coalition, based on the 2011 National Transgender Discrimination Survey, poverty is even more acute among black transgender people:
34% [of black transgender people report] a household income of less than $10,000/year. This is more than twice the rate for transgender people of all races (15%), four times the general Black population rate (9%), and over eight times the general US population rate (4%).
"We look at why these people are in prison in the first place," Dinielli said. "Often it's because of the failure of the state to protect people from birth on up."

You could view the experiences of black transgender women like Green and Diamond in the South as a cultural failing — a product of the region's well-known history of racism and anti-trans sentiment. But that would be a mistake: Transgender inmates have reported rape and assault in Philadelphia, Manhattan, San Francisco, and in an Immigration and Customs Enforcement detention center in Eloy, Arizona.
There is a pattern to these stories: A transgender inmate claims abuse. The prison claims ignorance. Sometimes the state is found to be at fault — usually it isn't. But Green and Diamond already have three strikes against them: They are convicts, black, and transgender in a society that has historically disdained all three.
LGBT activists who spoke to BuzzFeed News pointed to state laws and informal policies that they believe don't give transgender people — particularly black and poor transgender people — an opportunity for success in Georgia, landing many in a cycle of poverty and crime that begins with the disheartening search for employment, health care, and shelter, and ends with incarceration.
Georgia is one of several states where nondiscrimination policies do not cover sexual orientation and gender identity. On a federal level, the Equal Opportunity Employment Commission has interpreted the Civil Rights Act's ban on sex discrimination to apply to anti-trans discrimination, but activists say transgender Georgians are still fired just for being trans. And it often happens after they begin their transition.
In every Georgia General Assembly session since 2011, state Rep. Karla Drenner has introduced legislation that would expand anti-discrimination protections for state employees to sexual orientation, with gender identity included in the definition of sexual orientation. When asked why the legislation has taken so long to pass, Drenner laughed.
"We live in Georgia," she said. "We still have to educate people that discrimination exists and it exists against gay people in the state of Georgia. They think there are no gay people in Georgia!
"I'm only kidding," she added. "But I used to hear that all the time — lawmakers who said they didn't know any gay people in their district. ... And if you don't know any gay people in your district, you sure as heck don't know any transgender people."
Many private corporations in Georgia already have internal anti-discrimination policies, the lawmaker pointed out. But on the statewide level, it's still a patchwork.
"There is nothing that compels any governmental agency on a state level to act in transgender individuals' best interest," said Jeff Graham, executive director of Georgia Equality, the state's largest LGBT advocacy organization. "Many are totally unaware of what little rights they may have out there."
There are local organizations transgender Atlantans can turn to for help, but often their work doesn't reach those living on the fringes of the generally LGBT-friendly metro area. The state lacks a well-funded support network — "a strong kind of organized voice of advocacy," as Graham says — to tackle issues specific to transgender people.
"If we're really trying to drill down to some of the root causes to why things aren't better here," Graham said, "that has to be one of the systemic challenges that we look at — the under-resourcing of LGBT work. And then, of course, the LGB is always going to be a little bit better [resourced] than the T. So if the LGBT is bad, the T's going to be worse."

Few states have those well-funded, fully staffed trans organizations. But having a network matters, particularly for transgender people of color, according to Anneliese Singh, an associate professor in counseling at the University of Georgia who studies resilience in marginalized communities.
"Some of my research has noted that resilience strategies that really help transgender people of color involve being connected to other transgender people of color," Singh said. "People who know where the resources are."
Zahara Green never knew where the resources were. She transitioned at 17 after meeting another trans girl and knowing "that's what I felt comfortable doing," she said. Her mother wasn't exactly supportive, she said, and Green felt like she couldn't transition under her roof. So she dropped out of high school and moved in with her older brother and sister. But when her siblings decided to move, Green was "homeless in a way," finding herself crashing with her trans friend, who taught her about hormones and ways to pay for them.
If Green had sought temporary housing assistance, she may have been turned away. Homeless shelters that receive federal funding are legally forbidden from discriminating based on gender identity, but several LGBT organizers in Georgia told BuzzFeed News that transgender people are still turned away from local shelters, particularly from single-gender facilities affiliated with churches.
As she transitioned, Green began shoplifting from retail stores like Walmart and OfficeMax, reselling goods to buy food and clothes and hormones. At the time, none of her transgender friends were employed.
"I did not think it was possible to find a job as a transgender person in Georgia," she said.
This critical moment — when transgender people might be confronted by police for "survival crimes," but before the point of arrest and incarceration — is at the heart of work being done by Atlanta's Solutions Not Punishment Coalition, or SNaP Co.
To SNaP Co — a group led entirely by transgender men and women of color — any discriminatory behavior they've seen from police and other government bodies is not simply rooted in anti-LGBT bias. They see much of it as rooted in pre-existing prejudices against blacks.
Take Georgia's controversial voter ID laws; many transgender voters likely had trouble at the polls in November because the information and photo on their state IDs don't match their appearance. But as Everette R.H. Thompson, a SNaP Co leader and director of the Racial Justice Action Center, puts it, "We're getting caught up in it as trans folks, because they were really trying to disenfranchise black people."
"My identity isn't just that I'm trans," Thompson explained. "My identity is that I'm a black man of trans experience in the South. How they are carving away all my different rights impacts me wholly, and not just because I'm trans.
"I want to be able to use the bathroom, but I also want you to stop profiling me because I'm black and I'm youthful and I'm walking somewhere. I don't have the luxury in my life to separate why all these things are happening or which one is worse."
These obstacles may not be worse for transgender people of color in Georgia or the South than in other parts of the U.S. But they remain unrecognized by the state of Georgia — home to at least 11,000 transgender adults — and amplified in its prison system, tasked with housing a vulnerable population without fully recognizing that vulnerability.
"Think about the sort of vitriol that is hurled at them on a daily basis [in the South]," said David Dinielli, the SPLC lawyer. "There's no reason to think that suddenly when people are hired on as prison officials that somehow their eyes would open up."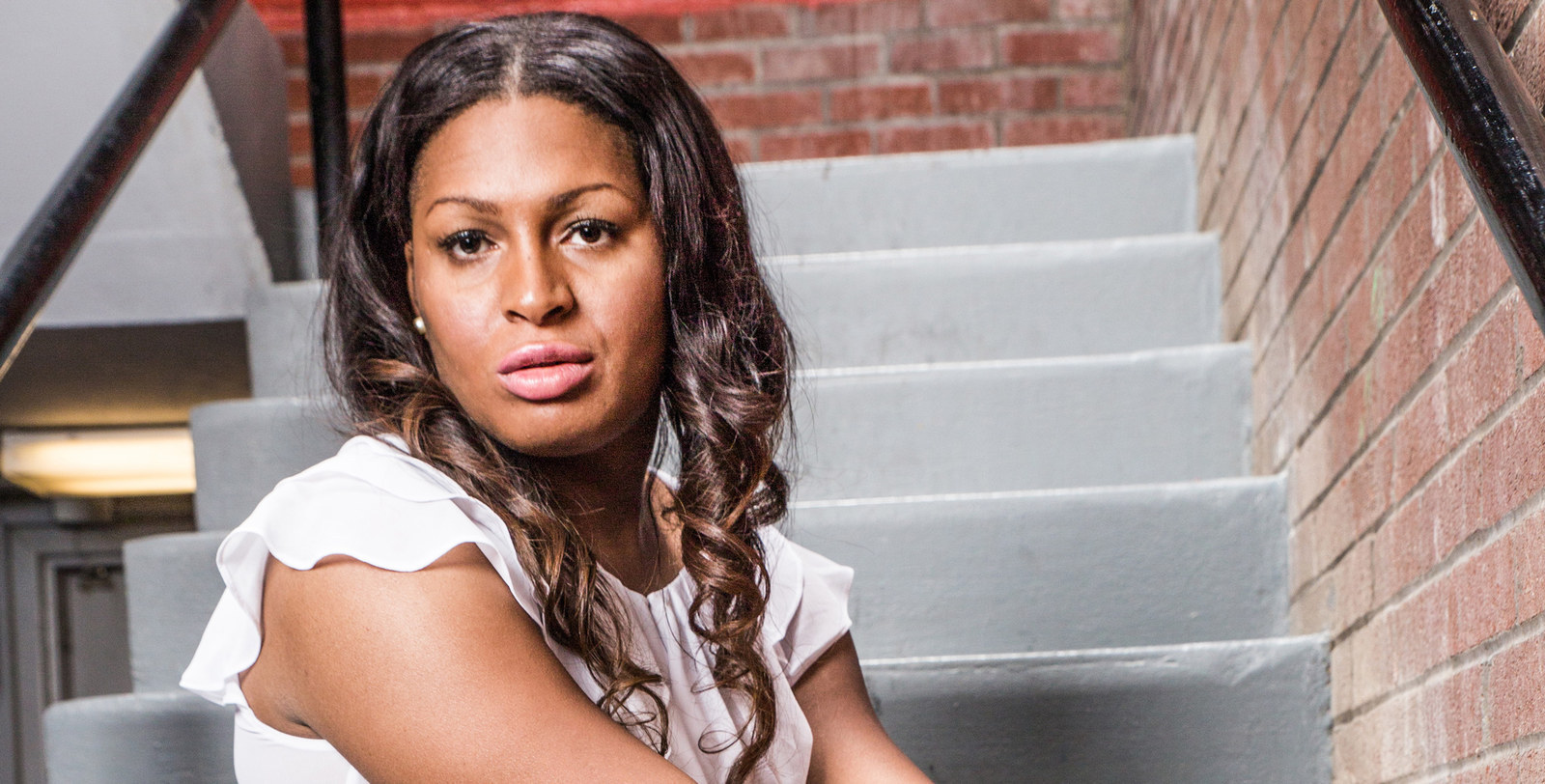 Though the details of Zahara Green and Ashley Diamond's cases may be unique, their grievances are not — and have not been for several years.
Lawsuits involving the sexual abuse of transgender inmates have met varying degrees of success. In the 1994 case Farmer v. Brennan, the U.S. Supreme Court ruled that a federal prison official in Indiana violated the Eighth Amendment when displaying "deliberate indifference" to a transgender woman who was raped and beaten in general population.
"[A] prison official may be held liable under the Eighth Amendment for denying humane conditions of confinement only if he knows that inmates face a substantial risk of serious harm and disregards that risk by failing to take reasonable measures to abate it," wrote Justice David Souter.
Yet back in Georgia, a judge recently dismissed a lawsuit brought forward against Gwinnett County and its sheriff by a transgender man repeatedly assaulted by a detention center officer. The officer was fired and arrested in 2012, but the lawsuit argued that administrative officials "knew or should have known that transgender inmates are at [a] greater risk of sexual assault by detention officers," and that the county and its sheriff failed to screen or train its detention center officers. In his decision, the judge wrote that the inmate did not show "that the county had an 'official policy' that directly caused a constitutional violation."
This year, Farmer v. Brennan turned 20 years old. Eleven years ago, Congress passed the Prison Rape Elimination Act to address sexual assaults in prisons. But it wasn't until August 2012, one month before Green's attack, that the final version of the law — which includes specific guidelines for housing transgender inmates — went into effect. Prisons only begun being auditing for PREA standards in 2014. In the meantime, states' approach to the federal law has varied: Texas, for example, has decided not to adopt the standards at all. The state will lose only 5% of its federal prison grant funding.
"Right now we're just not seeing change on that grand scale that people hoped PREA might bring about," said Chase Strangio, staff attorney at the American Civil Liberties Union's LGBT Project.
What Green's case shows, Strangio added, is that segregating transgender inmates isn't necessarily an answer to the question of how to safely house them.
"Not only is that confinement damaging on its own, the risk of sexual violence isn't actually diminished in those isolation types," Strangio said. "All of those intersections just make it so much harder to get out alive and healthy."
Green did make it out alive and healthy — happy and productive, even. In the eight months since her release, Green has earned her GED, finished paperwork for her name change with the court and Social Security Administration, and filed her lawsuit. She's now employed at a Walgreens and enrolled at Atlanta Technical College, studying to become a paralegal. Kenneth Glasgow said he's asked the Department of Justice to investigate Green's case and other rapes in Georgia and Alabama prisons. Thanks to Glasgow, Green also has support from regional groups including Project South and the Southern Movement Assembly, as well as national transgender activist Miss Major.
But her new life and support system doesn't mean Green feels like she's left Georgia prisons behind her. From the moment she filed her first informal grievance regarding the attack at Rogers — on Sept. 24, 2012 — Green said she "feared retaliation from the Georgia Department of Corrections."
"I thought they could probably hide me or put me in a place where everything would just not be able to come to light," she said.
Green said she's still on parole through this month.
"I feel like this is a case where they could lose a lot of things," she said. "I don't know what can happen, but I still do live with that fear."
Will she feel safer after her release from parole?
"No," she said. "I don't know. This is the state of Georgia."
A previous version of this story misstated Ashley Diamond's release date and charges.