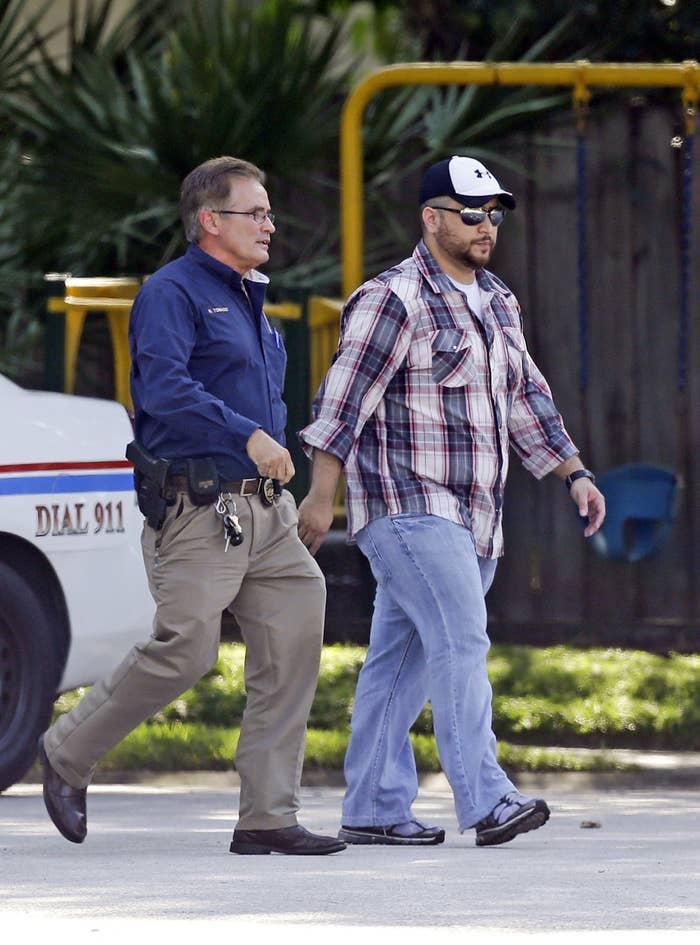 George Zimmerman was detained Monday afternoon in Lake Mary, Florida, after police responded to a domestic disturbance call.
The Associated Press reported that Zimmerman's wife Shellie — who recently filed for divorce — called police after Zimmerman allegedly threatened her and punched her father in the nose. Shellie Zimmerman's attorney told ABC News that George pulled a knife on her after she discovered a gun in the house. He then brandished a gun after a verbal altercation, according to attorney Kelly Sims.
Zimmerman was reportedly put in "investigative detention." No injuries were reported.
"We've only heard one side of the story so far," Lake Mary Police Chief Steve Bracknell told reporters shortly after the news broke.
It's been nearly two months since Zimmerman, a former neighborhood watch volunteer, was found not guilty of murdering 17-year-old Trayvon Martin in February 2012. Since then, he has had a handful of encounters with authorities in Central Florida; just last week, he was given a speeding ticket in Lake Mary.
More details on the incident:
George Zimmerman's brother — and frequent spokesman — responded with skepticism to the latest reports.
UPDATE - Sep. 9, 4:17 p.m., EDT:
Orlando's WKMG has released audio of the 911 call in which Shellie Zimmerman says he is threatening her and her family.
"He's in his car and he continually has his hand on his gun and he keeps saying 'Step closer.' He's just threatening all of us with his firearm," she told a 911 operator. "Step closer and what?" asked the operator. "And he's going to shoot us," Shellie responded.
While breathing heavily, she added that her father was punched in the nose and his glasses thrown to the floor. Zimmerman also allegedly grabbed her iPad and smashed it to pieces.
"I don't know what he's capable of," Shellie said. "I'm really scared."
When the police arrived with weapons drawn, she warned her father: "Dad, get back inside the house. George might start shooting at us."
UPDATE - Sep. 9, 4:52 p.m., EDT: George Zimmerman has been released from police custody with no charges filed.
UPDATE - Sept. 9, 8:30 p.m. EDT: Police reportedly did not find a gun on George Zimmerman.