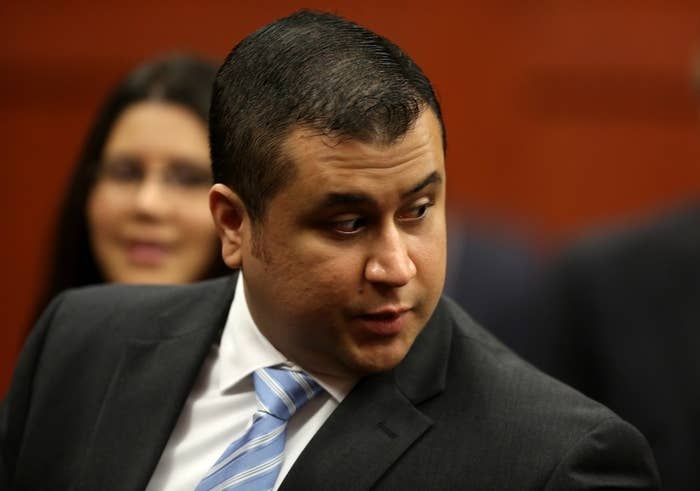 George Zimmerman was arrested Monday afternoon in Apopka, Fla., on domestic violence charges, including aggravated assault, battery and criminal mischief.
Zimmerman, 30, was booked at the John E. Polk Correctional Facility in Sanford, Fla., just before 1:45 p.m. He was released around 4:30 p.m. Tuesday after posting $9,000 bond.
In a press conference following the arrest, officials said Samantha Scheibe, 27, has been living with Zimmerman since August. They got into a fight Monday, and when she asked Zimmerman to leave, the argument escalated.
From the police report:
Zimmerman began packing his items, which included a Shotgun and a AR Assault Rifle, which he placed in a single carry case. Scheibe stated that Zimmerman "cocked the shotgun" prior to placing it in the case. Scheibe then began to carry out other items belonging to Zimmerman, placing them in the living room, and also outside the residence. Zimmerman became upset, at which time he removed the Shotgun from the case. Scheibe then advised Zimmerman that she was calling the Police because she was nervous about why he pulled out the Shotgun. Zimmerman then pointed the Shotgun at Scheibe for a minute, and asked her if she really wanted to do that. Scheibe stepped back, at which time Zimmerman smashed a glass coffee table, belonging to Scheibe, with the butt of the Shotgun. Zimmerman then told Scheibe to leave the residence. Scheibe began to walk to the front of the residence, at which time, Zimmerman smashed a pair of sunglasses belonging to Scheibe. Scheibe further advised that Zimmerman then pushed her from the side, out the front door, and locked the door.
Deputies responding to Scheibe's call for help said she was not visibly injured, and Zimmerman was found unarmed. Scheibe also told police she wasn't pregnant, officials said, contradicting what Zimmerman told police.
Zimmerman was held overnight in a single-person cell. Upon release, he agreed to be monitored electronically and surrender his guns.
In September, Zimmerman's estranged wife Shellie pursued domestic violence charges after an altercation involving a gun, but those charges were dropped last week.
Shellie Zimmerman has said her husband felt "invincible" after being found not guilty in July of murdering teenager Trayvon Martin. Since his acquittal, Zimmerman has been involved in a handful of encounters with Florida authorities.
UPDATE 6:30 p.m. ET: The 911 call and police report have been released.
UPDATE 5 p.m. ET Tuesday: Zimmerman reportedly choked Scheibe "a week and a half ago."
During Zimmerman's court appearance on Tuesday, prosecutors asked Judge Frederic Schott to set bond at a high $50,000, explaining that Scheibe told authorities on Monday about another recent violent fight she had with Zimmerman.
"The victim had indicated that there was a prior domestic violence incident that occurred approximately a week and a half ago that involved a choking that she did not report to the police," Assistant State Attorney Lymary Munoz said.
Zimmerman's lawyers asked for the bond to be set at $4,900; Schott decided on $9,000. In making his decision, the judge said he factored in these new choking allegations, but not the Trayvon Martin case.
"I'm not increasing your bond because of anything that's happened in the past," he said. "As far as I'm concerned, this is a brand-new case."
Zimmerman is expected back in court in January.