George Zimmerman Accused Of Copying Associated Press Photo In Latest Painting
The AP has sent a cease-and-desist letter to the new artist. It's been almost two years since Zimmerman shot and killed teenager Trayvon Martin.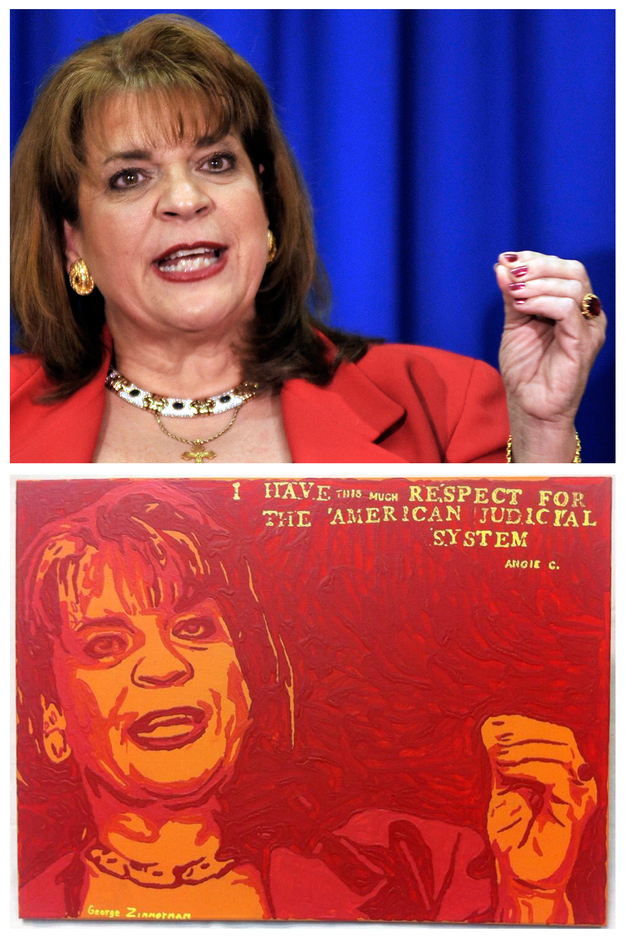 The Associated Press is threatening legal action over George Zimmerman's latest painting, "Angie," a portrait of Florida State Attorney Angela Corey as she announced his second-degree murder charges.
The AP demanded Friday that Zimmerman halt the sale of the painting, characterized by the news agency as a "direct [copy.]"
From the AP's Paul Colford, via Politico:
"The AP has sent a cease-and-desist letter asserting its copyright in the photo to the lawyer who recently represented Mr. Zimmerman. That lawyer has responded, and though she no longer represents Mr. Zimmerman, she will be forwarding the letter to him today."
The photo of Corey was taken in April by Rick Wilson, an AP freelancer. Three months later, Zimmerman was found not guilty of the murder charges.
On Wednesday, Zimmerman's brother and frequent spokesman Robert announced the upcoming sale of the painting on Twitter.
"We've received pvt offers via social media b4 planned release of sale details," Robert then tweeted on Thursday. "Considering all options, incl. affordable prints."
On Friday, George Zimmerman did not appear overly concerned about the cease-and-desist order.
Zimmerman's last painting sold for more than $100,000.
In 2009, the AP famously battled with artist Shepard Fairey after the news agency accused him of copyright infringement over his "Hope" image of President Obama. The two parties privately settled in 2011, after agreeing "that neither side surrenders its view of the law."