Former Dallas Mavericks Dancer Suspected Of Killing 4, Injuring 4 In Shooting Spree
Erbie Bowser, a Mavs ManiAAC, reportedly murdered four women in two separate Dallas area shootings.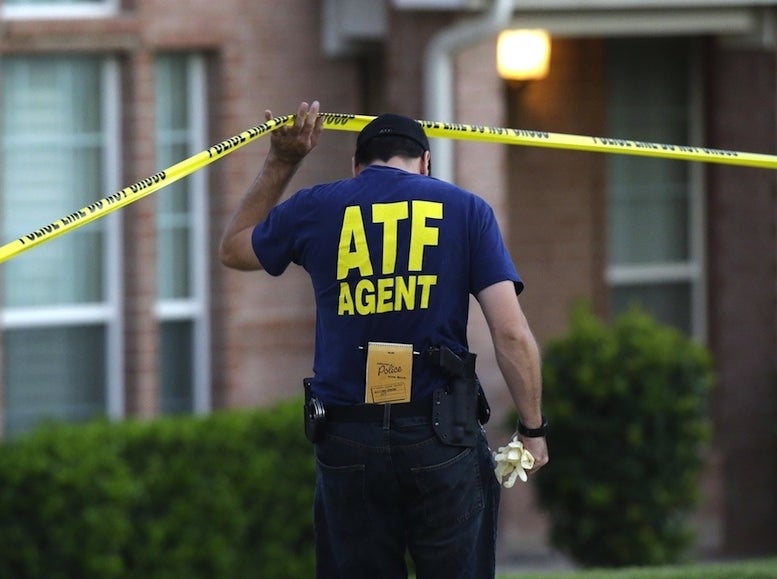 Left: An ATF agent lifts crime scene tape Thursday morning outside the crime scene in in DeSoto, Texas. Right: Suspect Erbie Bowser.
CBS Dallas/Fort Worth reports that Erbie Bowser, a former Dallas Mavericks ManiAACs dancer, has been identified as the suspected shooter in two separate Texas shootings Wednesday night.
According to police, Bowser shot four people at a Dallas home around 10:30 p.m. local time, killing two women. He then went to another house in DeSoto, about seven miles away from his first target, tossed a hand grenade inside the living room, and shot four more people, again killing two women.
The CBS affiliate reports that two of the four surviving shooting victims are 11-year-old and 13-year-old boys. According to Dallas Morning News, a 3-year-old boy in the DeSoto house appeared unharmed. Bowser was arrested outside the house.
When DeSoto officers arrived, Bowser pretended to be among the victims. But officers quickly determined he was their suspect and took him into custody. Officers also confiscated a pocket knife from him.
The two women who died at the first scene have been identified as Toya Smith, 43, and her daughter Tasmia Allen, 17. It's believed at least one of the women killed was Bowser's ex-girlfriend.