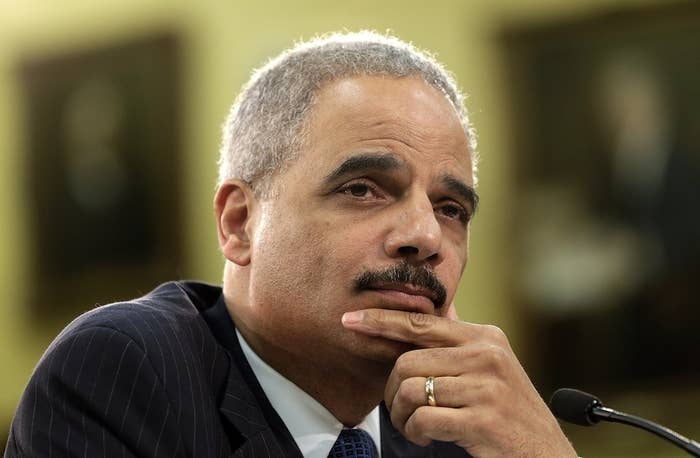 The Associated Press reported Monday that the Justice Department secretly obtained two months' worth of phone records belonging to more than 20 AP employees.
From the report:
The government would not say why it sought the records. U.S. officials have previously said in public testimony that the U.S. attorney in Washington is conducting a criminal investigation into who may have leaked information contained in a May 7, 2012, AP story about a foiled terror plot.
That May 2012 story attributed the thwarted plan in Yemen to CIA intervention, thereby revealing that the CIA had knowledge of the al-Qaeda affiliate's activities. CIA Director John Brennan later called the leak an "unauthorized and dangerous disclosure of classified information."
AP CEO Gary Pruitt's scathing letter of protest to Attorney General Eric Holder is below: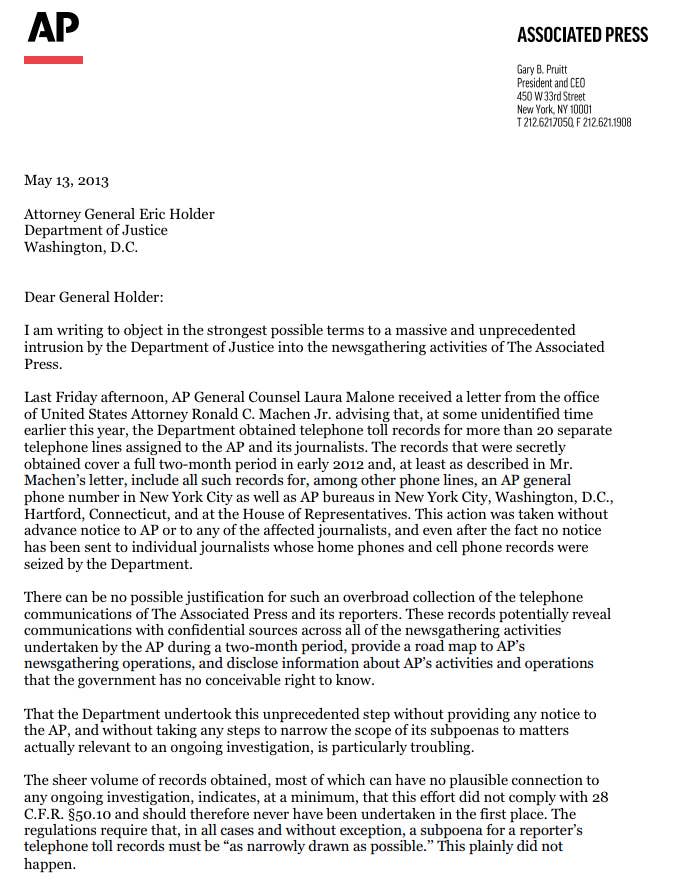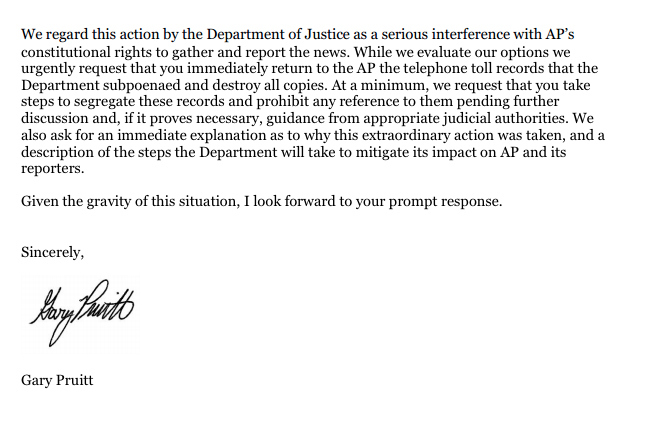 The U.S. Attorney's Office also released a statement briefly explaining its policy of pursuing phone records subpoenas.
We take seriously our obligations to follow all applicable laws, federal regulations, and Department of Justice policies when issuing subpoenas for phone records of media organizations. Those regulations require us to make every reasonable effort to obtain information through alternative means before even considering a subpoena for the phone records of a member of the media. We must notify the media organization in advance unless doing so would pose a substantial threat to the integrity of the investigation. Because we value the freedom of the press, we are always careful and deliberative in seeking to strike the right balance between the public interest in the free flow of information and the public interest in the fair and effective administration of our criminal laws.
White House Press Secretary Jay Carney referred all questions about the AP story to the Justice Department, according to a pool report.
Update: Monday, May 13, 2013 - 8:53 p.m. ET:
White House statement by Press Secretary Jay Carney on AP phone records seized:
Other than press reports, we have no knowledge of any attempt by the Justice Department to seek phone records of the AP.

We are not involved in decisions made in connection with criminal investigations, as those matters are handled independently by the Justice Department.

Any questions about an ongoing criminal investigation should be directed to the Department of Justice.