Daniel Holtzclaw Sentenced To 263 Years In Prison
He was found guilty of raping and sexually assaulting women in the community he patrolled.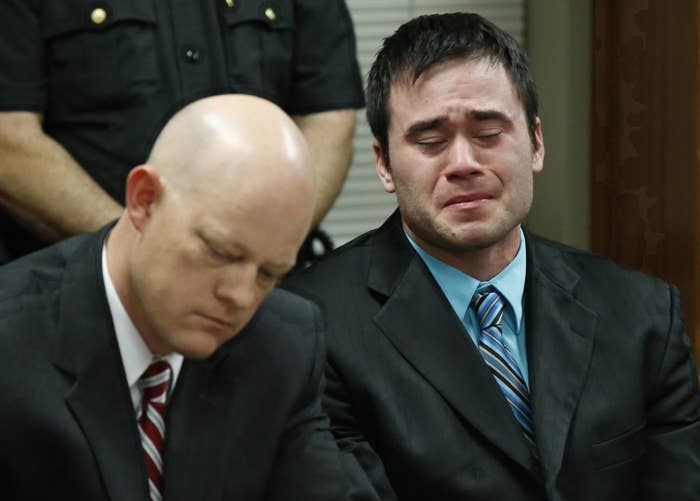 Daniel Holtzclaw, the former Oklahoma City police officer found guilty of raping and sexually assaulting women in the community he patrolled, was sentenced to 263 years in prison Thursday.
Oklahoma County Judge Timothy Henderson upheld the jury's December verdict, which carried with it the 263-year sentence, and ordered Holtzclaw to serve the years consecutively. A request for a new trial made by Holtzclaw's attorneys on Wednesday was denied.
After the sentencing, Oklahoma County District Attorney David Prater said it was clear to him that Holtzclaw was a "predator" of women in a "compromised position."
"I think people need to realize that this is not a law enforcement officer that committed these crimes," he said. "This is a rapist who masqueraded as a law enforcement officer. If he was a true law enforcement officer, he would have upheld his duty to protect these citizens rather than victimize them."
At least three of Holtzclaw's victims were at his sentencing, including A., who was 17 when Holtzclaw raped her on her mother's porch.

"I was 17 when this happened with Mr. Holtzclaw, and ever since this happened my life has been upside down," A. told the court. "I can't take the stress anymore ... I feel like I'm dying on the inside."
Another victim, J.L., said "the trauma affected every aspect of my being," physical, emotional, and financial. She explained that an increase in her blood pressure led her to have an eye stroke, that her fiancé suffered a heart attack, and that her daughter and sisters are fearful anytime a police car approaches them from behind. A third victim, S.E., told the court that Holtzclaw "messed up so many women's lives, including mine ... I hope he suffers for what he has done to each and every one of us."
Three jurors attended the hearing as well. Also present were Holtzclaw's father — himself a police officer — and Holtzclaw's ex-girlfriend, who was the only witness called by the defense.
On his way out of the hearing, Holtzclaw's attorney Scott Adams only said "it is what it is" and that the sentence was "not a surprise."
Prior to his sentencing, Holtzclaw was denied a motion his attorneys filed Wednesday for a new trial. The motion accuses the prosecution of withholding potentially exculpatory evidence based on a Facebook post written by an Oklahoma City police detective.
In December, after 45 hours of deliberation, a jury found Holtzclaw guilty of 18 of the 36 charges stemming from the accounts of 13 black women, all of whom testified during Holtzclaw's trial. The charges ranged from stalking and indecent exposure to forcible oral sodomy and rape. Of the 13 women, only six had their charges fully convicted. Two had their charges partially convicted, and five saw Holtzclaw acquitted of their charges.

Throughout his trial, prosecutors argued that Holtzclaw preyed on women who had records or warrants and were living on the fringes of their mostly low-income neighborhood — women he knew did not trust the police and he believed would not report him. Among the evidence presented were GPS data points from Holtzclaw's patrol car, which confirmed victims' accounts of the officer taking them to abandoned schools and other remote locations late at night. DNA from one of his victims — a then-17-year-old girl raped by Holtzclaw on her mother's porch — was also found on the fly of Holtzclaw's uniform pants.
Holtzclaw's defense attorneys argued that this DNA was only determined to be "biological" — not specifically vaginal — and could have been transferred when Holtzclaw searched the girl's purse. They argued that the GPS data didn't prove any assaults occurred. They relied heavily on the criminal histories and erratic or hostile courtroom behavior of some of the victims, in order to discredit their testimony.
But the women's accounts of Holtzclaw's methods were consistent and strong enough to convince a jury, widely publicized as all-white, that Holtzclaw was guilty of half of the crimes he'd been accused of.
Holtzclaw's family and lawyers have maintained his innocence, launching a website ("justicefordanielholtzclaw.com") shortly after his verdict.
Holtzclaw was nearly three years into his police career when he was arrested in August 2014. The investigation preceding his arrest was initiated in May 2014, when one of his victims — a woman with no recent criminal history, who didn't live in the neighborhood Holtzclaw patrolled — reported him to police. Investigators pulled Holtzclaw's history of running names through the Oklahoma City Police Department police system — to check people for outstanding warrants — and used the list to interview and eventually identify the rest of the 13 women.
Thursday's hearing also brought out Benjamin Crump — who's representing some of Holtzclaw's victims in a civil suit — as well as National Organization for Women president Terry O'Neill and African American Policy Forum co-founder Kimberlé Crenshaw. It was the first time national civil rights and women's activists have traveled en masse to Oklahoma for the Holtzclaw case. Earlier this month, the AAPF announced a day of accountability and Twitterstorm around the hearing.
Speaking to reporters after the proceedings, Crump called the Holtzclaw verdict "precedent-setting," saying, "we stopped a serial rapist with a badge."

Crenshaw told BuzzFeed News following the sentencing that "this is just the beginning of justice," citing the three victims' statements that they were still suffering.
"We heard about long-term consequences, so now that Daniel Holtzclaw is going to spend the rest of his life in prison, it's important for us not to forget that the issue continues."