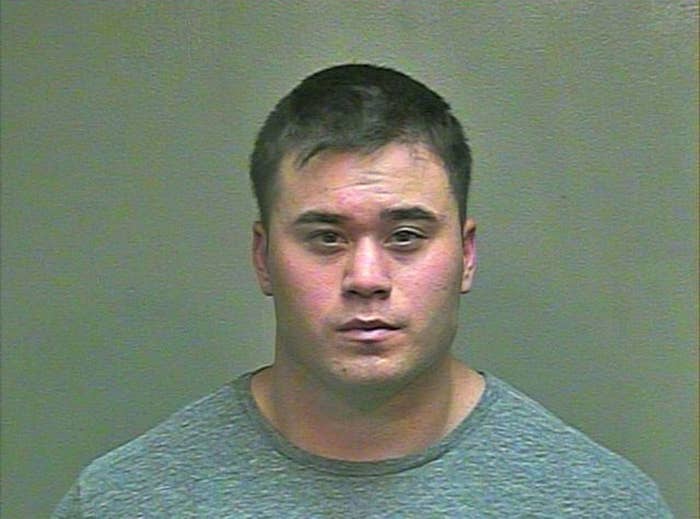 OKLAHOMA CITY — Daniel Holtzclaw made a mistake, an Oklahoma County prosecutor argued on Wednesday: "He messed up."
Holtzclaw's mistake was pulling over the wrong person: A woman who, when he allegedly assaulted her, wouldn't hesitate to call the police.
It happened around 2 a.m. on June 18, when Holtzclaw, a 27-year-old police officer, was ending his shift on the northeast side of Oklahoma City. He switched off his patrol car computer. Then, without calling for assistance or otherwise notifying his station, police said, Holtzclaw made a traffic stop.
The woman — identified in court documents as J.L. and in local media reports as a 57-year-old grandmother — said she was driving home after playing dominos with a friend, according to detective Kim Davis, who recounted J.L.'s story at length during a hearing at the Oklahoma County Courthouse.
When Officer Holtzclaw approached J.L.'s car, she couldn't roll down her broken driver's side window, Davis said. So Holtzclaw directed her to the rear passenger side seat of his patrol car. He asked if she had been drinking — he had noticed a Styrofoam cup in her front seat. She said no, according to Davis, and that the drink was Kool-Aid. He continued questioning her, and she suggested he go taste it. He walked over to her car, but J.L. couldn't see what he was doing. When he came back, Holtzclaw asked if J.L. had anything else on her.
"If you have something on you and you tell me now, then I won't take you to jail," he allegedly told J.L., according to Davis. "But if you don't tell me about it now, and I find something, then I'm gonna take you to jail." J.L. said no, again. She was still sitting in his patrol car.
"He opens the door and he tells her, 'I've got to check you,'" Davis said. "And he says, 'Lift your shirt.'"
She lifted her shirt to her stomach, and Davis motioned. "He goes, 'I can't see that. There might be something in your bra.' And so she grabs the bottom of her bra, she said, and just shakes it … And he goes, 'Nope, that's not good enough.'"
J.L. lifted her shirt and bra, Davis said, and Holtzclaw shined his flashlight on her exposed breasts.
"She said about that time, she noticed that he started playing with his penis," Davis said. "Then he tells her to stand up ... and he says, 'Pull down your pants.'"
J.L. lowered her pants but left her underwear up, and Holtzclaw turned his flashlight to her "vaginal area," Davis said. Holtzclaw then told J.L. to sit back down. She planted her feet on the concrete, sitting sideways in his patrol car.
When J.L. looked up, Davis said, Holtzclaw's penis was in her face.
"She started begging him, 'Please don't do this. You're not supposed to do this.' ... She kept thinking in her mind, OK, this is a police officer, and if he's gonna do this, he's gonna kill me. And I'm not gonna make it out of this alive …"
"And he put it in her mouth, and she pulled away. And she said, 'Please, please don't do this.' And he put it back in her mouth. And she said for about 10 seconds. Then he pulled it out and stopped, and he told her, 'I'm gonna follow you home.'"
J.L. went back to her car, Davis said. She pulled into what she thought was a driveway, then did a U-turn. Holtzclaw pulled his car around her and unexpectedly took off.
At home, J.L. and her daughter did what middle-class people in Oklahoma City do when they've been the victim of crimes: called the local police station. When no one answered, according to Davis, they went to report the alleged assault in person.
Davis was the on-call detective in the Oklahoma City Police Sex Crimes Unit that night and met J.L. at the hospital, where she was receiving a sexual assault medical forensic exam. Two and a half months later, on Wednesday afternoon, Davis and another detective recounted for a district judge how J.L.'s report was similar to an unsolved May 2014 assault report allegedly involving an officer. The connection led the detectives to identify six more women who said they'd been assaulted, raped, or forced to expose themselves to Holtzclaw while he was on duty.
Holtzclaw's "mistake" — the slip-up that prosecutors said landed him in orange jail scrubs in an unremarkable fluorescent-lit courtroom on Wednesday — was believing J.L. was similar to his other alleged victims: all black middle-aged women, but women of a lower social status and with reason to fear the authorities. They had been caught with active warrants or drug paraphernalia. J.L., Davis said, had no criminal record to be held over her. She was driving through the neighborhood where the other women were confronted, but she didn't live there.
"He's stepping out," Assistant District Attorney Gayland Gieger said Wednesday. "He's getting bolder."
J.L.'s report would put Holtzclaw on administrative leave and make up two of the state's 16 charges against the young cop. But more broadly, it would launch a case that underscores how alleged police abuse of minorities goes far beyond Ferguson, Missouri — but how national attention does not.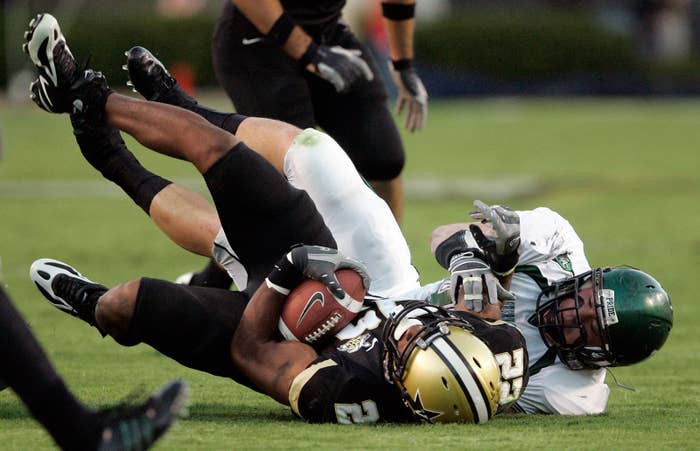 Daniel Holtzclaw "vehemently denies each and every" charge brought against him, his lawyer said in a statement Saturday. Holtzclaw didn't speak at Wednesday's hearing. He would occasionally whisper to his attorneys, but his expression remained unreadable as he intently watched the witnesses — among them his father, a childhood friend who lived with Holtzclaw while he was at the police academy, and a sports reporter. Many more family members and friends sat in the front rows of the courtroom, including Holtzclaw's girlfriend of six months, his defense attorney Scott Adams said.
Holtzclaw joined the Oklahoma City Police Department in September 2011, officials said in a press conference after his arrest. A year earlier, he had graduated from Eastern Michigan University with a criminal justice degree and had tried and failed to get drafted into the NFL.
Holtzclaw today looks the same award-winning linebacker he did then: 6-foot-2, 260 pounds, tree-trunk neck, short black hair. When he was arrested, it was outside his gym.
Holtzclaw's father, Eric, is a 17-year veteran of the Enid Police Department. His mother, Kumiko, is unemployed but does some baking from their home, Eric Holtzclaw said. He has two sisters. One of them, Jenny, has been leading the movement to raise support for him online, selling shirts that say "Free the Claw" — his nickname.
Recently, on the Justice for Daniel Holtzclaw Facebook page she created, Jenny posted a message her father sent her after he passed a Coke machine at work and saw two bottles with their names — Daniel and Eric — side by side. He saw this as a "sign from god" and bought them. "I am determined to help him through these tough [times] for he is my son and I love him dearly!!!"
In a statement, the Holtzclaw family said much of the "witness and officer testimony presented by the prosecution … is based on solicited testimony by the police department of felons, prostitutes and others who would have personal motives beyond the basic truth to fabricate their stories."
"We ask the public to wait to cast judgment on Daniel as he is entitled to the same rights under the law as any other citizen," the family said.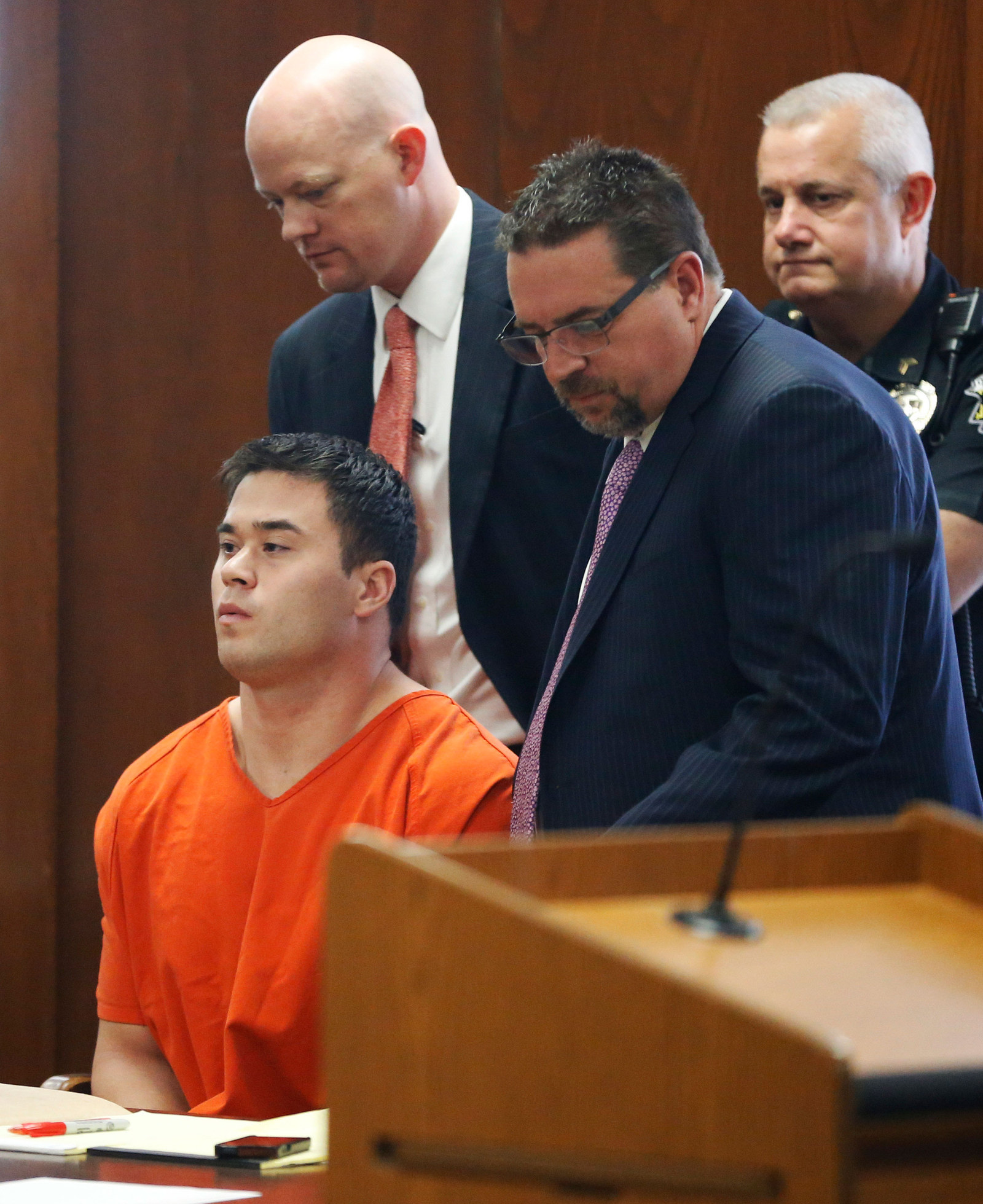 In May, a woman known as T.M. approached a group of officers and reported that an unknown officer had sexually assaulted her, Detective Rocky Gregory testified Wednesday.
Gregory said T.M. — an "admitted drug user, prostitute" — was at an apartment complex "kind of known for drugs," around 9 p.m. on May 8. She left on foot but was stopped by Holtzclaw, whom she'd allegedly seen at the complex earlier that night.
Holtzclaw put her in the backseat of his patrol car and took her purse, Gregory said. He drove for about two blocks before stopping to check her name for existing warrants. He then went through her purse and allegedly found a crack pipe.
"What are we gonna do about this?" Holtzclaw asked, according to Gregory.
"She says, 'Why don't you just stomp out the pipe, we'll call it good?'" Gregory said. T.M. was still sitting in the backseat, she said, when Holtzclaw got out of the car and exposed his erect penis to her.
"He's made it very clear it's basically this or jail," Gregory said. "She then turns her head, places her mouth on his penis, and performs oral sex for a short period of time."
Holtzclaw did not ejaculate, Gregory said, but he stopped after about two minutes. He offered to give her a ride, but she said no.
"He says, 'No, I want to make sure that you're safe,'" Gregory said. "He was supposed to take her to another location to let her go, but then he goes almost in the exact opposite direction, kind of zigzags through the neighborhood ... And then he starts to pull off by an open-field park area. Once he stopped there, she got real worried. She started to scream, thinking that this is not where it's gonna end."
But then Holtzclaw drove back around again, taking her to the place she originally wanted to go and letting her out. Later, T.M. showed Gregory in person the route they went. Gregory then referenced the route with Holtzclaw's automated vehicle locator, a GPS recorder on all patrol cars. It was an exact match, he said.
After connecting T.M. and J.L.'s reports, the Sex Crimes Unit began looking through Holtzclaw's automatically recorded history of running names through the department's two databases, looking specifically for people who'd been checked out multiple times. (One system shows information including someone's arrest record, what kind of contact they've had with police, whether they've reported a crime, and their address. The other system is used to check for existing warrants.)
Davis and Gregory took two lists of names — created by the unit's lieutenant through a victimology profile — into northeast Oklahoma City, telling each woman on the list that they had received a tip that she may have been sexually assaulted. An undisclosed "percentage" of the women said yes. By the end of the investigation, six more women joined T.M. — who initially did not want to prosecute — and J.L.
"They all matched up basically in age," Gregory said. "The earliest one was probably in her thirties. The oldest in the fifties. They all kind of looked like they were in their fifties."
They were all black women — a majority, he added, had "some kind of drug history, maybe a prostitution history."
By allegedly focusing on poor black women with criminal records, Holtzclaw kept himself from being caught — until he met J.L., a black woman who was just passing through the neighborhood he patrolled. "Not only is this individual stopping women who fit a profile of members of our society who are confronted rightly or wrongly by police officers all the time," said the prosecutor, Gieger. "He identifies a vulnerable society that without exception except one have an attitude for 'What good is it gonna do? He's a police officer. Who's going to believe me?'"
There was T.B., a woman who said she was confronted by Holtzclaw while sitting in a parked car in front of her house on Feb. 27, 2014. He ran her name and found existing warrants, Gregory said. He began asking her about drugs in the house and brought up the warrants, telling T.B. he could place her under arrest. He told her he needed to "check her for any drugs," Gregory said.
"He then tells her to lift her shirt. He lifts her shirt to her belly, says, 'Now I need to see everything.' He then makes reference about the warrants and the arrest ... She just goes ahead and lifts her bra and shirt according to what he requested."
Oklahoma City Police Department policy is to call a female officer over to do a complete search when the suspect is required to lift her shirt above her belly. T.B. had been stopped before and knew that was the procedure, Gregory said. But according to court documents, Holtzclaw touched her bare breasts with his hand and without her consent.
Through Holtzclaw's car GPS record, Gregory confirmed that the officer returned to T.B.'s house multiple times over the following month. In one instance, Holtzclaw allegedly broke into the house without permission, woke T.B.'s sleeping boyfriend — the only person in the house at the time — and told him to go outside, running his name for warrants.
Shortly afterward, T.B. pulled up to the house with her kids in the car, Gregory said, and Holtzclaw told her to step back to his patrol car.
He repeated the same motions, Gregory said — running her name for warrants, asking about drugs, and making "reference to, you know, 'We can kind of take care of these warrants ... Just play by my rules.'"
T.B. said she knew Holtzclaw meant that she could "do sexual favors and the warrants could probably disappear," according to Gregory.
Holtzclaw told T.B. to lift her shirt again, and T.B. complied, though "it was obvious she did not have a bra on," Gregory said. Then he looked down her pants; she said she didn't have any underwear on, according to Gregory.
T.B.'s boyfriend, Terry Williams, testified on Wednesday that Holtzclaw woke him up and "ran me outside," though he couldn't recall many specific details — he was "kind of tipsy that day," he said. But when T.B. later told him about her interactions with Holtzclaw, Williams "got kinda mad, and I just told her just to handle it the best way she can."
"Afterwards, [Holtzclaw] told [Williams], 'If I ever see you in this neighborhood or around this area, I'm gonna stop you every time,'" Gregory said. "He made it very clear he was not welcome around there, at this woman's house."
The next day, around dinnertime, Gregory said, T.B. saw Holtzclaw walking up to her house. She still didn't know the officer's name; she called him "Spike," because of his hair. "She knew that she was gonna be harassed by him again," Gregory said, and started to call her mother. Holtzclaw knocked at the door, and T.B. answered.
"She says, 'I'm making dinner for my kids,'" Gregory said. "He asked to come in. She tells him, 'No, you can't.' He says, 'Well, I need to check your house for drugs.'" They argued, and Holtzclaw told her that he would be back, according to Gregory, while T.B.'s mother listened on from the phone. T.B.'s mother later allegedly told the detective she could hear Holtzclaw "bullying her daughter."
T.B.'s allegations make up five of the 16 counts against Holtzclaw, including sexual battery, burglary, two counts of indecent exposure, and stalking.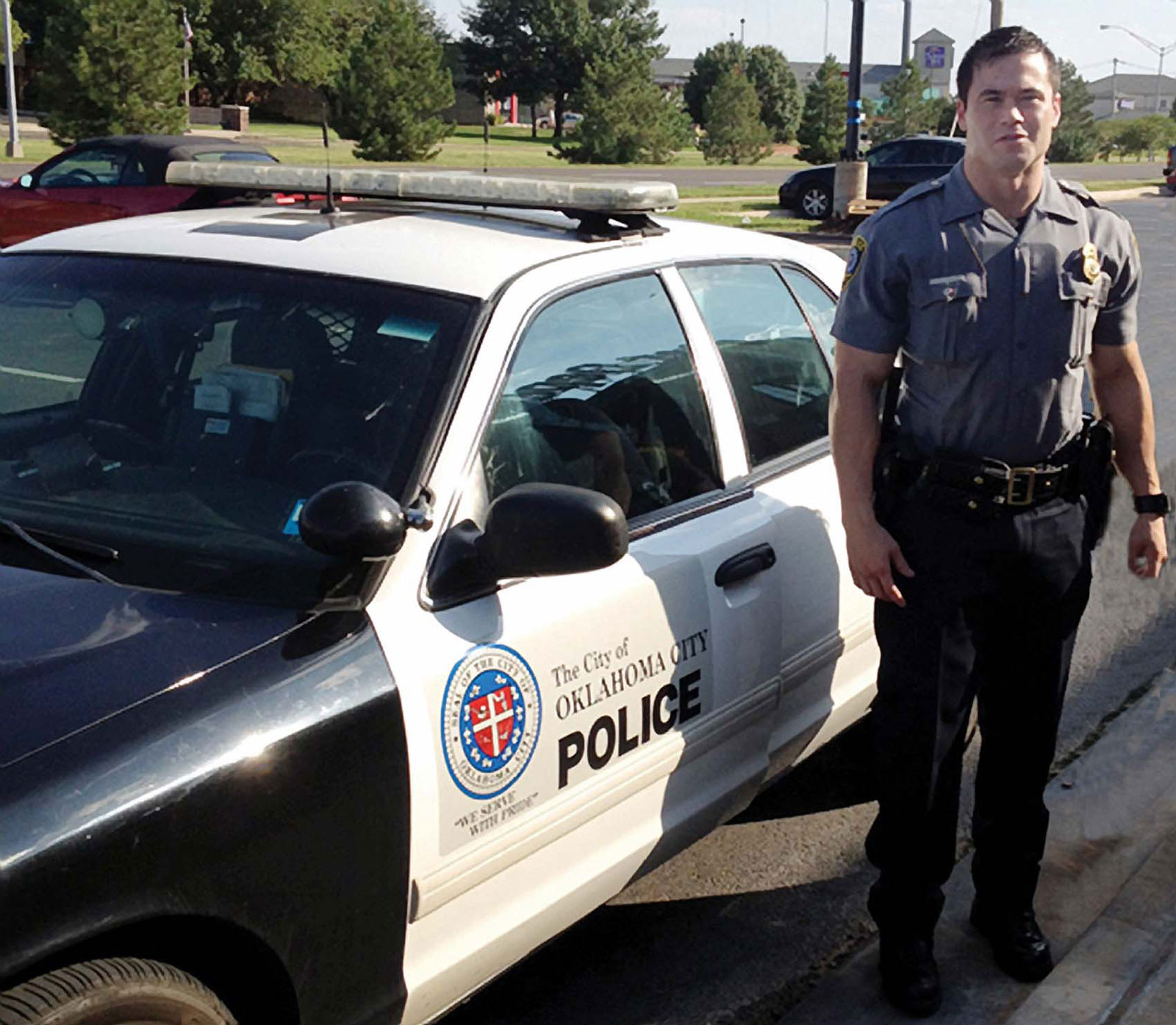 Prosecutors said they believe that Holtzclaw gradually escalated his behavior; on March 14, one of the earlier instances of misconduct uncovered, he stopped a woman known as C.R. and had her expose her breasts in the same way he allegedly did the others.
"She said she had been stopped several times by officers, but this was the only time she felt like she was forced into doing something that she didn't feel comfortable with, [and] was inappropriate," Gregory said.
On Wednesday, the prosecutor asked Gregory why C.R. didn't report the incident.
"The reason she didn't is the reason that she would feel [like] a lot of females probably wouldn't either," Gregory said. "If they had turned in an officer, the officer would cause a lot more problems for them — maybe tell a drug house they're a snitch — and then they have a lot of problems in the neighborhood. And she said that that would keep her from ever telling on an officer."
On April 14, Holtzclaw allegedly stopped a woman known as F.M., following the pattern described by prosecutors: putting her in the backseat, asking about drugs and prostitution, running a check on her through the police systems, and telling her he needed to search her.
"She said that she kind of turned her back to him, because she thought he was going to do a pat search," Davis said. Holtzclaw allegedly "reached up behind her and grabbed her butt and boobs" over her clothes. Davis added that when she first approached F.M. about the possibility she'd been assaulted, F.M. "immediately bowed her head and started crying."
On April 24, a woman named R.G. had "just left a crack house," Davis said, when Holtzclaw pulled his car beside her and asked what she was doing. She allegedly told him she was getting high.
Holtzclaw got out of the car and searched R.G.'s purse, Davis said. He found her pipe and made her break it on the ground in front of him. He put her in the backseat, and she acknowledged that she had been getting "some dates" that night, according to Davis. He offered to give her a ride home.
"Her words were, 'He pulled up in the driveway like he lived there,'" Davis said. R.G. told Davis she noticed Holtzclaw was following her into the house, but she assumed it was because she was on probation and he was trying to verify her address.
"She kind of was giving him a tour," Davis said. "She was like, 'This is the living room, this is the den, this is where I live.' He doesn't say anything. He follows her upstairs."
In her bedroom, Holtzclaw told R.G. to sit down. "He said, 'This is better than the county,' unzipped his pants, and, she said, he put his erect penis in her face," Davis said.
R.G. began performing oral sex, according to Davis. Then "he told her to lay back, and she did, and he climbed on top of her and had vaginal sex with her and he did not use a condom."
Afterward, R.G. told Holtzclaw she thought she heard the front door, Davis said. "He zipped up his pants and left."
On May 7, Holtzclaw stopped a woman known as S.E. Like in the other alleged victims' accounts, he put her in the back of his patrol car and asked her questions about drugs before getting out, standing next to her open door, and unzipping his pants. "His penis was erect, and he forced her to put it in her mouth," Davis said, but he didn't ejaculate.
Then he got back into the driver's seat, Davis said, and headed down a dead-end street. He allegedly drove over a curb and toward an abandoned school.
"He pulled between a building and a tree, got out of the car, opened the back door, made her get out of the car, told her to bend over, and he put his penis in her vagina," Davis said. "When he let her go, he said, 'Have a nice night,' and she walked off."
The police computer system later showed that Holtzclaw had run S.E.'s name twice on May 7 and twice on May 8, the day after.
"I thought he was running her to see if she reported him," Davis said.
On May 26, Holtzclaw allegedly stopped a woman known as C.J. and put her in the backseat of his car — asking about drugs, running her name, etc. He'd done this before with C.J., in March, but let her go before any misconduct occurred, Davis said. This time, during the search, "he fondled her boobs and he put his hand down the front of her pants and fingered her vagina," Davis said.
When C.J. was later interviewed by Davis, the woman, like F.M., began crying.
In court on Wednesday, Davis also revealed that a DNA sample was found on a triangle-shaped flap on the inside of Holtzclaw's uniform pants, near the zipper. Seven of the eight victims were tested against the sample, along with Holtzclaw's girlfriend. The DNA did not match any of them.
When he cross-examined Davis, Holtzclaw's defense attorney Scott Adams said, "it could also be that Mr. Holtzclaw could have cheated on his girlfriend and not wanted to tell anyone." Davis confirmed this was a possibility. But the prosecutor later redirected the question.
"If that was the case and [he] had cheated on his girlfriend and didn't want that to be uncovered, certainly he lied to you, because you asked specifically about that," Assistant DA Gieger said.
"Correct," Davis said.
In an interview with a local station later on Wednesday, Adams presented an alternate theory:
"It could be as simple as someone at the cleaners grabbing his pants and transferring the skin cells," he told KOCO. "None of what the detectives said surprised me. They can make anything look sinister, and that's what they attempt to do."
"The facts are that there is no DNA linking him to any of these women as far as was presented in the hearing," the family said in their statement.
In his closing argument at the hearing, Adams suggested that he didn't have ample time with the prosecution's discovery materials, and that Holtzclaw — being held in solitary confinement under $5 million — could not adequately defend himself either. The judge reduced Holtzclaw's bond to $500,000, based largely on Holtzclaw's lack of criminal record and under the conditions that he stay with his parents under house arrest, wear a GPS tracker, and not contact any of his alleged victims. He left jail on Friday afternoon.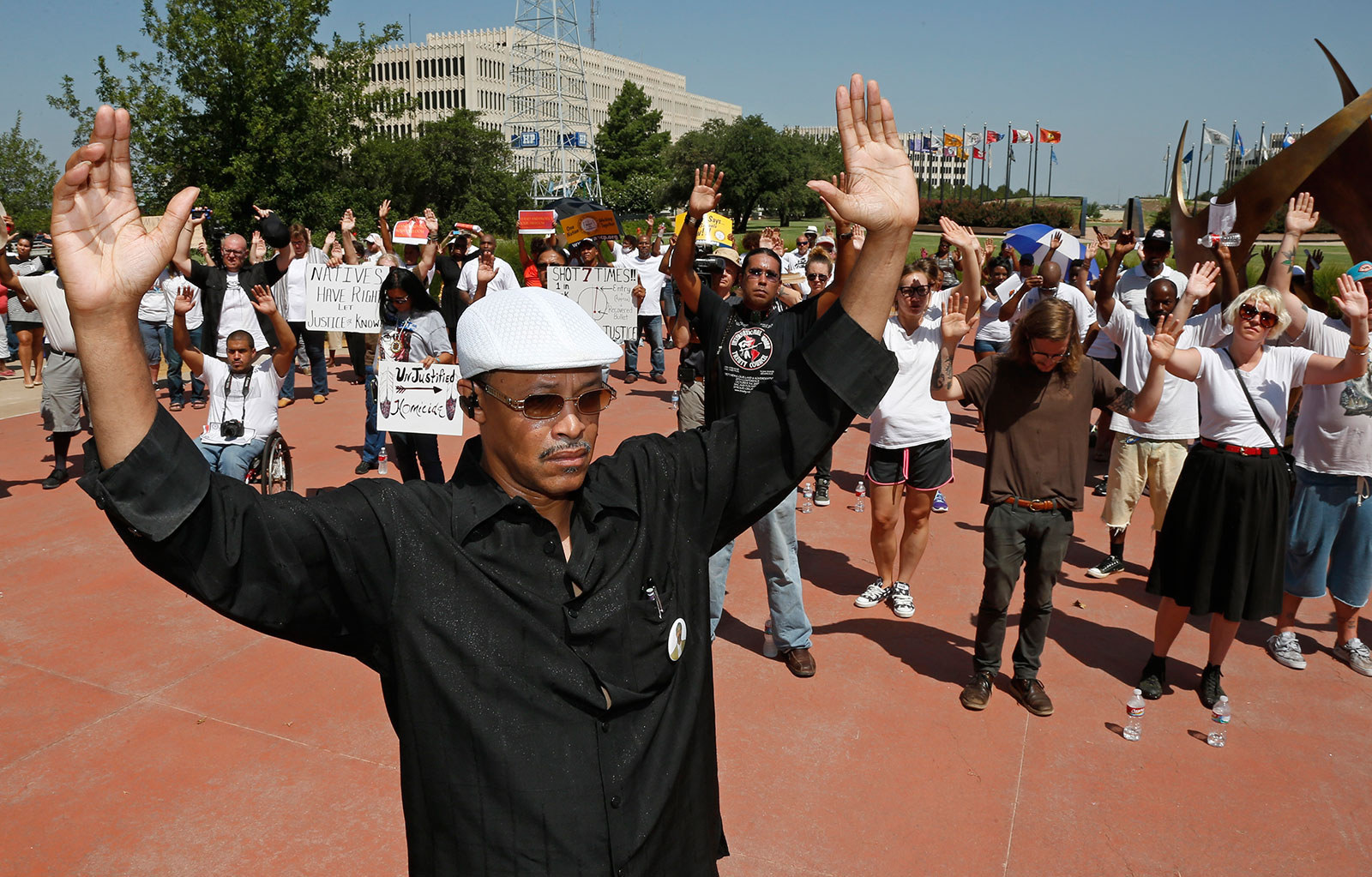 Oklahoma NAACP President Anthony Douglas first learned of the Holtzclaw case on Thursday, Aug. 21 — the day Holtzclaw was arrested — while at a rally showing support for the people of Ferguson, who were still protesting the death of Michael Brown and the Ferguson police's display of force in response to their protests. Local media began calling for Douglas' reaction to the Holtzclaw case. On the heels of the Ferguson, Douglas prepared for a storm. But it never came.
"Where's my media and where's my women's groups?" he asked BuzzFeed News on Thursday.
Douglas said Ferguson had no impact on how he approached the Holtzclaw case, but the media spectacle in Missouri made him examine how the media was "not providing the coverage as it should be brought to light." Douglas' contribution to the mostly local coverage has been to call for the Department of Justice to "look at whether this fits a pattern of racial profiling." The president views Holtzclaw's targeting of black women as a hate crime.
"[People] have not grasped the severity of the case," Douglas said. "I don't look at this gentleman as a sex offender or a rapist. I look at him as a racist, because he racially profiled and targeted African-American women."
Garland Pruitt, NAACP Oklahoma City Branch president, suggested that cases involving abuse simply don't get the kind of attention that cases involving death do. "How many folks have been beat down [...] that didn't die at the hands of the police officers? That did not get the recognition that's possibly needed?" he said.
The local NAACP also disagrees with how the neighborhood where Holtzclaw's alleged attacks occurred has been portrayed. During the Wednesday hearing, a detective said there was an unknown man lying in T.B.'s yard on a day Holtzclaw dropped by her house. The prosecutor asked the detective if that was an "unusual occurrence in this part of the city." The detective said no. At another point in the hearing, in addressing the victims' struggle to remember specific dates, the prosecutor said, "These people don't live by calendars."
Douglas challenged that assumption, saying the northeast side is a low- to middle-class neighborhood of "hardworking families" and professionals, while acknowledging "every neighborhood has issues with drugs."
"They attempt to paint this as a depressed area," he said. "That's not the truth."
The neighborhood's real struggle going forward, Douglas said, will be having trust in the police — something the chief of police himself acknowledged in a press conference last week, when he said he hopes the community "realizes that our officers, 99.9% of them are trustworthy."
But even outside Oklahoma City, many people are talking about Oklahoma City and Holtzclaw in the same sentence as Ferguson and Darren Wilson.
"The only thing that I can say is that anytime a police officer anywhere in the country makes a mistake or indulges in misconduct, police officers around the country are held in that same light regardless of the circumstances," Oklahoma City Police Department spokesman Capt. Dexter Nelson said in an email. "OKC is not Ferguson, Missouri and there is no comparison. Our departments are very different in many ways. Our department and community demographics are different, and our working relationship with the community is different."
This is certainly true — the population of Ferguson is not even 4% that of Oklahoma City. And while black police officers make up only 6% of police forces in both cities, only 15% of Oklahoma City residents are black, compared to 67% of Ferguson residents.
Oklahoma City Police also opened an investigation the day the first report about an unknown officer came in, and closed it within two months of identifying Holtzclaw as a suspect. They kept the investigation quiet for that entire time, in an effort to make sure the women bringing forward allegations weren't influenced by media reports or neighborhood gossip.
Still, both incidents of violence deeply affect black communities. And with them occurring so close together, the comparisons have been unavoidable, particularly in light of how people have rallied around the alleged offenders.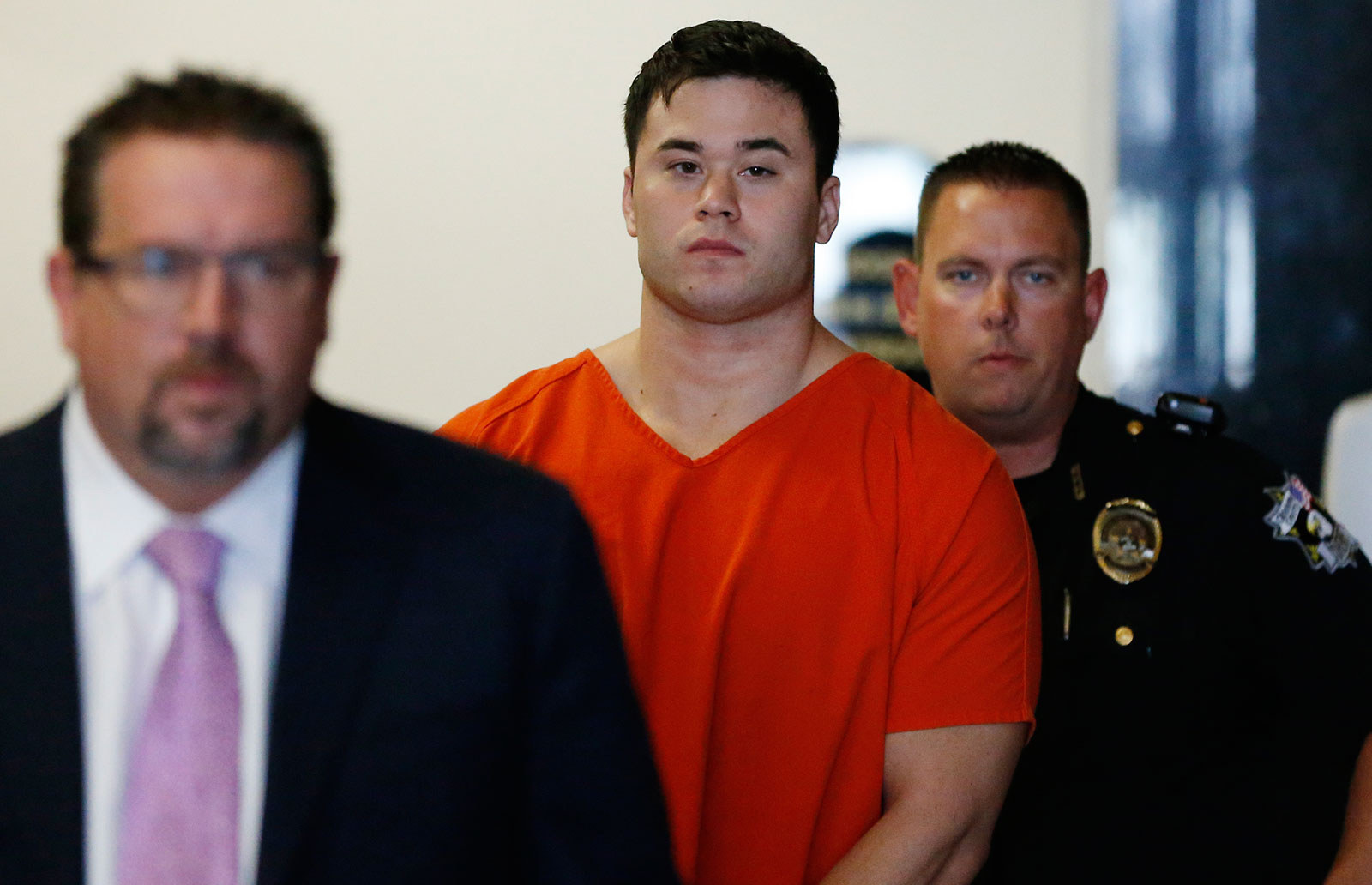 On Aug. 24, Holtzclaw's sister, Jenny, created a GoFundMe page for her brother ("JUSTICE FOR DANIEL HOLTZCLAW") two days after a judge set his initial bond at $5 million in cash. On Aug. 26, GoFundMe verified the page, making it fully visible to the public. On Sept. 2, GoFundMe pulled the campaign, which had raised more than $7,000.
"GoFundMe reviews campaigns that have received a high number of complaints on a case-by-case basis," a customer service representative wrote in an email to Jenny. "In this particular case, your campaign contains subject matter that GoFundMe would rather not be associated with."
Jenny was livid. "PEOPLE DO BELIEVE IN DANIEL'S INNOCENCE and not into the media hype that everyone is believing into!!!!" she wrote in a statement. "It looks like clearly they have caved into the media hype and social pressure rather than stand on the principle that a person is innocent until proven guilty."
GoFundMe is still hosting a campaign to raise funds for the Ferguson officer who shot Michael Brown. When asked what distinction it drew between the two campaigns, GoFundMe did not respond, only saying it conducted "an internal content review."
In the meantime, Jenny has become the family spokesman on the Facebook page, where she sells T-shirts, deletes negative comments, and shares messages from Holtzclaw's friends and family. One of the recent messages appears to hint at what's to come as Holtzclaw's case inches toward a trial.
Someone claiming to be Holtzclaw's childhood friend who attended the court hearing Wednesday later wrote about how "disgusted" he or she was by the lack of "physical evidence" presented:
"The media is giving one side of the story and leaving out major details like the fact that all of these women are active drug addicts and prostitutes from the same area of town who 'happen to not know each other.'"
It appears the prosecutor is prepared for more reactions like this one. At the hearing on Wednesday, Gieger told the judge he could see "what's coming for these ladies ... 'You're liars. Look at your lifestyle.'"
Correction: An earlier version of this story misidentified the author of an anonymous message posted to the Justice For Daniel Holtzclaw Facebook page.