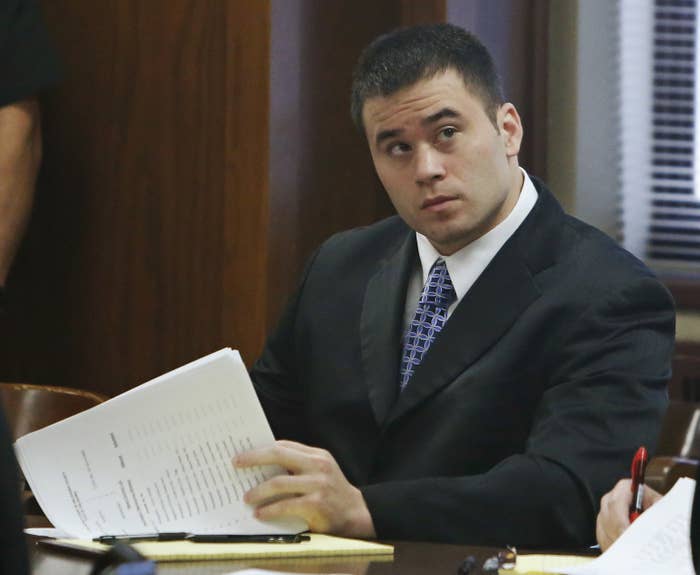 As opposing attorneys gave their opening statements Tuesday in the trial of Daniel Holtzclaw, two things were clear: The prosecution aims to present evidence that Holtzclaw sexually assaulted and raped 13 women in the community he patrolled. And the defense aims to question the character of those 13 women.
Tuesday's lengthy hearing — the second of the trial, which commenced Monday — began with final jury selection. According to reporters present, that jury includes eight men and four women. Though all of Holtzclaw's known victims are black, no black jurors were selected. (A KOCO reporter later tweeted that three black men were eliminated as potential jurors.)
As BuzzFeed News reported in September 2014, Holtzclaw is accused of targeting black women on the northeast side of Oklahoma City. His alleged pattern of abuse was consistent, prosecutors said: He would stop women, run their names to see if they had records or outstanding warrants, and then assault them with the belief that they wouldn't risk arrest and report him. Holtzclaw was caught when he allegedly pulled a woman over late one night, demanded she expose her breasts while he searched her, then forced his penis into her mouth. But the woman didn't live in the neighborhood he patrolled. When she got home, she went to the police.
Holtzclaw was arrested in August 2014, barely three years into his employment with the Oklahoma City Police Department. The 28-year-old former NFL hopeful was fired in January 2015. In the months between, more women came forward against Holtzclaw — 16 charges stemming from eight victims' reports became 36 charges from 13 women — while multiple civil suits were filed against him. But Holtzclaw's criminal trial didn't begin in Oklahoma City until this week.
According to Tuesday's courtroom reports from KOCO, KFOR, and KOKH, Assistant District Attorney Gayland Gieger said the prosecution's evidence will include a victim's DNA on Holtzclaw's pants, GPS tracking from Holtzclaw's patrol car computer, phone records and messages from Holtzclaw "contacting [a] victim at her home wanting to have sex." Gieger's opening statement reportedly lasted for more than an hour.
Defense attorney Scott Adams sought to rehabilitate Holtzclaw's reputation in his opening statement. Adams reportedly spoke about Holtzclaw's "community policing" education, saying he "was trying to get to know the people in the area he patrols." He indicated he will attempt to refute the DNA evidence and characterized Holtzclaw as an "all American good guy."
But more critically, Adams foreshadowed an argument Holtzclaw's defenders have been making since the allegations became public: that these women are not to be trusted. The attorney told the jury that Holtzclaw's alleged victims have "street smarts" — "street smarts like you can't imagine." He said the woman who first reported Holtzclaw's alleged abuse smoked a joint on the night she was pulled over by the officer. (The woman later confirmed this when she briefly took the stand following opening statements.)
In a statement to BuzzFeed News last year following Holtzclaw's bond hearing, his family said the "witness and officer testimony presented by the prosecution … is based on solicited testimony by the police department of felons, prostitutes and others who would have personal motives beyond the basic truth to fabricate their stories."
On Tuesday, the prosecution anticipated the defense would attack the character of the women who say Holtzclaw assaulted them:
Holtzclaw's trial is expected to last through November.