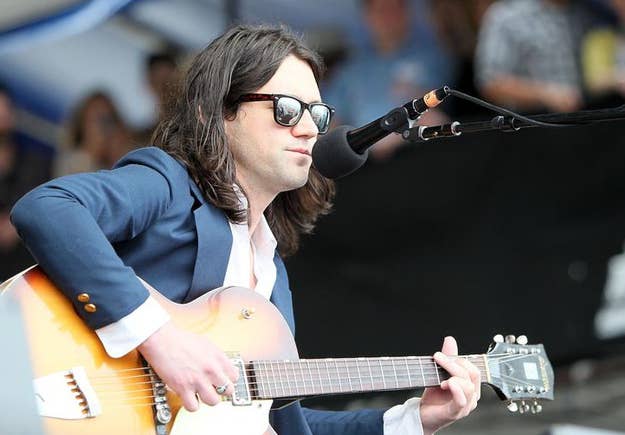 Conor Oberst filed a libel lawsuit Wednesday against a woman who claimed that he sexually assaulted her after a North Carolina concert when she was 16.
The woman told her story in December in the comments section of an xoJane essay about a woman abused by her musician boyfriend.
"No one believed me because I had been his biggest fan for several years at that point, his pictures covered my locker, etc. … I want to out him so bad," she wrote, before naming Oberst, now 34, in a follow-up comment. She said he was her former English teacher's brother; the comments were reposted to Tumblr and reblogged into the thousands.
At the time, Oberst's publicist said the Bright Eyes singer was consulting with a libel attorney, and that "the behavior attributed to him by this individual is in direct opposition to his principles."
Wednesday's lawsuit, filed in a Manhattan federal court, claims the woman made "despicable, false, outrageous, and defamatory statements." Oberst is seeking monetary damages, which his representative said will be donated "to charities benefiting the victims of violence against women."
From the Associated Press:


[Oberst] says the media coverage that resulted from the three posts in the comments section of a blog has damaged his career, especially in New York where most of the major music publishing houses are headquartered. He says he was in the company of his brother, bandmates or then-girlfriend at the time of the claims.

A Tumblr user claiming to be the xoJane commenter later wrote that coming forward was a "stupid mistake," and asked for privacy and respect.


I do not expect anyone to coddle me or hate him or to believe me. That's your choice and has no bearing on my life, but I do expect people to treat me with dignity and respect-this was and is very painful for me. It's really hard to have my experience smeared everywhere and picked apart, over analyzed, people criticizing me who know nothing of it, etc. But I made the stupid mistake that opened these flood gates so, I will deal with it. But please just try to be respectful-that shouldn't be so hard. Please refrain from telling me what I could've/would've/should've done. That is highly offensive to any victim of anything and not your place. Please respect my privacy for the safety of my family.