Comfort Dogs Return For Boston Marathon, Reuniting With Old Friends
A survivor of last year's bombings and the golden retriever who visited her in the hospital meet again.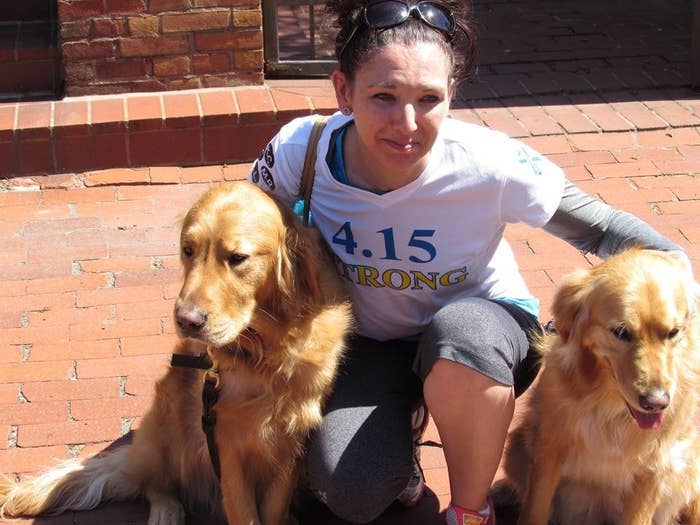 BOSTON — Last year on Boylston Street, Michelle L'Heureux was a spectator at the finish line. When the bombs went off, shrapnel tore through one of her arms and a leg. She lost hearing in her left ear.
This year, she ran the Boston Athletic Association's pre-marathon 5k with "Survivor" on the back of her T-shirt. L'Heureux doesn't like to run, she said. That's not why she did it.
"It was for me, up here," she said, finger to her temple. "To heal, it was something for me to work toward, to get strong for."
And as soon as she finished the race, the first place L'Heureux wanted to go was Boston's First Lutheran Church, to see her friend Luther, a 3-year-old golden retriever who helped her walk again.
"This is a special dog," she said.
Luther was one of the five "comfort dogs" brought to Boston by Chicago-based Lutheran Church Charities last year. L'Heureux was one of the dozens of injured spectators and runners at Boston-area hospitals they visited. The first time L'Heureux walked after her injury, she said, she was standing next to Luther.
"I didn't know if I was going to be able to walk again," she told Rich Martin, LCC's comfort dog ministry director. "Seeing these dogs … They had the opposite effect on our city."
Since last year's trip to Boston, the dogs have visited nearly every American town affected by news-making disasters — man-made or otherwise. They've been to West, Texas, where 15 died after an explosion at a fertilizer company. They went to northern Arizona, where the Granite Mountain Hotshots lost 19 in a fire. They've visited the Rockaways, in Queens, N.Y., where residents still feel the effects of Hurricane Sandy. They went to Oklahoma after two devastating tornadoes, and Colorado after the deadly floods. They walked in the beloved Labor Day parade in Newtown, Conn. And they've been back to Boston twice — in May, a month after the bombings, and at the six-month mark in October.
"It's very gratifying to see the progress of people moving forward," Martin said.
That doesn't mean it's always easy, flying across the country for back-to-back tragedies and their anniversaries.
"We're a little bit one-step detached, but it is hard not to be attached to every place we visit," he said. "Coming back is always good therapy for us."
There are other comfort dog groups around the country — and many individual dogs placed at churches, hospitals, and other community centers — but the LCC group is the only one that travels this extensively and places dogs permanently in afflicted communities. After the Labor Day parade in Newtown, the LCC group gave the town its second permanent comfort dog, to operate out of Christ the King Lutheran Church. Every week, retrievers Maggie and Addie visit Sandy Hook Elementary School.
"We greet the students right off the bus," said Cathy Swanson, a handler at Christ the King. "As soon as they see us from the windows, they start waving."
Sharon Flaherty, a trainer-in-training with LCC, said her first trip with the dogs was to Newtown, right after the shootings in December 2012. Since then, she said, the organization has learned a lot about resilience — not only from the communities they visit, but from the emotional exhaustion of visiting one national nightmare after another.
"Our faith was in God when we went out to Connecticut — it was like, please, just don't let us cry and make these people feel worse," she said. "We got through it, but on the way home, we had to pull over several times because we all were having meltdowns. But if you know that going in — which we now know, that the volunteers have to have time to decompress and process what they've gone through — then it's OK."
Martin acknowledged that the group sees a lot of "death and destruction." But they have faith, and watching the dogs help people always seems to make up for the tragedy — like when Luther helped L'Heureux.
"She was not going to be defeated," Martin said. "To see all the good that has come since then — all the things that she never thought she would be able to do, or would ever want to do — that's what keeps me going too."