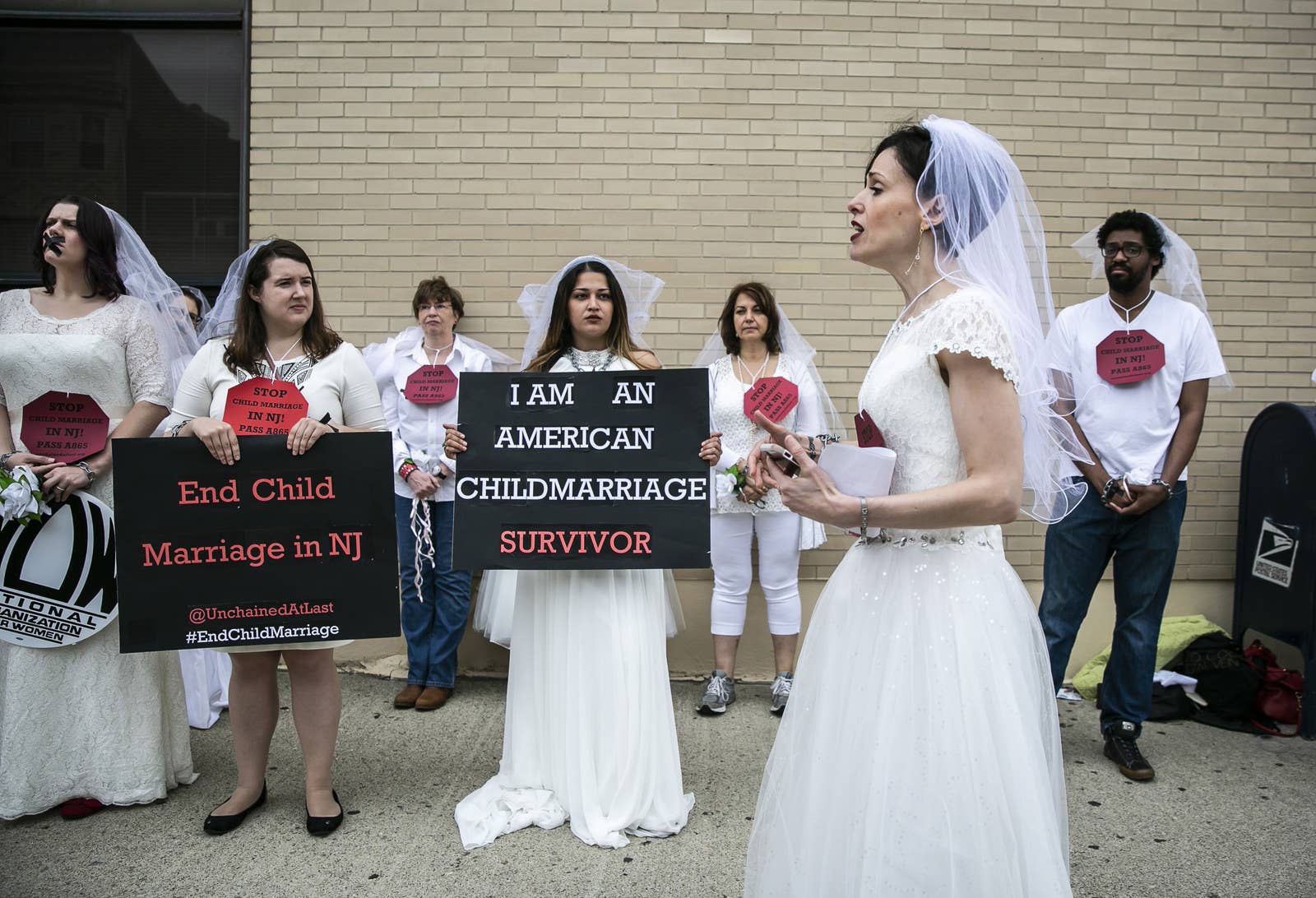 Brigitte Combs was legally married at a courthouse in San Marcos, Texas, in 1984. She was barely 15, and her seven-months-pregnant stomach showed in her blue-and-white sundress. She didn't quite understand what she was doing there. She thought she was already married. A year earlier, at 14, Combs and her then–37-year-old husband had taken part in a spiritual ceremony as devotees of Hare Krishna. Now the teenager stood before a judge while her mother, who had arranged the marriage, provided the parental signature required to legalize the union.
With that, Combs became a stepmother to a boy four years younger than she was. She couldn't even drive. Yet Combs didn't resist the marriage initially. She saw it as a twisted way to escape her parents' rigid home. Before they were married, she said, her "betrothed" introduced her to strawberry milkshakes and took her to her first movie, John Travolta's Staying Alive. She thought if she got married and moved out, maybe she could finally enroll in school — something her parents forbade.
But instead of attending classes, Combs went to PTA meetings for her stepson. She learned she couldn't register herself in school because she was still underage. Soon she had two children of her own. As she inched closer to 18, Combs realized she was in a "dead-end" marriage, she said. She dreamed of seeing the world and, still, getting an education. Her husband wanted her to stay home, to be a "nice wife," she said. Combs thought about filing for divorce, then reminded herself that she couldn't file for anything. Minors can't sign contracts. She had acquired a fake ID for such occasions but worried that it wouldn't fool a lawyer or judge.
After Combs finally turned 18 and left her husband, though, her life only got more complicated. Rejected by her family, Combs fell in with the wrong crowd, she said, and was homeless for months. A friend eventually let her crash on his couch, and she ended up marrying him next — four kids later, it was another doomed marriage.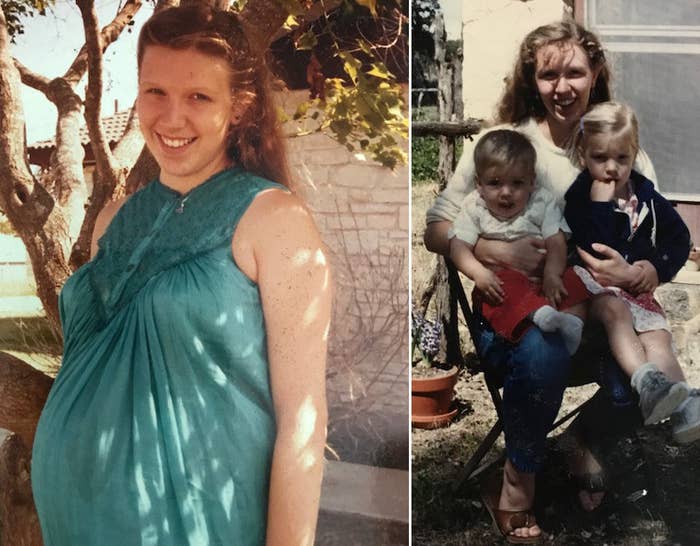 "It was an upward battle," said Combs, who's now 49. "What the heck did I know about being in a healthy relationship and good decision-making? If I had been allowed the chance to get out in the world and experience life, then maybe I would have had a better awareness of how people are. I would have learned more about relationships. I would have made sounder decisions."
In 2010, the US State Department denounced "all cases of child marriage as child abuse." While the State Department was referring to the practice abroad, child marriage was legal, through various loopholes, in all 50 US states — a contradiction often highlighted by supporters of legislation raising the marriage age to 18. Since then, only two states have banned marriage for people under 18. Nineteen states still don't have minimum ages for people to marry.
"What the heck did I know about being in a healthy relationship and good decision-making?"
Research shows that Americans who marry young are generally more likely to drop out of school, live in poverty, develop mental and physical health problems, and eventually divorce. Boys and girls alike under 18 aren't trusted by the law to vote, open a bank account, buy cigarettes or drink alcohol, or, in some states, consent to sex, though in nearly every state, they can find a way to enter into the life-altering legal pact of marriage.
But when lawmakers have been presented with the opportunity to definitively stop child marriages in their states, they tend to compromise — to amend under-18 bans to become under-17 bans, for example, or to write in exceptions for minors who get permission from their parents or from judges. Since 2016, an outright ban of marriage under 18 has been proposed in at least 15 states. Only six of those bills have passed, but four were watered down first, creating paths for minors to still marry. In May, Delaware became the first state to outlaw marriage under 18 without exceptions. On Friday, New Jersey became the second — a major victory for activists who spent two years heaving the law over the finish line. They still have 48 states to go.
The New Jersey–based organization Unchained at Last estimates that nearly 250,000 children were married in the US between 2000 and 2010, and that more than three-quarters of these unions involved minor girls marrying adult men. When its founder, Fraidy Reiss, began approaching state lawmakers back in 2015, she thought those numbers spoke for themselves. She didn't expect to face any opposition — let alone opposition that would shape-shift from state to state, from conservative family councils to left-leaning civil rights coalitions. She'd go up against Orthodox Jews in one state only to be propped up in another by Catholics. And she'd find herself in the unusual position of fighting both sides of the abortion debate. A local Right to Life group would argue that pregnant teens shouldn't be "forced into unwed motherhood," while a NARAL chapter would call marriage a "human right," one that can help teens escape dire home lives. Rather than a singular enemy, Reiss would confront what she says is a systemic barrier to progress — one much harder to fight than a bunch of lobbyists. It wasn't bipartisanship.
"It's sexism," Reiss said, plainly. In male-dominated legislatures, lawmakers are "looking at it and going, 'So what? This is just girls … What's the big deal?'" Women candidates may be flooding local and national elections, but change has been slow in state capitol buildings. The #MeToo movement hasn't come for child marriage yet.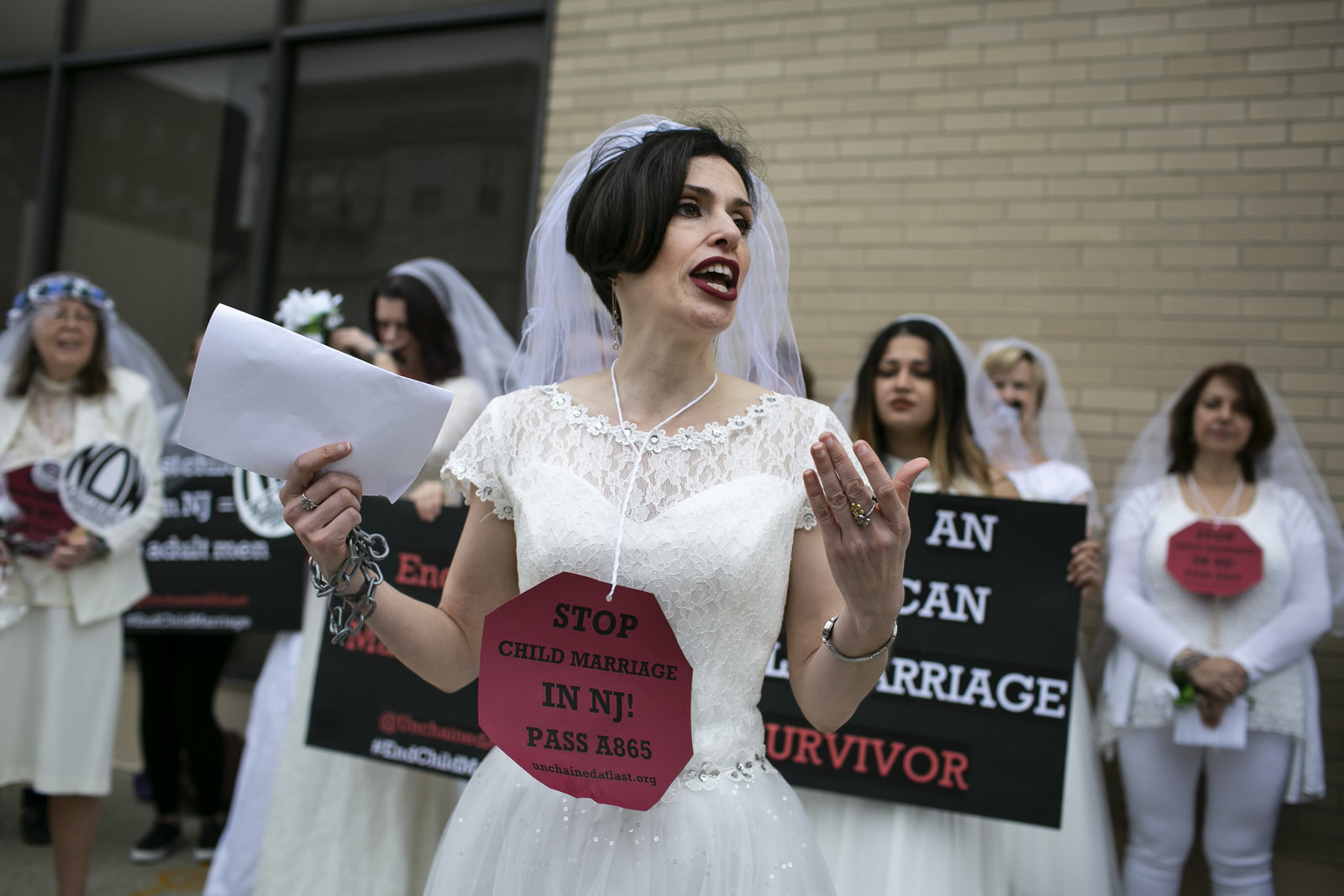 While it's possible to tally about how many US minors are married — 57,800 between ages 15 and 17 in 2014, for example — there's no way of knowing how many of these marriages are forced. (The national nonprofit Tahirih Justice Center says it identified as many as 3,000 cases in a 2009–2011 survey.) What concerns activists is that they "can too easily be forced," Reiss said.
Children lack the legal rights and protection of adults. It can be difficult for a married girl, for example, to enter a domestic violence shelter while under 18. (Girls and women between 16 and 24 have the highest rates of intimate partner violence.) She also can't easily hire a lawyer or file for divorce on her own. Laws regarding aiding runaways can prevent nonprofits focused on child marriage from assisting girls in need. Unchained at Last said it's currently in contact with about 95 girls or women trying to avoid or escape forced marriage nationwide.
With the New Jersey bill now signed, the next two states set to consider under-18 bans are Ohio and Pennsylvania. In 2019, a handful more are expected to propose or revisit failed child marriage bans. There's some momentum, Reiss said, but lawmakers aren't acting urgently enough.
"If this were happening to boys," she said, "if boys were being pulled out of school, forced into marriage, raped on their wedding night, raped repeatedly, all their hopes and dreams for the future gone, I think that we would have a very quick response to that.'"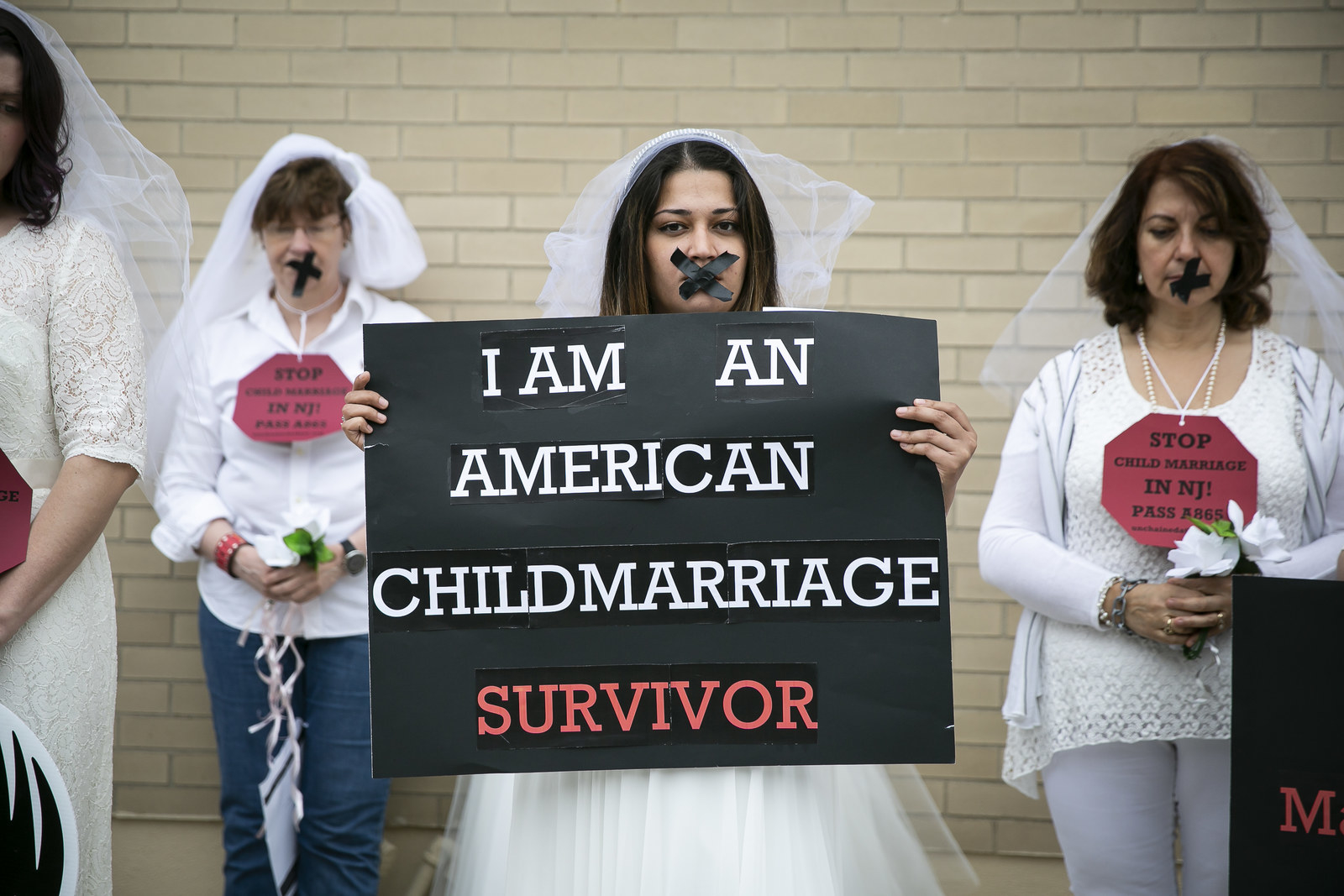 Combs eventually pursued an education. She got a GED, an associate's degree, and became a paramedic. In 2016, the Tahirih Justice Center pushed Combs' new home state, Virginia, to set the marriage age at 18. The bill passed with only one exception: legally emancipated minors. (Emancipation isn't granted in Virginia to anyone under 16.) Combs is mostly OK with that. In 2015, the year before the Virginia law passed, nearly 200 children were married there, according to the Tahirih Justice Center. In 2017, that number was fewer than 20. It's progress.
What Combs can't tolerate is exceptions for minors with a parental signature, which is how she ended up married. While Texas has since closed this particular loophole, children can still marry with parental consent in several states.
"How many times is the parent just making the decision for that person? That's part of the problem," Combs said.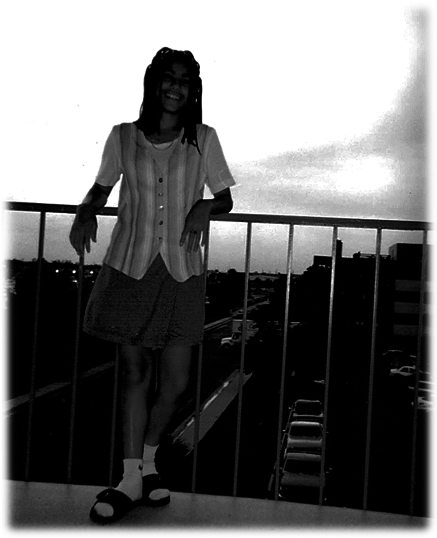 Sara Tasneem, 37, said she was also coerced by a parent to marry at age 15, right after her freshman year of high school. Her father was a member of a strict religious group in California that Tasneem declined to name. In 1996, he arranged a marriage between her and a 28-year-old member of the same group, whom Tasneem met on the day of their spiritual wedding ceremony, she said. A year later, she was 16 and pregnant and her husband took her to Reno, Nevada, to make the marriage legal. He had a signed form — a "permission slip," as Tasneem called it — from Tasneem's father.
The whole time, Tasneem said, she still felt like a child. On the drive to Reno, she asked her husband if they could stop to go sledding. Tasneem said her mother, divorced from her father and living in another state, didn't know what was happening; the young girl had been forbidden from contacting her. Tasneem never went back to high school, giving up her ambitions of joining the ROTC, going to the Air Force Academy, and then on to law school. Instead she went to adult education classes to get her GED. She had two children. She didn't start driving until she was 22, and she had to teach herself. It was a "struggle to do anything on my own," Tasneem said. The imbalance of power was too great. She didn't even have her own bank account.
But at 23, after finally being allowed to take college classes and get a job, she decided to leave her husband. The divorce took three years. She couldn't afford a lawyer, so she represented herself against her husband's attorney, she said. A decade later, Tasneem is still in school, working on a master's degree in public administration after getting her bachelor's in business management from San Francisco's Golden Gate University. Last year, she began publicly telling her story as California considered a child marriage ban of its own.
"Even though I'm a survivor, I didn't realize it was still legal to this very day and continuing to happen."
"Even though I'm a survivor, I didn't realize it was still legal to this very day and continuing to happen," Tasneem said. But in California, Tasneem had to watch the bill outlawing marriage under 18 be "torn into little pieces."
The bill largely fell apart when the American Civil Liberties Union (for the first and only time) publicly opposed it, saying there was a "lack of data showing this is a widespread problem." It argued that an under-18 ban "unnecessarily and unduly intrudes on the fundamental rights of marriage without sufficient cause." New amendments were added, including one requiring minors to be interviewed by a judge prior to marriage; it wasn't a law setting the marriage age at 18 anymore.
Tasneem, who had given testimony twice in support of the proposal, began criticizing the amended version. "I didn't want legislators thinking they had solved the issue when they hadn't," she said. She called the experience "painful but enlightening." Today the bill has all but died. Tasneem, along with other activists, hopes to bring a new version back during the next session. She sees the #MeToo movement, built on women speaking out against sexual harassment and abuse, as an opportunity to push forward on child marriage. Women have more political capital than they did even a year ago — or so Tasneem hopes.
Unlike the others, Reiss was 19 when she was married to a man she'd been matched with by her Orthodox Jewish community in Brooklyn. Within the first week of her marriage, Reiss wanted out, she said. But in Reiss's faith, only her husband could initiate a religious divorce. He refused, Reiss said, and her family refused to take her back in as an "agunah," the term for a "chained" woman whose husband won't divorce her. The couple had moved to New Jersey and went on to have two children.
Then at 32, Reiss got a college degree — the first in her family to pursue higher education, she said, an unpopular decision among her husband and other relatives. She got a job at a newspaper. That taste of financial independence gave Reiss the confidence to legally divorce her husband and to walk away from her family and religious community. Reiss wasn't underage when she was forced to marry, she said, but as she began talking publicly about her marriage, she met other women who were.
"At 19, if I had been smart enough and brave enough to reach out and ask for help, it's possible I could have gotten it," Reiss said. "A 16- or 17-year-old... There's almost nothing that we can do to help them."
Ending marriage under 18 became a personal mission, and Reiss decided to start in New Jersey, where she said she found her own freedom. At the time, 16- and 17-year-olds could marry with parental consent, while those 15 or younger required parental and court approval. Between 1995 and 2015, more than 3,600 minors were married in New Jersey, according to the state's health department. This included more than 150 marriages involving a minor 15 or younger, as Reiss testified before legislators. North Jersey's Record reported that one of these marriages was between a 15-year-old girl and a 43-year-old man in 2004.
Reiss's enthusiasm can often border on unchecked hyperbole. She told BuzzFeed News that when underage married girls call Unchained at Last for help, and they hear how limited their options are — because shelters or legal action are likely unavailable to them — "almost all of them end up trying to kill themselves," a disturbing but impossible-to-verify claim she's made before.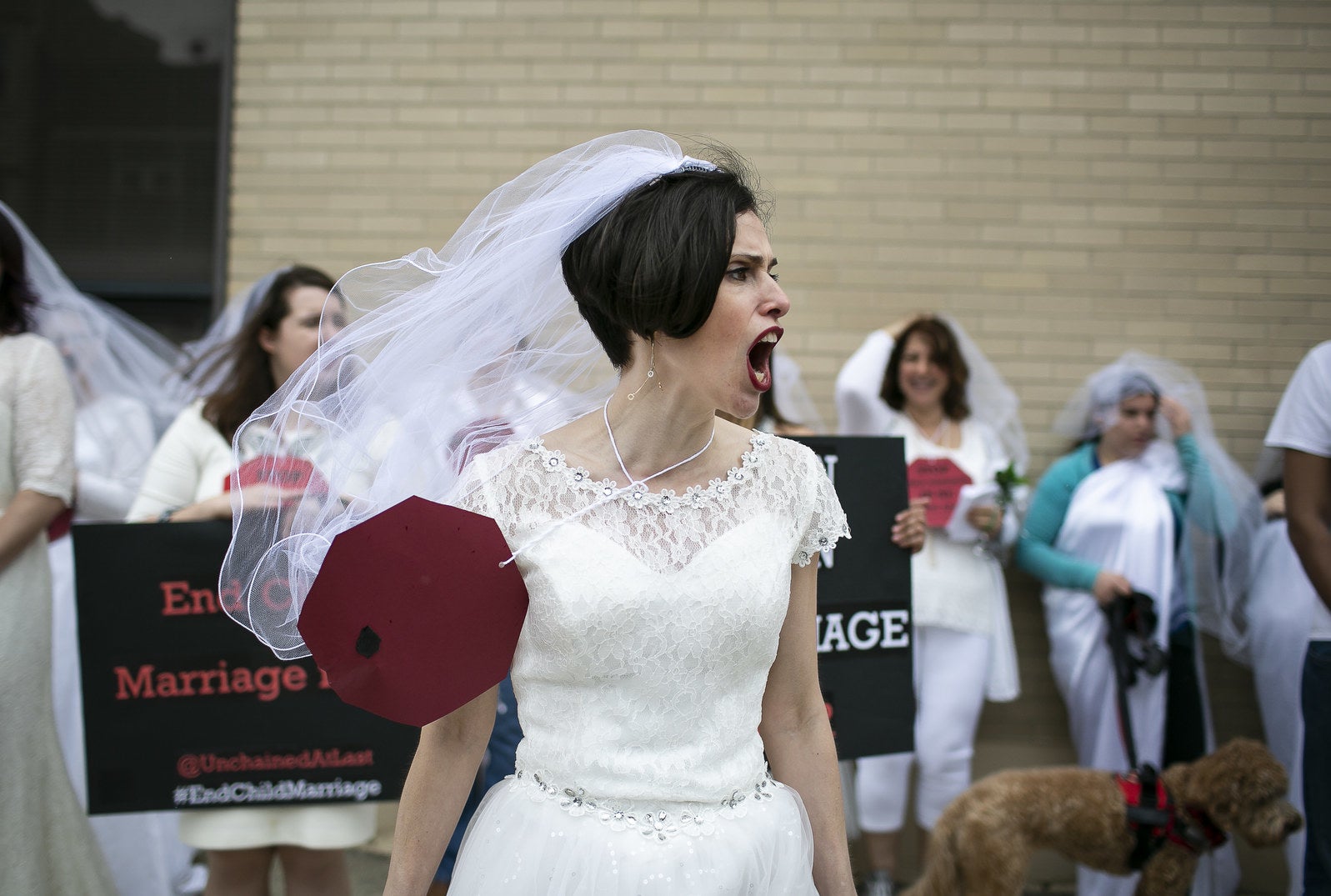 But Reiss's passion served her well in New Jersey. In the spring of 2017, the bill she helped author overwhelmingly passed both legislative houses, and the state was poised to become the first to ban child marriage.
Then-governor Chris Christie vetoed the bill, suggesting that the state ban marriage under 16 instead of 18. He urged trusting teens. Christie, a Republican, said it was "disingenuous to hold that a 16-year-old may never consent to marriage, although New Jersey law permits the very same 16-year-old to consent to sex or obtain an abortion without so much as parental knowledge, let alone consent."
Christie mentioning abortion would come back to haunt the bill during Reiss's next try. This year, state Sen. Gerald Cardinale, also a Republican, echoed Christie's veto: "At 13, a girl can go to an abortion clinic without parental guidance," Cardinale said. "But when the same child wants to get married, we say no? That's an anachronism." Another Republican state senator, Michael Doherty, expressed concerns that "this will lead to more abortions occurring."
Reiss is dismissive of the abortion argument. "Marriage age laws have nothing to do with abortion laws," she said, pointing out there's no data to support the theory that more girls seek abortions when they can't marry. But even if the connection between the two isn't clear through any research, it is clear what happens as soon as the abortion issue is raised in the context of child marriage: An initially nonpartisan issue can begin splintering down party lines.
In Delaware, during a debate over the under-18 ban, at least one representative said he believed more teenage girls would get abortions if they weren't allowed to marry. It was in Delaware that the full spectrum of arguments often made against child marriage bans was put on display.
There was the parents/grandparents argument: If my mother married my father when she was 16 and he was 18 and they've had a long and loving marriage, why should today's teens be deprived that same right? And what about members of the military? Shouldn't they be allowed to marry their sweethearts before deploying, regardless of age? And shouldn't parents have the ultimate say over whether their minors can marry, not the government?
"It all comes down to the pregnant teenage girl ... the idea that a girl has no value beyond her womb."
Every state that considers a child marriage ban may consider these questions — along with the abortion issue — homing in on one concern or another. But across state lines, there's one common denominator: a specter enveloping these legislatures, her presence weighty and her shadow long.
"It all comes down to the pregnant teenage girl," Reiss said. "And the pregnant teenage girl comes down to sexism. The idea that a girl has no value beyond her womb."
For lawmakers who actively fight raising the minimum marriage age, their opposition has become less about child marriage itself and more about protecting the rights of pregnant teens. With the US maintaining the highest rate of teen pregnancies among developed countries, these legislators want to ensure this faceless, omnipresent girl has a third option, beyond abortion, adoption, and single motherhood.
"If a teen gets pregnant, are we going to say they can't get married and their child can't be raised in a loving home or have the same last name as his or her parents?" Delaware Rep. Tim Dukes, a Republican, said during his state's debate. "That just does not seem right to me."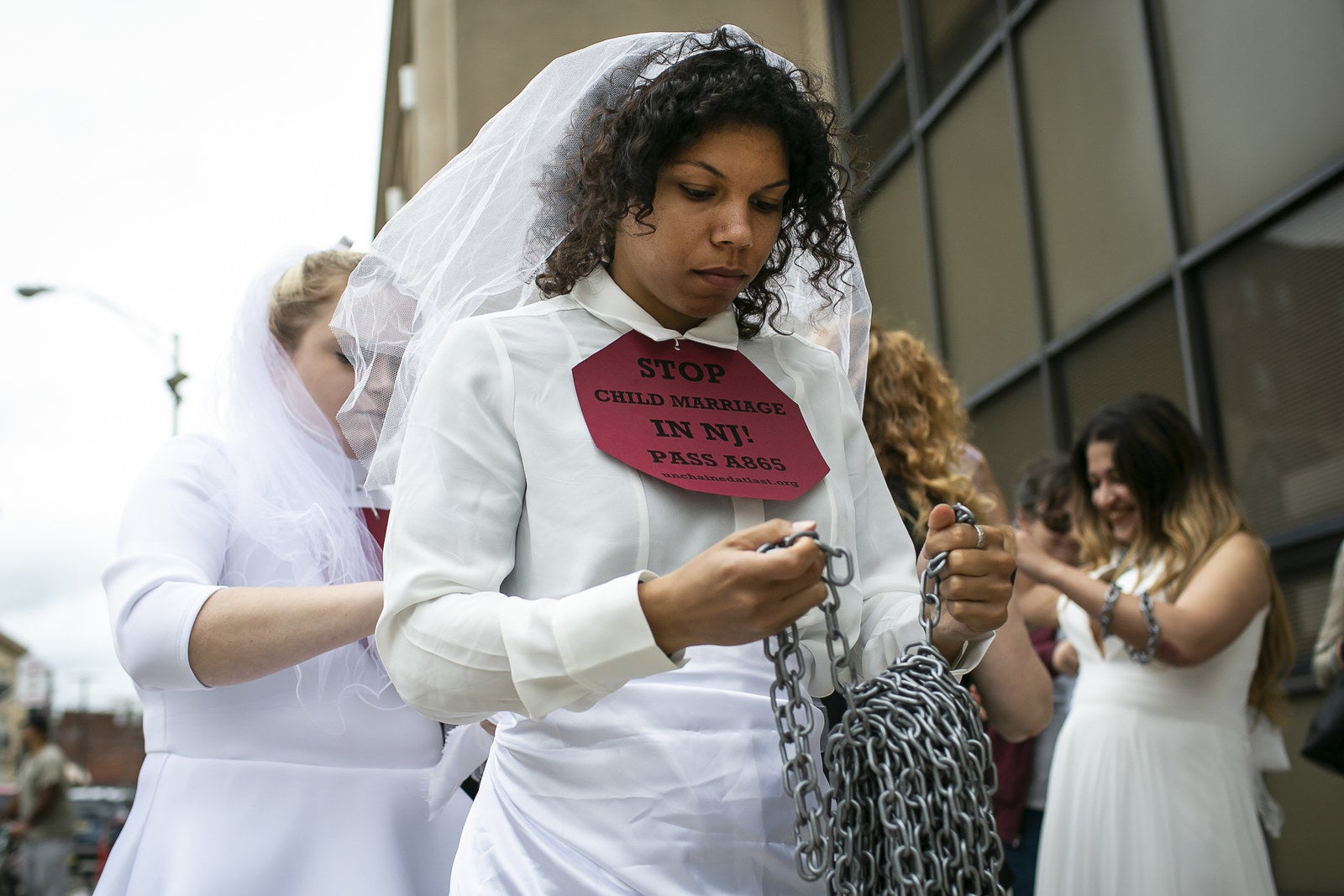 When the Delaware law eventually succeeded — pushed to the governor's desk by an uncompromising author, Democratic Rep. Kim Williams — Reiss sobbed openly, and then she and two of her staffers at Unchained at Last got tattoos to commemorate the first US state passing such a law. Reiss's tattoo is a bracelet chain that breaks into crumblike pieces on the inner bullseye of her small wrist. Another staffer chose a phrase from The Handmaid's Tale: Nolite te bastardes carborundorum. "Do not let the bastards grind you down."
They tried, Reiss said, in New Jersey, over and over again. A year after Christie's veto, the bill was resurrected under a new governor, Democrat Phil Murphy. But it nearly died again when an Orthodox Jewish group opposed the bill's lack of exceptions. This felt deeply personal to Reiss, whose own Orthodox Jewish community, she said, considered her dead when she left her marriage.
Now that Gov. Murphy has signed the New Jersey bill into law, national activists have turned their efforts to the new battlegrounds: Pennsylvania, where children can marry with either court permission (if under 16) or parental permission (if 16 or 17), and Ohio, where pregnant girls of any age can marry with parental and court permission. Next year, they're hoping to see laws proposed in at least Wyoming, Washington, Utah, Georgia, and Connecticut.

But in some of those states, like Washington and Connecticut, legislation has already been introduced and either failed, stalled, or passed but with significant loopholes. Activists have been stuck repeating their grueling, years-long effort in these states and others — like Maryland, where child marriage bills have been killed three times now — until it sticks.
The key to getting unstuck in the future, according to the Tahirih Justice Center's Jeanne Smoot, will be getting lawmakers to see through the eyes of girls and to stop assuming that all girls have the ability to advocate for themselves. "Putting the legislator in the shoes of a girl who is trying to prevent a marriage she doesn't want," she said. "Making them realize how much being a minor prevents her from protecting herself."
But if Reiss and Tasneem and other activists are right about the biggest challenge facing their work — that lawmakers dismiss the child marriage issue because it's essentially a girls issue, and one affecting not that many girls, relatively — that won't be easy, even in a post-#MeToo world.
"Sometimes I have to pinch myself," Reiss said. "I'm not talking about 16th-century laws. I'm talking about today's laws." ●