The California legislature passed a bill Thursday that would make the state the first in the US to widely recognize a third, nonbinary gender.

On May 31, the Gender Recognition Act, or Senate Bill 179, passed the California Senate with a 26-12 vote. On Wednesday, more than three months later, it passed the California Assembly with a 57-21 vote. The bill then went back to the Senate for approval of amendments made in the Assembly. On Thursday, SB 179 finally passed the legislature, one day before the deadline for bills to be passed this legislative session.
SB 179 now awaits a decision from Gov. Jerry Brown, who has not yet indicated whether he'll make it law. As the bill passed the legislature on Thursday, intersex activist Sara Kelly Keenan told BuzzFeed News she's "guardedly optimistic, because we still need the governor's signature … until he signs on the dotted line, I'm not doing any jigs."
BuzzFeed News first reported on the Gender Recognition Act in May. To its supporters, the bill is a leap forward for California at a time when the Trump administration is working to reverse Obama-era strides in LGBT rights nationwide. Activists predict the bill's success will inspire other progressive states to recognize a third gender, too.
The legislation's most significant act is adding "nonbinary" as an alternative option to "male" or "female" on state-issued identity documents. On July 1, the state of Oregon began offering "X" in addition to "M" and "F" on state driver's licenses and ID cards — the first in the nation to do so. But the California law is broader, applying to birth certificates in addition to licenses and IDs. It also makes it possible to legally change one's gender to nonbinary in courts statewide.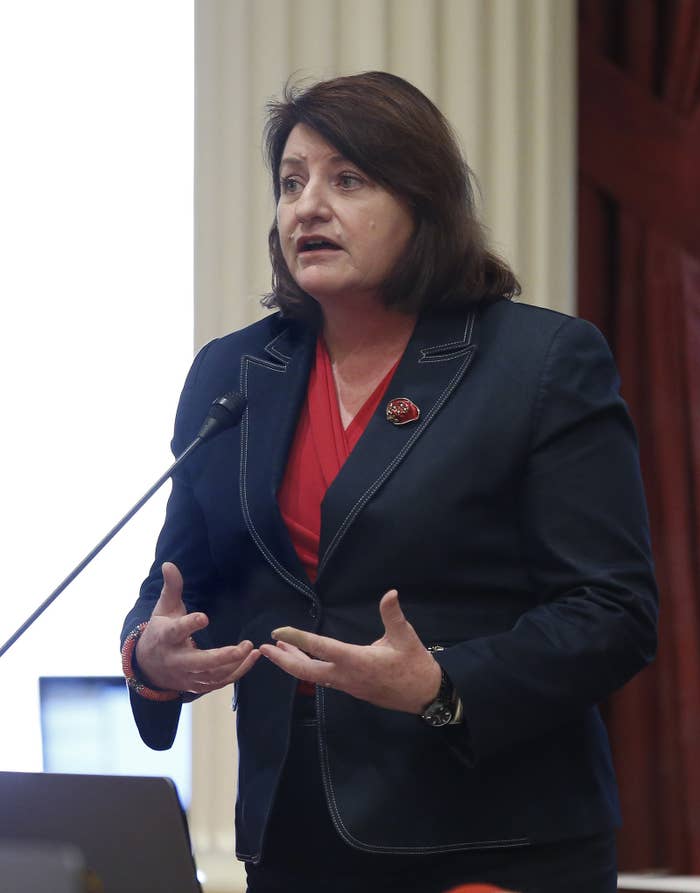 Currently in California, only a handful of county courts have granted gender-change court orders to nonbinary citizens. Sara Kelly Keenan became the first to obtain one almost a year ago, on Sept. 26, 2016.
Beyond adding nonbinary as a gender-marker option, the bill also helps Californians looking to legally change their genders in general, removing requirements to obtain a doctor's statement or appear in person in court, and streamlining the process for minors seeking to change their gender on their birth certificates.
"SB 179 will make things a lot easier for our transgender, nonbinary and intersex friends and neighbors," the bill's author, Democratic Sen. Toni Atkins, said in a statement following the assembly's Wednesday vote, citing the stress and harassment that comes with showing one's ID to law enforcement and other officials when it does not match one's gender presentation.
"We need to make it easier for transgender and gender non-conforming people to live their lives as who they are, not who society says they're supposed to be," said her coauthor Sen. Scott Wiener, also a Democrat.
Gov. Brown's deadline to sign or veto the law is Oct. 15. The governor is known for being progressive, but because SB 179 comes with some state expenses — including at least $500,000 for the DMV to make updates — the bill's authors, sponsors, and supporters say they don't know where Brown stands on the legislation.
The bill was announced by Atkins and Wiener, along with Equality California and the Transgender Law Center, in January. As it went through the legislature, the bill only faced opposition from religious organizations. It was widely supported by doctor, lawyer, and teacher groups, in addition to cities like Los Angeles and counties like Santa Clara.