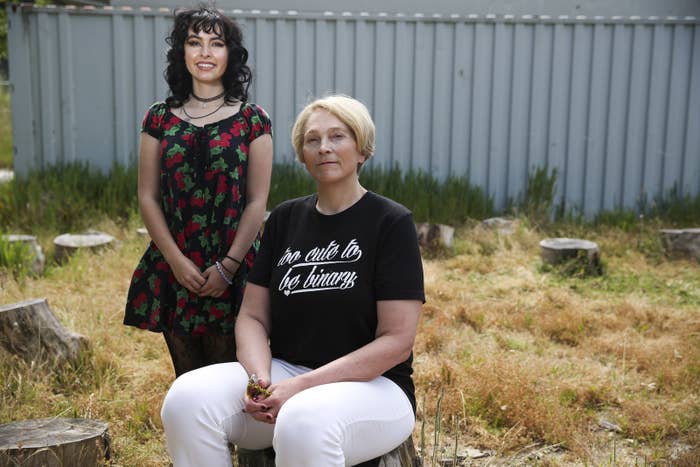 California Gov. Jerry Brown signed a bill Sunday making his state the first in the nation to officially recognize a third gender.

Californians will soon be able to identify as nonbinary, in addition to male or female, on state-issued identity documents, including driver's licenses and birth certificates. The bill also eases the process of legal gender changes of any kind — male to female, female to male, and either male or female to nonbinary — by removing requirements to obtain a doctor's statement or appear in person in court.
"I want to thank Gov. Brown for recognizing how difficult it can be for our transgender, nonbinary, and intersex family members, friends, and neighbors when they don't have an ID that matches their gender presentation," the bill's co-author Sen. Toni Atkins, a Democrat from San Diego, said in a statement. "The Gender Recognition Act will eliminate unnecessary stress and anxiety for many Californians, and it exemplifies the leadership role that our state continues to take in LGBTQ civil rights."
This summer, Oregon's Department of Motor Vehicles became the first in the nation to offer a nonbinary option, "X," on IDs and licenses. But California is the first to offer statewide legal recognition of nonbinary citizens — as supporters called it, "gender freedom."

BuzzFeed News reported on Senate Bill 179, or the Gender Recognition Act, in May. At the time, activists said California's measure could inspire other progressive states to follow suit. The bill was widely supported by doctor, lawyer, and teacher groups; its main opposition was from the California Family Council, a religious organization.
But despite the measure's popularity, Gov. Brown's support was never a sure thing because of the expense associated with it. SB 179 was forecast to cost the DMV $880,000 alone in system updates. The governor didn't make his opinion of the measure known during the nine months it took for SB 179 to make its way through the California Legislature. When the bill passed the legislature on Sept. 14, supporters told BuzzFeed News they were guardedly optimistic about how the governor might proceed.
"Until he signs on the dotted line, I'm not doing any jigs," activist Sara Kelly Keenan said at the time. The governor didn't announce his support for the bill until about five minutes before his midnight deadline to sign or veto bills from this legislative session.
Keenan, who works with the Intersex and Genderqueer Recognition Project, testified in front of legislators about how the bill would dramatically improve the lives of those who identify as neither male nor female. Keenan was the first Californian (and second known person in the US) to be granted recognition as a nonbinary citizen.
On Monday, Keenan called Gov. Brown's decision to sign the bill an "important moment in history."
"We as a society need to learn that biological sex and gender identification, which are very different from each other, occur along a spectrum," she said.
UPDATE
This story was updated with activist Sara Kelly Keenan's reaction to the bill being signed.