British House Of Commons Votes Against Syria Intervention
Prime Minister David Cameron accepts defeat following his push to respond to Syria's deadly apparent chemical attack.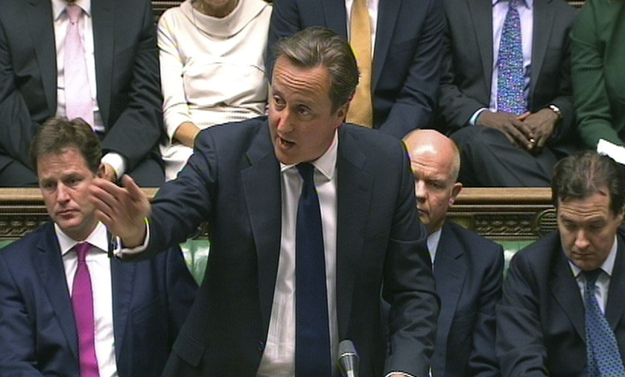 In a 285-272 decision, the House of Commons has voted down the U.K. government's motion to provisionally authorize military intervention in Syria.
Earlier on Thursday, the government issued a statement asserting the legality of a military strike without United Nations Security Council approval — something Prime Minister Cameron, along with President Obama, have been inching toward.
"The legal basis for military action would be humanitarian intervention" the statement said, referring to an Aug. 21 apparent gas attack that killed 355 Syrians, according to Doctors Without Borders.
The Guardian reports that one MP shouted "resign" at Cameron at one point. After the vote, the prime minister accepted defeat.
Cameron's statement to the House:
I strongly believe in the need for a tough response to the use of chemical weapons, but I also believe in respecting the will of this House of Commons. It is very clear tonight that, while the House has not passed a motion, it is clear to me that the British parliament, reflecting the views of the British people, does not want to see British military action. I get that and the government will act accordingly.
U.K. Defense Secretary Philip Hammond confirmed there will be no British involvement in Syria. He said the U.S. "will be disappointed" but that he doesn't "expect that the lack of British participation will stop any action."
According to The New York Times, Obama's aides say the president will proceed with any decision regardless of the failed British motion. On Wednesday, Obama said he had not made a decision yet.