Boehner: "I'm Going To Support The President's Call For Action"
After a meeting with Obama on Tuesday, the speaker of the House says he will support U.S. military action in Syria. McCain, Pelosi, and Cantor join him.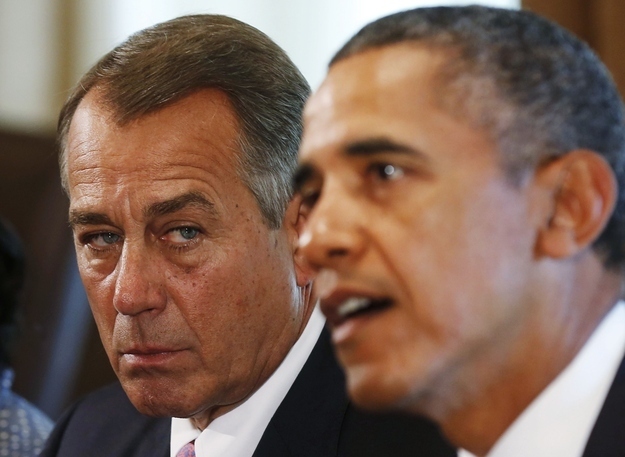 After meeting with President Obama and other congressional leaders on Tuesday, Speaker of the House John Boehner said he would support taking action against Syria in response to the country's deadly apparent chemical attack on Aug. 21.
On Saturday, Obama said he wants to take military action in Syria but will wait for congressional approval. Congress is back in session on Monday, Sept. 9.
"The use of chemical weapons is a barbarous act," Boehner said outside the White House. "It's pretty clear to me that the United Nations is unable to take action, NATO not likely to take action. The United States for our entire history has stood up for democracy and freedom for people around the world.
"The use of these weapons has to be responded to, and only the United States has the capability and the capacity to stop Assad and to warn others around the world that this type of behavior is not going to be tolerated. I appreciate the president reaching out to me and my colleagues in the Congress over the last couple of weeks. I also appreciate the president asking the Congress to support him in this action.
"This is something that the United States as a country needs to do. I'm going to support the president's call for action. I believe my colleagues should support this call for action. We have enemies around the world that need to understand that we're not going to tolerate this type of behavior. We also have allies around the world and allies in the region who also need to know that America will be there and stand up when it's necessary."
More leaders in Congress are now following the speaker's lead, including House Majority Leader Eric Cantor and Minority Leader Nancy Pelosi. They join Sen. John McCain, who said Monday that Congress voting against intervention would be "catastrophic."
In an interview with Fox News earlier on Tuesday, former ambassador to the United Nations John Bolton advised Congress to vote no on intervention.
"All in all, since I don't see any utility to the use of military force in Syria in this context, I would vote no," he said. "I don't think it is in America's interest, I don't think we should, in effect, take sides in the Syrian conflict — there's very little to recommend either side to me."