Guns, Swords, Photos Of Dead Bodies Seized From Adam Lanza's House
Dozens of pages of court documents were released Thursday, including warrants listing everything authorities took from Newtown gunman Adam Lanza's home and car after the school shooting.
Personal items taken from the Nancy and Adam Lanza home: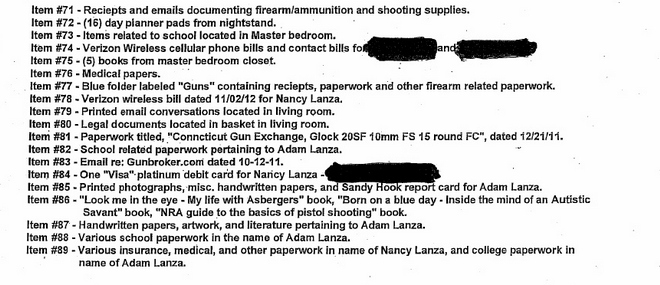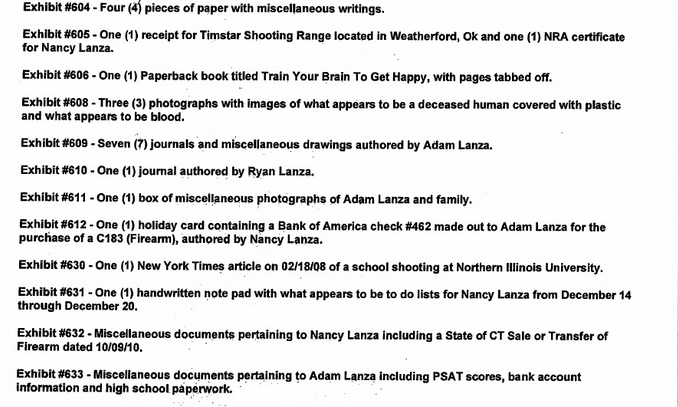 Computers, game consoles and phones:



The weapons: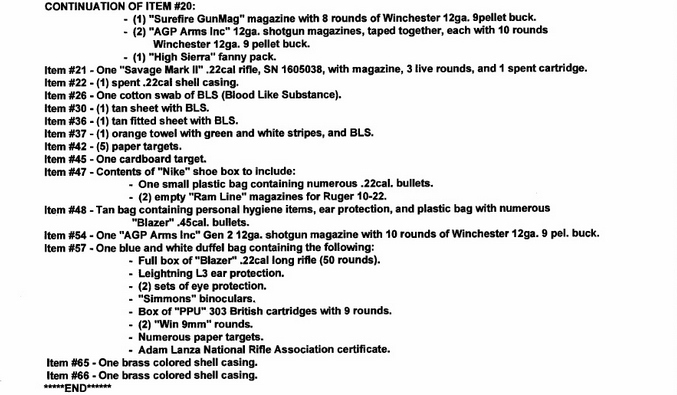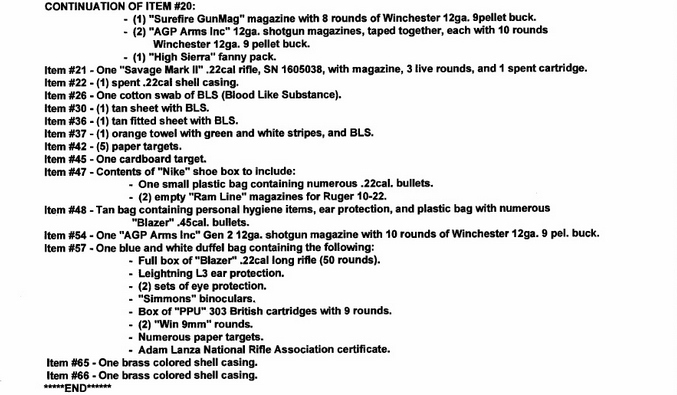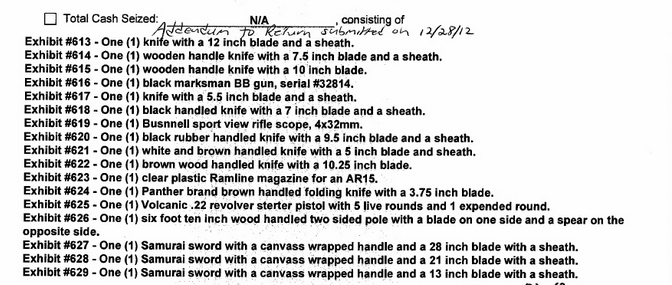 In Lanza's car, found parked at Sandy Hook Elementary:

Released with the warrants was a statement from Stephen J. Sedensky III, State's Attorney for the Judicial District of Danbury, offering the official timeline of events.
On the morning of December 14, 2012, Adam Lanza, the shooter, age 20, of 36 Yogananda St., Newtown, shot his mother, Nancy Lanza, age 52, in her bed with a .22 caliber rifle. There was no indication of a struggle.

Later the shooter went to Sandy Hook Elementary school where he shot his way into the building and killed 20 children and 6 adults with a Bushmaster .223 caliber model XM15 rifle. The Bushmaster was loaded with a 30-round capacity magazine. Fourteen rounds were in the magazine when the Bushmaster was recovered by police. There was one round in the chamber.

The shooter took his own life with a single shot from a Glock 10 mm handgun. He also had a loaded 9mm Sig Sauer P226 handgun on his person. Recovered from the person of the shooter, in addition to more ammunition for the handguns, were three, 30-round magazines for the Bushmaster, each containing 30 rounds. Located in the area of the shootings were six additional 30-round magazines containing 0, 0, 0, 10, 11, and 13 live rounds respectively. One-hundred-and-fifty-four spent .223 casings were recovered from the scene.

It is currently estimated that the time from when the shooter shot his way into the school until he took his own life was less than five minutes.