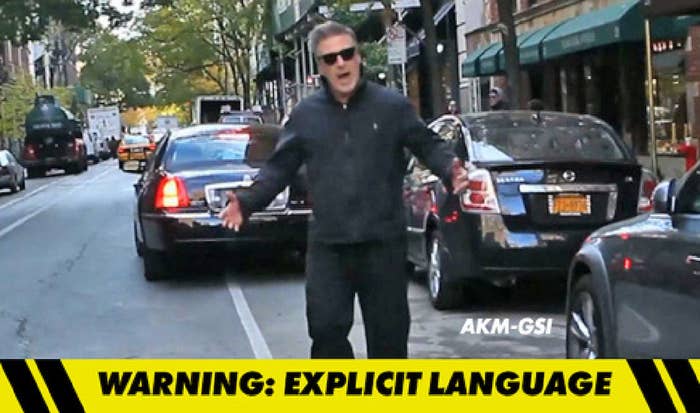 In a video posted on TMZ Thursday, Alec Baldwin — in what's become typical Alec Baldwin fashion — insulted, stomped after, and generally tried to intimidate a paparazzo who attempted to photograph the MSNBC host, his wife, and their newborn in New York City.
Before driving off, Baldwin called the photographer a "cocksucking fag," according to TMZ, which also published enhanced audio of the incident. This wouldn't be the strangest thing to come out of Baldwin's mouth; in June, he lashed out against Daily Mail gossip writer George Stark, calling him a "little bitch" and "toxic little queen."
"If [sic] put my foot up your fucking ass, George Stark, but I'm sure you'd dig it too much," one of Baldwin's tweets read.
But on Twitter on Thursday afternoon, the actor denied using the word "fag," and threatened to sue TMZ for reporting that he did.







The gay community didn't exactly buy Baldwin's defense, claiming his use of "cocksucking" — which is clearly audible in the tape — is still derogatory.


BuzzFeed's Kate Aurthur reached out to Baldwin on Twitter to ask if he did indeed use the alleged slur. He replied, "Do you hear that on a tape? Or you are told that by TMZ?" and then unfollowed and blocked her. MSNBC has not yet responded to Aurthur's request for comment.
UPDATE — 7:08 p.m. ET
Baldwin maintains that "cocksucker" wasn't intended as "anti-gay."

UPDATE — 11:19 p.m. ET
Baldwin tweeted that he learned from GLAAD's vice president of communications that "cocksucker" has homophobic implications, and apologized for using it.