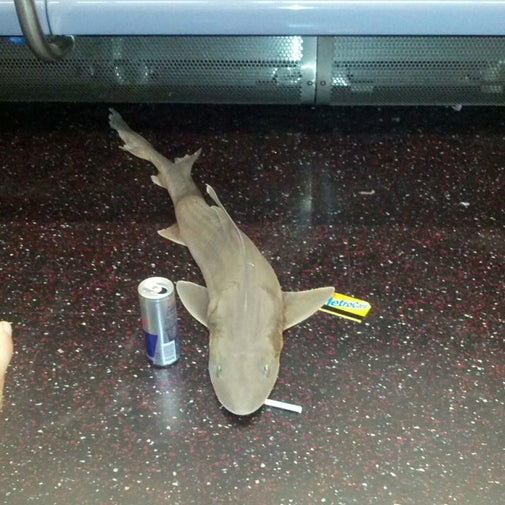 A small dead shark was found on a Queens-bound N train in New York City early Wednesday morning, Gothamist reported.
"It was upside down when I got on and I turned it around thinking: 'This can't be real,'" said rider Juan D. Cano, who sent a series of photos of the shark posed with various props to Gothamist, including the cigarette-and-Red Bull image above.
"I boarded an empty car on the N train at the Eighth St. stop and it smelled extremely fishy. I assumed that's why it was empty — until I looked down and saw that poor strap-hanging dead shark," another rider, Isvett Verde, told the Daily News.
An MTA spokesman made a joke about the cleanup of the shark — "Live sharks are wrangled by Shark Maintainer IIs" — before confirming that it was indeed real.
"The conductor on this N train reported the shark to the control center at 12:34 am. The conductor moved everyone out of the car at Queensboro Plaza, and when the train arrived at the end of the line at Ditmars Boulevard, a Train Service Supervisor placed the dead shark in a garbage bag and disposed of it in the trash. The Road Car Inspector at Ditmars made sure the car was clean and returned it to normal service."
Cano said he initially thought it was a stunt for Shark Week, which began on Aug. 4. In a statement emailed to BuzzFeed, Discovery said it was saddened by people connecting the dead shark to Shark Week.
"Shark Week is all about conservation, so it deeply saddens us that someone would think that this was funny or in any way connected to our celebration of sharks."