UC Berkeley Accused of "Deliberate Indifference" By 31 Sexual Assault Survivors
"The school made me feel like I didn't matter and what happened to me wasn't a big deal," one recent grad said. Students and alumni filed federal complaints against Berkeley on Wednesday.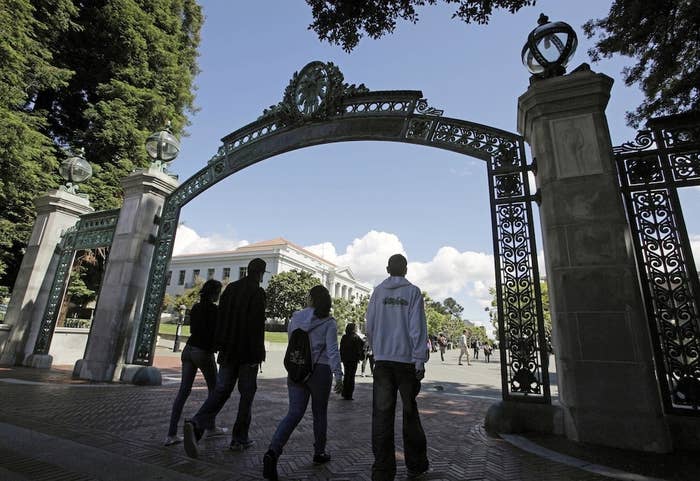 Thirty-one students and alumni of University of California, Berkeley, filed federal complaints Wednesday against the public college for treating victims of sexual assault with what they called "deliberate indifference."
According to the complainants, Berkeley doesn't adequately respond to sexual assault cases, leaving alleged victims out of the investigation process and alleged assailants insufficiently disciplined.
The group filed a joint Title IX complaint with the U.S. Department of Education's Office of Civil Rights, as well as a complaint under the federal Clery Act. Berkeley's student government also is expected to introduce a bill Wednesday evening chastising the university and providing new recommendations for its sexual assault policies.
From Wednesday's announcement:
UC Berkeley must fix its policies both in writing and in practice, including expelling rapists who continue to cause enduring damage to students, and holding administrators accountable for illegal actions and deliberate inactions.
In May 2013, an earlier Clery Act complaint was filed by nine Berkeley students, including Sofie Karasek, who said it went ignored by the Department of Education's Clery Compliance Division.
This prompted Karasek to bring 22 more students and alumni together for the second Clery complaint. It took two and a half months, but on Wednesday, a handful of them announced the filings on campus.
"The federal government is not enforcing the laws they have on the books," Karasek said. "You're more likely to get assaulted if you go to college than if you don't, and no one is being held accountable for this."
Here, three of the 31 survivor stories: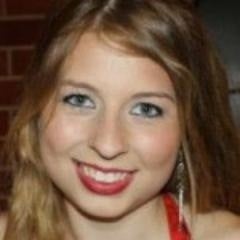 From left: Sofie Karasek, Meghan Warner, and Nicoletta Commins.
Sofie Karasek
In Februrary 2012, Karasek was sexually assaulted during an off-campus event by someone she knew through a student organization.
"I had told a couple of my new friends vaguely what had happened, but no one really seemed to know what to do," she said. On the car ride back to Berkeley with other members of the organization, someone asked Karasek, jokingly, "What was it like sleeping in the same bed as X last night?"
"I was horrified," she said. "I didn't know what to say, and I didn't want to lie about it, so I vaguely said what happened. I was molested, and though I didn't realize that at the time, I described that he touched me inappropriately. Someone laughed, and I just stayed silent for the rest of the car ride."
Karasek later learned at least three other female students had similar encounters with the alleged assailant. They reported him together in April 2012, meeting with the school's Title IX coordinator and another administrator in Berkeley's Center for Student Conduct.
"They seemed sympathetic, but didn't seem like they had the authority to do anything. We made it clear we didn't want him to go on a study abroad program that summer, where this could happen again," Karasek said.
The university didn't tell Karasek how or when it would investigate the charges. Summer came, and her alleged assailant went on his study abroad trip. Karasek also found out he was going to be allowed to graduate early.
"I went to an office in the student government and I said, 'I don't think anything will come out of this.' I remember saying, 'I don't care what happens to my own case, but I want to know that this is never going to happen to anyone else,'" she said. "Finally, on Dec. 7, I got an email that said he was found in violation of the student conduct policy."
But Berkeley didn't offer any further details on her assailant's discipline. And two days later, he graduated.
"A lot of us thought that Berkeley, a progressive university with this reputation for social justice, would definitely believe me," she said. "I never in a million years expected that they would treat me the way they treated me."
The next semester, after reading a New York Times story about a national network of college activists, Karasek began getting more involved in advocacy for sexual assault survivors on campus.
In September 2013, after the first Clery Act complaint and repeated emails to Berkeley administrators, Karasek finally learned that her assailant "was put on disciplinary probation and he had engaged in counseling measures," she said. To her, that didn't feel sufficient.
"I don't think he should have been at our school, period," Karasek said. "I still don't know exactly what I wanted out of it. It's hard — would I have wanted him suspended? I really just wanted to prevent this happening to anyone else."
Meghan Warner
Wednesday's press conference was the first time Meghan Warner spoke publicly about her assault. The Berkeley complainants come from diverse backgrounds — their assaults ranging from 1979 to 2013 — and Warner emphasized to BuzzFeed she doesn't want to speak for all of them.
"I'm not special," she said. "I feel comfortable coming forward and I have this opportunity to do so, so I am."
As a freshman, Warner was assaulted by two men at a fraternity. She can only remember "small pieces of the night," she wrote in the narrative accompanying her Title IX complaint. "[But] what I do remember has haunted me every day since."
After her assault, Warner repeatedly heard the same victim-blaming dialogue on campus: Girls "shouldn't go to sketchy frats" and "shouldn't make stupid decisions."
"I didn't realize it was assault until way after I had been assaulted," she told BuzzFeed. "I didn't realize what had happened to me was legally wrong. I just knew I felt like crap ... For forever, I didn't even know I could report it — that's how bad it was."
Warner's complaint focuses on lack of resources available to victims. She said when she started to look online for information, "everything seemed to be more in favor of the accused perpetrator," down to an infographic on what to do if you're accused. She learned, for example, that UC has mandatory workshops on consent, but attendance allegedly isn't enforced.
Now, as a second-year student, Warner works in the Gender Equity Resource Center on campus. Her assault no longer makes her anxious, she said, but angry.
"I'm so mad, because it's not just me — not even close to just me," she said. "And I want to help other people feel like it's not their fault."
Nicoletta Commins
"A lot of the other girls will tell stories about how the university or the administrative staff were disrespectful to them," said Nicoletta Commins, who graduated from Berkeley in August. "I experienced a little bit of that, but actually not much. Their strategy was just to ignore me for as long as possible until I went away."
Commins was assaulted as a junior by another student she knew through a club sport. They had a "flirtatious acquaintanceship," she said, and one night, he came over to her apartment alone.
"It was one of those situations administrators and law enforcement officers find really easy to dismiss, because he was my friend and we were making out. But then I started to tell him not to do things, and he did them anyway."
Commins pressed criminal charges, but she was told by Berkeley that the school couldn't investigate until those proceedings concluded. A deputy district attorney closed the case nine months later with a felony assault conviction and community service sentence, but no sexual crime charge or jail time for the assailant. Commins was granted a restraining order, and her assailant couldn't come back to Berkeley until she graduated.
But it took another seven or eight months before Commins heard anything from Berkeley, she said, which alone had the power to expel him. In the spring of 2012, Commins emailed the administration to check on the status of her case.
"They got back to me in July and said that an informal resolution process happened in March," Commins said. "They basically were like, 'Here's the outcome, sorry we didn't tell you.'"
Her assailant's punishment was suspension — already essentially handed down by the DA's office — and no contact — already a condition of Commins' restraining order — as well as disciplinary probation for the remainder of his studies and a reflective writing assignment.
For Commins, after her criminal case closed, the most significant punishment came not from Berkeley, but from the international federation of her sport, which stripped her assailant of his ranking after the director of their program wrote in.
"The school made me feel like I didn't matter and what happened to me wasn't a big deal — like I was kicking and screaming about something trivial," Commins said. "After the assault I kept thinking, Did it matter? Was it real? Am I doing the right thing by reporting it? When the school dismisses you, it really validates those feelings."