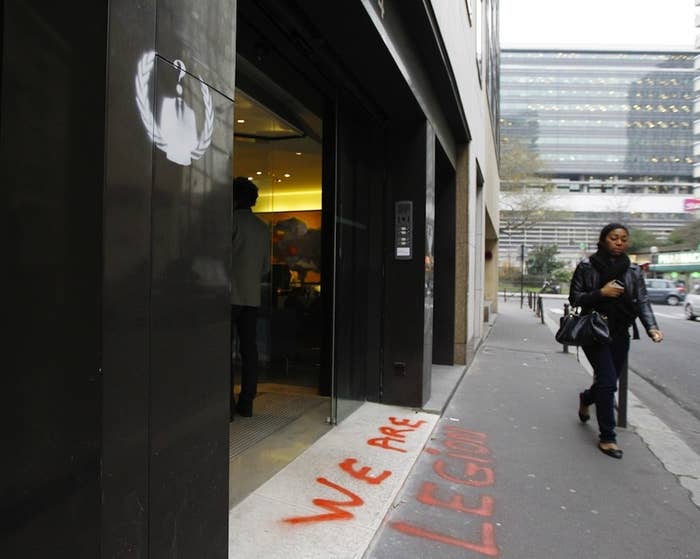 Thirteen men, aged 21 to 65, were indicted Thursday by a federal grand jury in Virginia for conspiracy to intentionally cause damage to a protected computer.
The men — known by names like "mightymooch," "user_x" and "The MiNd" — are accused of attacking or attempting to attack websites belonging to government entities, trade associations, law firms and banks, according to the indictment. Among the victims: the Recording Industry Association of America (RIAA), the Motion Picture Association of America (MPAA), the U.S. Copyright Office of the Library of Congress, Visa, MasterCard, and Bank of America.
Between September 2010 an January 2011, the hackers allegedly carried out several DDoS — denial-of-service — attacks in retaliation for the shuttering of BitTorrent site The Pirate Bay. The attacks resulted in a loss of at least $5,000 for multiple targets, according to the U.S. Attorney's office.
Here's how one of those attacks — carried out against the MPAA, RIAA and later the British Phonographic Industry (BPI) — was publicized by the 13 defendants, as detailed in the indictment:
"We target the bastard group that has thus far led this charge against our websites, like The Pirate Bay. We target MPAA.ORG! The IP is designated at [IPaddress], and our firing time remains THE SAME."
"Install the LOIC linked above into any directory you choose, load it up and set the target IP to [IPaddress] port 80 Method will be TCP, threads set to 10+, with a message of 'Payback is a bitch'... Everything else must be left blank. Once you have the target locked, DO NOT FIRE. REPEAT: DO NOT FIRE! This will be a calm, coordinated display of blood. We will not be merciful. We wil not be newfags. The first wave will be firing in: ONE DAY: 09/17/2010 9PM EASTERN When it comes time to fire, ignore all warning messages. They mean nothing. Keep firing."
"WE ARE ANONYMOUS. For the past 72 hours we have brought down the oppresive RIAA and MPAA. These corperations have fought to restrict our freedoms... We brought them down the same way they brought down The Pirate Bay, with a distributed denial ofservice... There is one corperation that has so far escaped our notice. BPI, the British Phonographic Industry... So what can you do to help? Download LOIC or JavaLOlC, charge your lazahs, and point them at [IP address] ... Remember, don't start shooting until 4:00 GMT Monday September 20."
Throughout the fall of 2010, as part of Operation Payback, Anonymous also targeted anti-piracy groups, copyright licensing agencies, law firms, and trade associations in India, the Netherlands, Australia, Portugal, France, Canada, Switzerland, Canada, Finland, Ireland, Cyprus, and South Africa. They attacked Spanish culture societies, a British record label, an Italian legal music directory, and an Austrian movie production company. In the U.S., Hustler, Warner Brothers, and Amazon were targeted.
The hackers made threats against individuals, too, including KISS' Gene Simmons — who had recently spoken out against music piracy — and a partner at British law firm ACS:Law, whose home address was published and spread along with the message "WE WILL MAKE HIS COFFEE TASTE LIKE AIDS." They also discussed targeting The White House, Department of Justice, CIA, IRS, and FBI, according to the indictment. London's Metropolitan Police was attacked for its role in pursuing the arrest of Julian Assange.
Throughout the DDoS spree, the 13 defendants named in the government's case apparently posted rallying messages to each other and the rest of Anonymous; "We sick and tired of these corporations seeking to control the internet in their pursuit of profit," one poster wrote.
"What do we have to do to be heard? To be taken seriously?" another warning read. "Do we have to take to the streets, throwing molitovs, raiding offices of those we oppose? Realize, you are forcing our hand by ignoring us. You forced us to DDoS when you ignored the people, ATTACKED the people, LIED TO THE PEOPLE!"
The group was relatively confident in their abilities to hide from authorities. The hacker "TickL" posted that "unless you are DoS'ing from a closed internet source (like north korea) or from a closed insititution (school, prison, ect), YOU WILL NOT BE CAUGHT."
But if you were?
"F------ MAGNETS won't DELETE F------ EVERYTHING unless they're exposed directly to the harddrive for a few minutes. Do not use the recycle bin to dump data!... Microwave works wonders on CDs, also on HDDs, pen drive and most electronics."