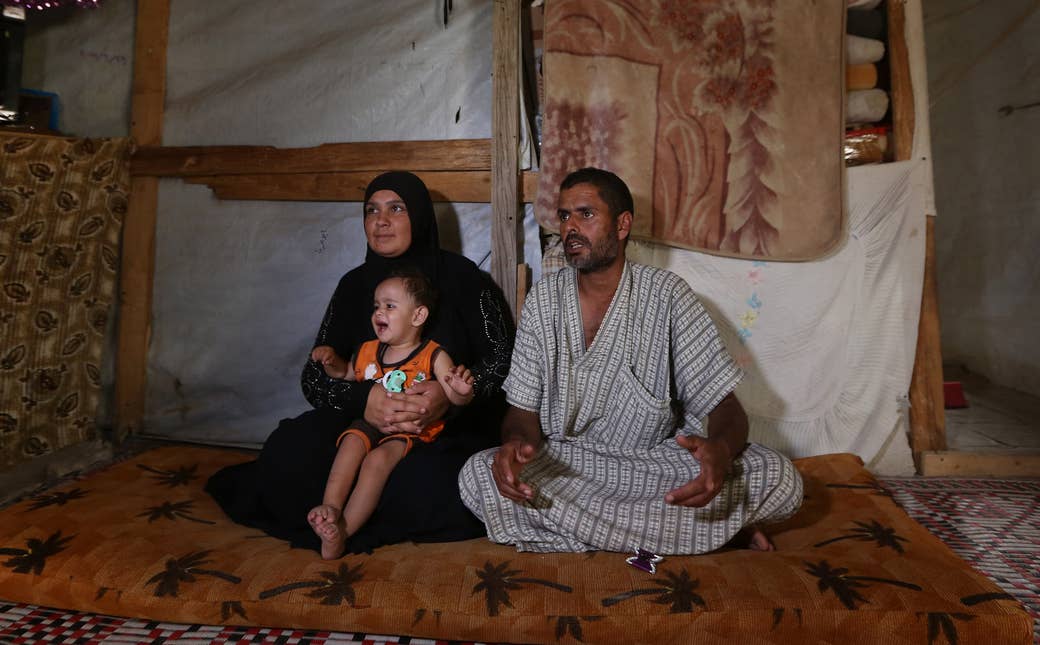 TRIPOLI, Lebanon — The doorway to Europe, and the migrant trail that has led hundreds of thousands of Syrian refugees out of their war-torn homes in recent months, sits no more than 20 minutes down the road from the coffee stand where Bashir spends his days, dreaming of how he might get there.
Almost every day, ferries depart from the port of Tripoli bound for Turkey, laden with thousands of Syrians girding themselves for the weeks-long journey across the Mediterranean sea, and the forests of eastern Europe, in search of a better life.
But Bashir, a Syrian in his mid-forties who said he almost never speaks openly about his struggles, and asked to be identified by only his first name, has not been among them. Of course, he would take his family and join those refugees in a second, but for one essential consideration: cash.
"If we had some money, we would be in Denmark by now," he said.
It's a reality that becomes starkly apparent on a visit to this packed, economically deprived city in Lebanon's north, where hundreds of thousands of Syrian refugees now make up around a quarter of the population — a reminder that the suffering of Syrian refugees along the migrant trail in Europe may be unmatched, except by that of the countrymen they left behind.
The cost of a voyage to Germany, between legitimate tickets and fees due to smugglers, starts around $3,000, several Syrians living in Lebanon said, and it goes up precipitously from there. That sum has simply proven impossible to raise for many of those fleeing the war, meaning a tantalizing option that has lately seemed to capture virtually all of Syria actually remains out of reach for many, if not most.
Mustafa, a farmer and friend of Bashir's from the town of Baniyas — once the site of one of the Syrian war's worst atrocities — agreed that money was the only thing keeping him from traveling to Europe. "If we had the money, we would go right now," he said. "We would throw ourselves into the sea, if that's what it took."
"If I knew I would end up living like this, I would have stayed home, and died under a rocket."
At a restaurant in central Tripoli, a waiter from Latakia, along Syria's coast, said he didn't think that every Syrian in the city wanted to go to Europe if they could afford it — "only 99%."
More recently, the desperation to escape has spilled over into the community of poor Lebanese in Tripoli, many of whom have also struggled amid an economic downturn, and the influx of Syrian workers. A World Bank estimate from more than a year ago put the impact of Syria's crisis on Lebanon's economy at $7.5 billion — and much of the damage has been inflicted on wages for the poor and working class.
Ahmad Malas, a Lebanese university graduate from Tripoli, said he's been unable to find work for two years, something he blames largely on the influx of Syrian laborers willing to do odd jobs for half the cost.
"All of the young people in Tripoli just sit at home all day," Malas said. "We don't have anything to do. The Syrians came and took all the jobs."
Malas said that one of his close friends from childhood recently gave up in despair and moved to Raqqa, to join the Islamic State. He was killed a few months ago.
But Malas sees promise in Europe, if only he can scrape together the funds. "So far, I have one-thousand dollars, but I am looking for more," he said. "All of the young people in Tripoli are thinking the same thing: to go there and to never come back."
In a way, Bashir, the Syrian refugee, has been fortunate. He was able to register with the United Nations two years ago, before it cut off applications earlier this year, which means he can benefit from the meager cash assistance the agency provides. And he's found a job selling coffee at the roadside stand, on one of the highways leading out of Tripoli.
But the job only pays about $3 per day, he says, barely enough to scrape together something to eat, and he sees his family just a couple times a week, making a two-hour journey over mountain roads to the remote encampment where they live.
"If I knew I would end up living like this, I would have stayed home, and died under a rocket," he said, as he passed around paper cups filled with hot, dense coffee. "And if it stays like this, I will go back anyway, and die at least with my dignity."