HORGOS, Serbia — Mohammed Osman never wanted to end up here. It was Wednesday afternoon, and Osman, a small-framed, 31-year-old electrician from Aleppo, was standing on the harsh, charmless pavement on the Serbia-Hungary border crossing. Together with him was a sea of a thousand or so of his fellow asylum-seekers, waiting to see if Hungary would finally relent and open its doors so they could enter western Europe.
For the refugees, it was a discouraging dead-end to a journey that had already lasted many arduous days and weeks — on rickety rafts across the choppy seas of the eastern Mediterranean, on tip-toe past wary-eyed Greek police, on foot, through the hazy forests of Macedonia.
Until recently, this border crossing in Hungary, near the Serbian town of Horgos, had marked the beginning of the end: a train ride to Austria (as efficiently as possible; Hungary had no interest in keeping any refugees around), then straight on to Germany, the modern-day promised land. But last week, Hungarian authorities started blocking rail travel to Austria, in an attempt to discourage new arrivals. When that didn't work, on Tuesday, they shut down the border altogether.
Osman had come this way too, although a little more begrudgingly. It wasn't that he cherished the bombings and miseries of his life in Syria, or the power cuts and erratic water delivery; it was that by earlier this summer, when it was time for him to go, Osman was just about the only one left to take care of the family home, and of his aging mother, and his ailing father, who had been paralyzed by a stroke on the left side of his body.
"I didn't want to leave them," Osman said, as he stood with his young nephew. "But my mother and father said to me, 'No, you must go — you are still young, you have a family, and you must make a future.'" It didn't hurt that the Syrian army had lately been calling around for recruits, extending the age limit to 42. "Of course, I can't go back to Syria now," Osman said. "If I did, I would probably be thrown in the army, and then I would be sent off to die."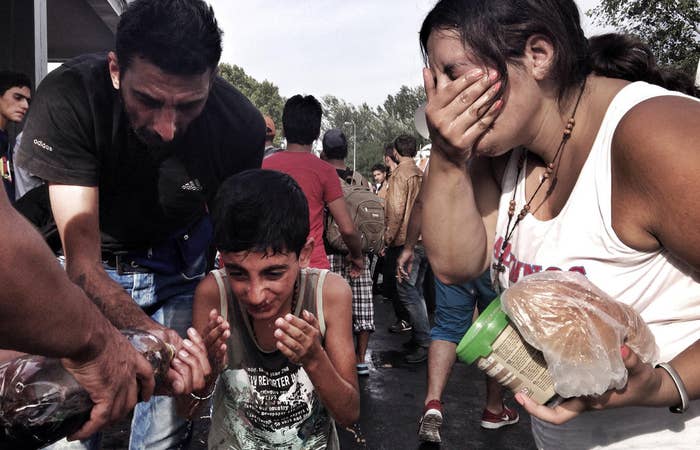 Still, like many people at the border crossing that day, it wasn't immediately clear which direction was best. With the blockage at Horgos, some smugglers had started to reroute migrants through Croatia instead, and from there onto Slovenia and Austria. Osman had heard of it, but he wasn't sure if it was the right thing to do. "I say, maybe yes, maybe no. We don't know anything yet."
Meanwhile, many still remained, their tents and makeshift lean-tos lining the sidewalks and orchards on the Serbian side of the remote border crossing. Periodically, crowds would migrate toward the metal gates that demarcate Hungarian territory — newly reinforced with rounds of barbed wire, and guarded by riot police, army units, and helicopters that periodically swooped low over the gathering, in a manner that reminded more than a few of the Syrian air force's bombing runs. "If the Free Syrian Army was here, they'd shoot that helicopter down," one young refugee said.
As the afternoon wore on, many started to consider their options; soon, anyone with a working cell phone, or the appearance of authority, or even simply already in a conversation — perhaps they were giving advice — was subject to a barrage of questions on the subject. "What should we do?" a man from Damascus asked, unbidden. "Do you have any news from Croatia?"
Others seemed intent to bed down for the long haul. "I will not go back the other way," said Issa Issa, a Syrian Kurd from Hakkaseh, an isolated region in the country's northeast, who sat on a blue yoga mat in front of the border crossing's defunct duty free shop. "Why will I not go back? Because Europe is closing its borders — Hungary is doing it, Germany is doing it, France is doing it. And if it won't open here, it won't open anywhere. The only choice is to stay here, and to force them to open this door."
Issa, who is 24, with a closely shaved head and the build of a football player, had spent much of his time during the war living in Lebanon, where he was initially a student. Then, Lebanese restrictions on refugees caught up with him — "No work, no studies, nothing" — and he knew he had to leave. Still, he said, the future was oblique.
"Everything I had is finished," he said. "I'm young, so I should have a future, but what is my future? My future is this gate — let it open."
As he was speaking, a crowd of people who an hour earlier had surged toward the gate, spurred on by a rumor that it was opening, charged back in the other direction. At the front, families had mixed in with young, agitated travelers, who jeered at the Hungarian police and chanted, "Open, open, open!" The Hungarian authorities, who would later claim to have been "under a brutal attack," responded by firing tear gas into the pressing crowd, followed by blasts from a water cannon.
Mohammed Osman had been up there, too, and soon he raced past, carrying his infant daughter in his arms. "What are they doing?" he screamed, not slowing down. "There are families up there, children!"
A few minutes later, Osman was sitting under a tent a few dozen feet back. Earlier in the afternoon, as he spoke about his family in Aleppo, Osman had buried his face in his nephew's shoulder, and wept.
"I'm sorry," he said, as he caught his breath. "I am remembering my father." Now, his eyes were once again bleary and red, and he cradled his daughter gently in his lap. What will you do now, he was asked. "I don't know," he said quietly. "I really don't know."