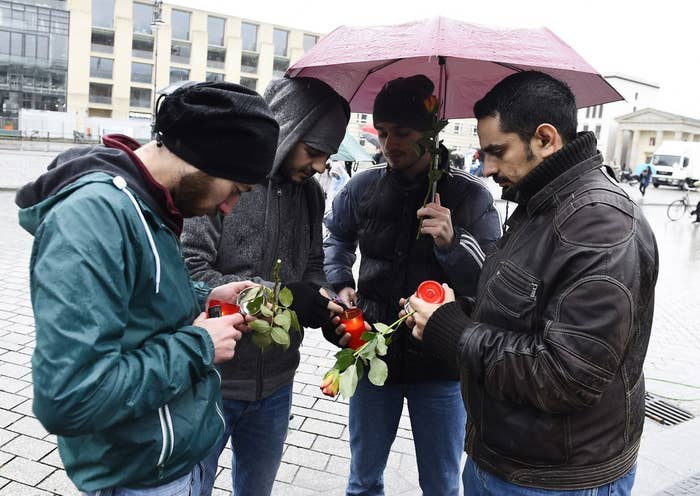 FRANKFURT, Germany — The brazen terrorist attacks that shocked Paris on Friday began to spark political divisions across Europe over the weekend, as officials reckoned with how best to manage the continued arrival of thousands of refugees from Syria and other parts of the volatile Middle East.
"Paris changes everything," Markus Soeder, finance minister for Germany's southern state of Bavaria, told a local newspaper Sunday, according to Reuters. "The days of uncontrolled immigration and illegal entry can't continue just like that."
For months now, Germany, led by Chancellor Angela Merkel, has been at the forefront of a generous approach to allow migrants and asylum-seekers into the country. German officials have said that any Syrian who reaches its borders would be automatically granted asylum, and encouraged other countries along the way to let them through without excessive interference.
The crisis has shown little sign of abating. On Friday, the United Nations agency for refugees said that arrivals in Greece, the main port of entry into Europe, have remained steady even with the arrival of colder weather, with around 3,300 migrants turning up each day. German officials have privately estimated that as many as 1.5 million refugees might arrive in the country by the end of the year, according to a newspaper report — up from earlier estimates of 800,000.
Within Germany, leaders have long been divided over Merkel's policy, with top officials in states like Bavaria and Saxony repeatedly urging the federal government to institute stricter controls, both at external borders and even internally, to ensure that potential terrorists aren't getting through.
In an interview over the weekend, Horst Seehofer, the prime minister of Bavaria and a staunch critic of Merkel's policy, noted that a recent arrest in his state of an eastern European man on weapons charges only reinforces "how important it is for us to have some clarity on who is in our country and who is travelling through our country."
For Merkel, the dispute heightens an already dramatic period for her chancellorship, one during which she has repeatedly signaled she is willing to stake her political fortune.
In early October, Merkel circumvented her own interior minister — his criticisms of the refugee policy and willingness to independently institute controls on the influx evidently proved too much for her — by appointing her chief of staff as the refugee czar to oversee the crisis.
And on Friday evening, in a television interview that aired prior to the Paris attacks, Merkel insisted that her government "has the situation under control," and declined to put a cap on how many refugees would end up staying in Germany. "I cannot unilaterally define upper limits," she said. "What we in Germany cannot do is simply determine unilaterally who can come and who can't."
More recently, on Saturday, Merkel urged Europeans to not let the attacks drive them from their core values. "We know that our life of freedom is stronger than terror," she said in brief remarks. "Let us answer the terrorists by living our values with courage."
Hajo Funke, a professor of politics at the Free University of Berlin, told BuzzFeed that regional criticisms aside, some recent signs of the Merkel government rallying around her policies might actually serve to shore up her position, should she prevail.
"I think it might be that her position will be strengthened," he said. "Because of the terror attacks, we're seeing that all the persons of relevance in the central government are standing unified, and expressed now that even if they had conflicts with each other they will stay united. So this is a professional reaction to the crisis."
Merkel's posture towards refugees was supported Sunday by Jean-Claude Juncker, the President of the European Commission, who told reporters attending the G20 meetings in Turkey that there was no need for "an overall review" of refugee practices after the attacks in Paris. "Those who organized, who perpetrated the attacks are the very same people who the refugees are fleeing and not the opposite," he said.