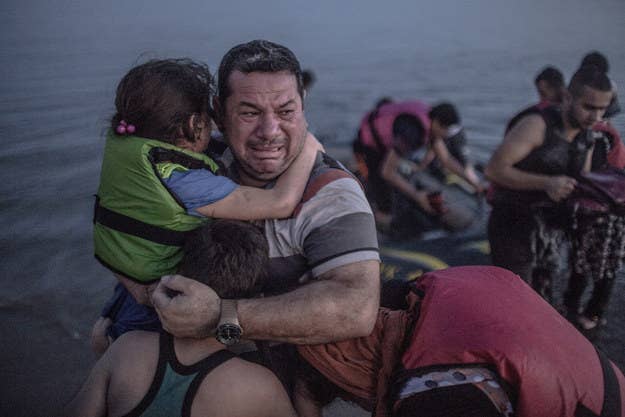 BERLIN — Laith Majid can't say exactly what was going through his mind at the moment the photograph was taken, just a blur of emotions. It was more than three weeks ago, and Majid, a refugee from Iraq, was standing on the shore of Kos, having arrived with his family on a rickety dinghy from across the sea in Turkey. Halfway there, the vessel started taking on water, and for an hour it drifted slowly toward Greece, listing perilously to the side.
Daniel Etter, a German photographer on assignment for the New York Times, had been going to the beach of Kos in the early hours of the morning for three days; that was the time when refugee boats tended to wash in. A little after first light, he spotted the dinghy with Majid and his family, a few hundred meters out to sea but barely afloat. As a wave pushed the raft to shore, Etter captured the moment, taking a photograph that would soon go viral, one of the first indelible visuals of the current refugee and migrant crisis: Majid, standing just beyond the tattered raft, clutches his daughter, Nour, and his youngest son, Taha, as tears stream down his face.
On Tuesday evening, at a former army barracks in Berlin that is serving as an emergency housing center for new refugees, Majid and Etter stood face to face once again, reconnecting for the first time since that dramatic morning in Kos.
"Daniel!" Majid cried out happily, the moment he saw Etter stride into the barracks. He ran toward the photographer and give him a warm hug. Nada Adel, Majid's wife, joined in. "You made us so famous!" she said. "All of the people in Iraq are talking about us. They say, who is this great journalist who took such a great picture?"
When the family first met Etter, they told him that they were from Deir Ezzor, in Syria, but they are in fact from Baghdad. They weren't honest, Adel told Etter, because the smugglers who sent them to Kos warned them to not let anyone in Greece know where they really came from.
"They said if you get to Kos, you don't say you are from Iraq, you say you are from Syria, because otherwise they would send you back to Turkey," said Adel, who was an English teacher in Iraq, and translated for her family during the reunion in Berlin.
"I'm sorry," she said to Etter. "I hope we didn't cause you any trouble."
Etter had been in Munich when he learned that the family had been found in Berlin earlier this week, by a reporter for the German newspaper Bild. The Bild reporter, Til Biermann, was at the barracks interviewing refugees when by chance one of them showed him a photograph of her family from the Times. It was Nada — and Biermann recognized the photograph right away. He later contacted Etter, and passed along Nada's number.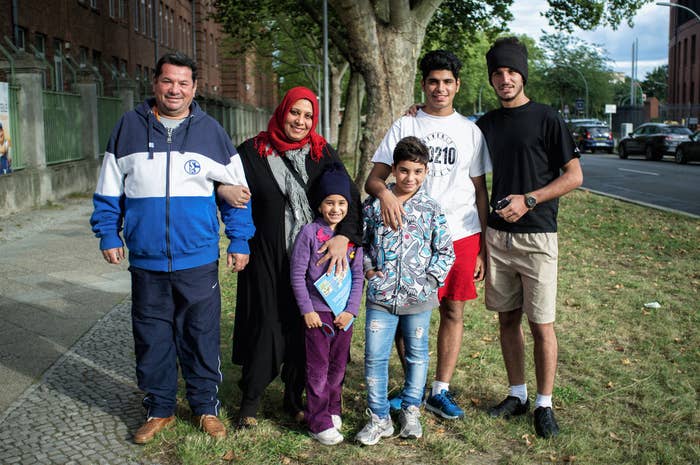 As they sat together, the family filled Etter in on the rest of their story. They fled Iraq in August, Adel explained, after they began to receive death threats and payment demands from a Shiite militia. Having made it to Greece, meanwhile, their voyage was far from over. Over the next several days, they would travel on a ferry boat to mainland Greece, then pack into a large shipping truck — not unlike the one where 71 migrants recently suffocated to death in Austria — before arriving in eastern Europe. Nour, who is 7 years old, had been fully submerged by the frigid waters near the end of the boat journey, and grew ill. "She had a fever, and for three or four days, she wouldn't eat anything," Adel said.
They learned of their fame along the way, from family members who told them the photo had spread across Facebook and the news. Not all the information was correct; some channels reported that Majid had been crying not out of relief, but because he and the two children in his arms were the only survivors of the journey. "They said that me, Mustafa, and Ahmed" — the family's two older sons — "had died," Adel said. (Adel appears partially in the original photograph, bent over in exhaustion next to Majid.)
For two weeks now, the family has been in Germany, most of it at the barracks in Berlin. It is a ramshackle, untenable existence, although the family is for the moment healthy and happy. Nour, wearing a bright purple sweatshirt with butterflies on it, danced happily around the table where Etter and the family sat talking.
"We want to go into our own house," Adel said. "We want to cook, we want to have privacy — here there are shared bathrooms, shared kitchens, it's not good for us."
Still, she is grateful to Germany for taking them in, and hopes to be able to stay. "We hear everything is the best in Germany — they will care for our children, give them a complete education," she said. "Maybe I can find a job as a teacher in English, maybe my husband — he is a very good car mechanic — maybe he can find a job doing that. We don't know if this is a real possibility, or if it is just a dream."
At one point, Majid tried to think back on that morning on the shore.
After a moment, Adel spoke for him. "He was crying because we had so much fear. He was thinking, Why did I put my family through this? Why did I choose to face this death?"
Majid nodded solemnly, then broke into a mischievous smile, and gripped Etter's shoulder.
"You should ask Daniel," he said. "Because when he saw us, he was crying, too."