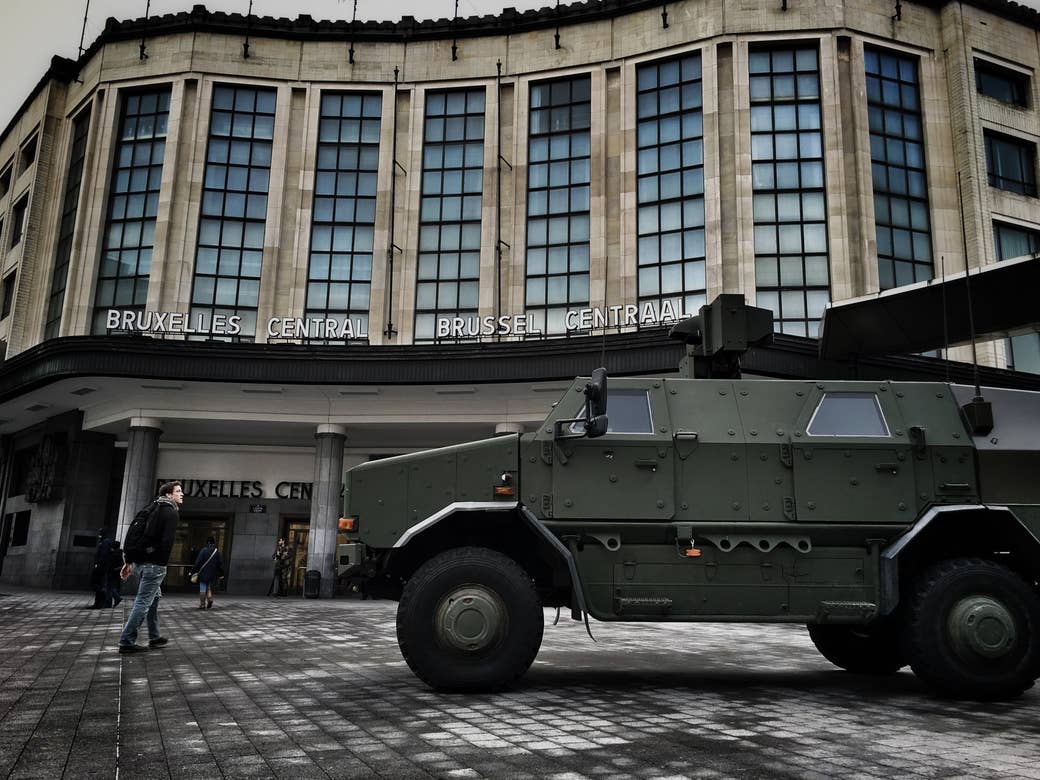 BRUSSELS — Daniela Van Dalen raced through the central train station here Sunday evening, her two young children in tow, rapidly scanning the surroundings with her eyes.
"It's very scary, especially for the children," van Dalen, 33, said, hardly pausing to talk as she hustled toward her regional train to Sint-Truiden, in the east. "It's dangerous now. And even if it nothing happens, that could change anytime. They could come tomorrow, or next week, or next month."
On the second day of a city-wide terror alert, which brought the metro to a halt, cancelled concerts, and saw heavily armed military personnel station themselves at major landmarks around town, Brussels remained largely paralyzed by anxiety and fear.
City authorities and security officials, who instituted the heightened alert on Saturday after discovering what they called a "serious and imminent threat" to public safety, continued their manhunt for Salah Abdeslam, who took part in the attacks on Paris last week, and who police believe is hiding out in Brussels.
Late on Sunday, the Belgian Prime Minister, Charles Michel, announced that the high alert would continue into Monday, and that the metro and schools would remain closed. Brussels is home to the headquarters of NATO and the Europe offices of many major international corporations.
Officials have still not said what information exactly prompted the security shutdown, or how long it would last. Some news accounts have reported that Abdeslam is desperately seeking a way back to Syria, while others have suggested that he may be wanted by members of the Islamic State for his failure to go through with his part of the Paris plot.
As the weekend came to a close, many city residents seemed divided over how to manage the anxiety of a possible attack while also getting on with their lives.
"She's scared, but I'm not," said Gaetan Vyncke, 20, as he waited for a train to nearby Charleroi with his girlfriend, Stacy Bonzyk.
Bonzyk grinned and shook her head. She'd spent the weekend with Vyncke in Brussels despite her fears — and over the objections of her parents. "They've sent me a lot of messages," she said.
Looking at the soldiers in full combat gear passing through, Bonzyk added, "I've never seen anything like this. In a way it's reassuring to see them, but at the same time if just reminds you of the bad guys who are not far away."
In Molenbeek, the largely immigrant residential neighborhood where several of the Paris attackers lived, and where police conducted a major raid late on Friday night, the atmosphere on Sunday was quiet, if a little indignant.
About as many reporters with cameras and notepads roamed the streets as did residents, many of whom expressed frustration about spending more than a week under a police and media microscope for their association with the killers.
"I'm just as scared as the rest of you," said Zakaria, a 38-year-old barber who is originally from Morocco but has lived in Belgium for 16 years, and declined to give his last name. "I have four children, and I'm not letting them out of the house. Some crazy person could easily come here and attack us, too."