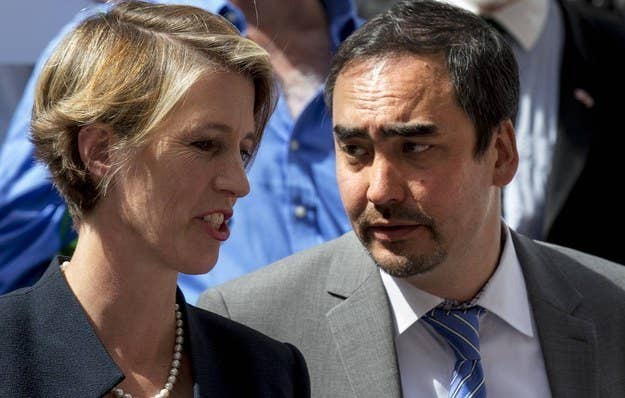 Long before Ed Koch became mayor, he was a small-time lawyer in Lower Manhattan with a quaint lunch break tradition. On the sidewalk, perched on a chair, Koch spoke about current events.
"I really learned to speak in the streets, carry around a chair," Koch said much later, this time getting the last word for his own obituary. "My law office was on Wall Street and at noon I would go downstairs and speak in the subtreasury steps."
The image comes to mind decades later, farther uptown: Zephyr Teachout under the statue of Eleanor Roosevelt on the Upper West Side. The law school professor and anti-corruption activist stumped before a modest, and sometimes skeptical crowd, about her bid to unseat New York Governor Andrew Cuomo — a throwback to a time when political events weren't so carefully managed. When there were no more questions, Teachout looked disappointed and asked for more.
Cuomo, meanwhile, was holding his own press conference — in a town near the Canadian border with fewer people than some New York City apartment complexes. It was so remote, and his office alerted the event with such short notice, that it appeared no reporter from Albany or New York could get there in time. As has been the case more often than not recently, the governor didn't appear in public the next day, nor the day after that — and he never debated Teachout before their Tuesday primary.
If elected, Zephyr Rain Teachout, 42, may be the first to move to the Governor's Mansion from a walk-up apartment. (The Vermont native — who, name notwithstanding, swears her parents aren't hippies — lives on the third floor in Fort Greene, Brooklyn.) Her quirky, shoestring, unashamedly lefty, and very long shot campaign has revved up state politics, if only because Teachout is one of the few unafraid to call Cuomo how so many privately see him: an economic moderate, at best, who failed to make good on his pledge to clean up Albany.
She calls Cuomo the Wizard of Oz, running for the state's highest office behind thick curtains of $30 million war chest. Cuomo may find it a compliment. He is not after a civics lesson, only a heftier re-election margin than his father Mario. Polls show Cuomo trouncing both Teachout and his general election rival. Why risk boosting Teachout's name recognition when 9 out of 10 New Yorkers don't know who in creation Teachout is?
"I don't think it has anything to do with democracy," Cuomo told reporters Sept. 2. "I think it has to do with individual campaigns. Sometimes you have debates, sometimes you don't have debates."
Voters may say they want cleaner government, but experts say it's rarely their top issue when they vote. Still, it's been one of two major planks in Teachout's strategy. Cuomo is giving her something to work with: Besides not debating, he challenged her bid to be on the ballot, losing twice in court. He dispatched people to heckle her; and then there's the matter of often being MIA on the stump. (He doesn't do broadcast interviews, apart from via phone with a favorite radio host).
"I think there's a moral responsibility to engage voters," Teachout told me towards the tail end of her "Whistleblower" campaign bus tour at the end of August. "I do think that there's a failure of leadership, and having some integrity in your vision — it makes him very hard to be accountable."
There's also an ethical scandal in Albany, though unfortunately for Teachout, it lacks the pithiness of, say, a governor nabbed having sex with prostitutes. In Cuomo's case, it's alleged interference with a commission charged with rooting out corruption — corrupting the corruption commission, if you will.
The governor formed it, vowing a year ago it would be "totally independent": "Anything they want to look at, they can look at — me, the lieutenant governor, the attorney general, the comptroller, any senator, any assemblyman."
It emerged — first through the Daily News, then to greater effect in the New York Times — that when the commissioner started looking into the governor's political connections, Cuomo aides leaned on the commission to back off.
Not long after, Cuomo folded it altogether, its work incomplete. The commission's open files, checkered operation and abrupt ending now are in the purview of the U.S. Attorney for the Southern District of Manhattan.
Part two of Teachout's strategy is attacking Cuomo's centrism on the economy and a couple of other sensitive issues, like fracking. Cuomo is deliberately vague on the fracking issue; Teachout is opposed, and is backed by the environmental group the Sierra Club. Cuomo is far clearer on taxes. His website says it best: "His economic strategy began with a simple premise: New York has no future as the tax capital of the nation."
Teachout thinks he's coddling the rich: "We are just giving away really billions, tens of billions of dollars a year to the financial services industry," she told my NY1 colleague Errol Louis, dismissing talk companies would move elsewhere.
"She's sort of what I regard as a classic third party candidate — a person running to make a point, or a set or views," says Gerald Benjamin of State University of New York - New Paltz, a longtime expert on New York state politics.
That's precisely what Teachout tried to be, anyway, until Cuomo beat her to it.
Both vied for the nomination of the Working Families Party (WFP), a union-backed group, where voters can often find a second line for those also in the Democratic column. It's supposed to be a good housekeeping seal that the candidate isn't some centrist shrill, but a real Democrat.
So how did Cuomo end up with it? The answer: Bill de Blasio, to a large degree.
After several months getting slapped around in Albany, the rookie New York City mayor played a key role in the governor's race, channeling lefty's aggression into extracting major concessions from Cuomo. (The mayor probably also delighted in watching Cuomo squirm on the video addresses he delivered to a skeptical convention).
Chief among Cuomo's givebacks, the governor now says he'll work toward complete Democratic control of the State Senate, after supporting joint control among Republicans and a breakaway group of Democrats.
"Now that he's put the state's fiscal house largely on order, he can abandon the coalition," says Benjamin.
Why did de Blasio do it, especially after Cuomo was so seemingly demeaning during recent budget negotiations? Because WFP line or not, Cuomo was likely to win. He's overmatching his Republican opponent Rob Astorino. A recent poll has New York State voters approving 57-38 percent of the job Cuomo is doing, and say 56-36 percent that he deserves reelection, little changed from the May 21 findings.
And now Cuomo owes de Blasio. And that's not a bad place to be, assuming Cuomo is good to his word.
So has the Working Families Party abandoned Zephyr Teachout?
"They gave me an extraordinary opportunity," Teachout told me. "Politics is politics."
The Working Families Party declined to comment.
Lefty voters may have another way to register their distaste with Cuomo. A quirk of state law allows primary voters to select their pick for governor separate from his running mate. In Cuomo's case, that running mate is Kathy Hochul, a former congresswoman from Western New York best known for fervently opposing drivers licenses for undocumented immigrants.
Cuomo is enlisting all the Democratic regulars to vouch for Hochul, but that hasn't stopped interest surging towards Tim Wu, Teachout's running mate, a Columbia law professor and scholar of emerging Internet law.
Cuomo is concerned. His aides whisper about Teachout; but they're throwing what they can at Wu — his lackluster fundraising, his dearth of political experience, even a funny gif of him I was forwarded.
An adviser to the state Democratic party, which backs Cuomo, said: "When you think of Tim Wu, you don't think of anyone prepared to handle the office of governor — and that is the first qualification, and that is the thing that disqualifies him most of all. He's a stone thrower not a leader."
Teachout responds: "Part the gravitas that it takes to be governor, is a willingness to take responsibility, be clear about where you stand, and neither Andrew Cuomo nor Kathy Hochul has shown that."
No matter who his lieutenant governor, should he win, Cuomo now has a reinvention to do. He's been largely socially liberal; a Democratic-controlled State Senate may wrench him out of his comfort zone economically.
Where does that leave Teachout? With plenty of new lessons for her law students, plus free publicity for a book she's about to release titled "Corruption in America." And the experience, which she seems to be relishing. Despite the bleak subject and her bleaker chances in her first go at elected office, a smile never seems to fade from her face. She looks like she's having fun.
Which reminds me of a certain mayor.
Today, Koch is gone and Albany still stinks, after Cuomo discarded several key good government promises.
And now, Cuomo is declining to debate.
I have no idea what Koch would say, but he had a word for things that disgusted him: "an outrage."