Why Eliot Spitzer Lost
His prostitution scandal followed his campaign from beginning to end, but there were other factors that cut his quest for political redemption short.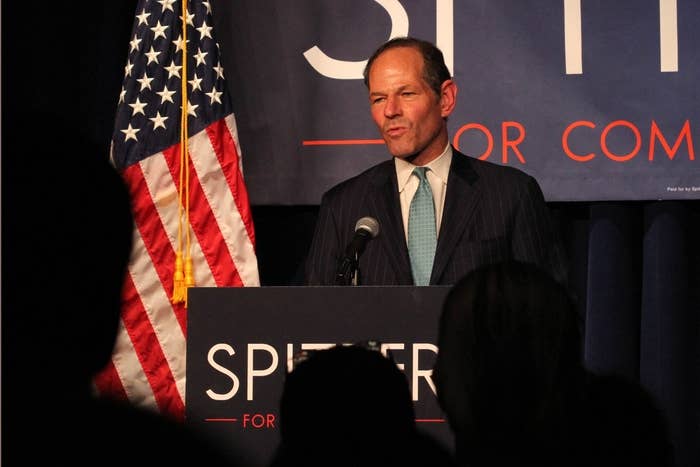 "Daddy, stay," were among the last words Scott Stringer heard before he found out his summer vacation was kaput.
It was the evening of Sunday, July 7. The Manhattan borough president, 53, was in his Upper West Side apartment, in the room of his now 20-month-old son, Max, who didn't want to be alone. Stringer had been neglecting his family. He was running for office — first mayor, and then when polls showed it wouldn't pan out, for city comptroller, the top fiscal officer in New York. Recently Stringer had been getting good news: would-be challengers were backing out, put off by his considerable campaign cash and institutional support. Now, the summer just beginning, he was finally eyeing a visit to the neighborhood playground with Max and Max's newborn brother.
That was until his cell phone got the shakes. A Brooklyn councilman texted, with this earnest dispatch: "I stand with you no matter what." Soon, Stringer had the news from Twitter. Eliot Spitzer was back.
While Stringer was saying goodbye to his son, and his summer, Spitzer, 54, was across Central Park, on the sidewalk. The former governor wasn't far from his own home, both physically and metaphorically. He was at Madison Avenue at 80th Street, outside Eli Zabar's EAT restaurant. And he was back in the political arena, salivating about an impending battle, almost panther-like, if a panther wore a navy blazer/t-shirt combo.
Spitzer's phone was also going nuts, and so was that of Lisa Linden, a longtime aide suddenly drafted to handle press for a tricky mission: finding political redemption for a disgraced former governor, all within nine weeks. There were petitions to get on the ballot, a website to launch, people to hire. And oh, by the way, the New York Post had just reported that Spitzer and his wife were splitting up.
You may know by now that Silda Wall Spitzer did not appear on her husband's behalf during the campaign, although the candidate has said they're not separated. But it looks like New York doesn't want back Spitzer in life as an elected official, not yet at least. Stringer beat him, 52 to 48 percent. How it happened matters, and not just because the story has sex, power, race, New York City, and 2016 presidential politics. While this isn't the mayor we're talking about, if you care about New York, you should pay attention to the city comptroller. The position oversees a pension fund bigger than most companies, providing retirement for nearly 300,000 retirees and beneficiaries, at a time when retiree benefits are straining budgets across the nation. The office also is charged with making sure the mayor and City Council don't bankrupt New York.
This article is based on covering this race from the beginning — a sidewalk interview with Spitzer the night he announced, to an interview with Stringer, just after he won, with a lot of events in between. For this story, I spoke with multiple sources involved in both campaigns, including Stringer. Spitzer declined to comment.
People are writing that Spitzer's loss fits in the pattern roughly described as "We Threw Out the Perverts." Spitzer ran, and lost — and so did Anthony Weiner and two city council candidates, one of whom headline writers call "Gropez" Lopez. Micah Kellner was another. My NY1 colleague Zack Fink reported that among other come-ons, he had creeped out an aide by telling him he had "pretty hands."
The "perverts" theory has merit, to a point. As he mulled getting into the race, Spitzer no doubt was cheered by polls showing Weiner doing well. Then Sydney Leathers came along, tattling of a sexting spree with the former congressman, even after Weiner gave everyone the impression he had kicked that most unusual habit of sending pictures of his johnson. No one accused Spitzer of dalliances with prostitutes after he left office. But he had to answer questions about it.
"There's no question that Weiner messed him up," said one Spitzer advisor.
The sex stuff overlooks other factors. In no particular order: the help it appears Bill de Blasio gave Stringer; the willingness of NY Governor Andrew Cuomo to help prevent Spitzer's return; and the effect that unions and elected officials still have in New York's Democratic primaries.
Let's start with de Blasio, who got the most votes in the mayoral primary. There haven't been any polls that I've seen, but it appears he boosted turnout among voters who also went for Stringer, like de Blasio's home neighborhood of Park Slope, Brooklyn. In one Assembly district there alone, unofficial numbers show that Stringer got about 6,000 more votes than Spitzer -- more than a quarter of the total difference between them.
Spitzer made a big deal of courting black voters. People there repeatedly told me they identified with his message of transgression and forgiveness, and he always got mobbed with requests for photos when stumping there. The former governor did well in areas with high percentages of African-Americans. But not enough of them turned out. That's where allies in labor, political clubs and among elected officials help. Stringer had them, Spitzer didn't.
Then there's Cuomo.
First, some background. The governor, who is said to be considering a White House run, doesn't like Spitzer, and the feeling is mutual. Here's a sampling of their back and forth from a few years ago.
Spitzer on Cuomo: "the dirtiest, nastiest political player out there."
Cuomo on Spitzer: "Well, that's saying something from Eliot Spitzer, huh?...I think Eliot Spitzer's record of performance and honor speaks for itself and so does mine."
For the record, Cuomo's office now says this: "The governor was neutral in the Comptroller's race." It is true that Cuomo never endorsed in the race, but he wasn't neutral.
"He was an advisor," one Stringer source told me. He gave advice to Stringer, personally and indirectly. His message: go after Spitzer on integrity. It was an especially relevant given the comptroller's office, with its watchdog role over so much money.
Stringer, who now faces Republican John Burnett in November, wouldn't talk about his dealings with the Governor's office. But clearly he listened. Stringer railed against a double standard of justice -- that Spitzer escaped prosecution for the very crimes he committed. He said the job required steadiness and rectitude, which Spitzer lacked.
"You need to do two things as the city comptroller," Stringer told me after the race ended. "You have to be a collaborator, but at the same time you're doing all that work, you have to be independent."
Stringer also had to show people that there was an alternative to Spitzer. When Spitzer got in, his name recognition had him way ahead. But once people started to get to know Stringer, they evened. Surprisingly crisp performances in debates also helped the borough president, who was battling a former Attorney General, Harvard Law '84.
Spitzer will have outspent Stringer in this race, but not nearly by the tens of millions Mayor Bloomberg did against his opponents. Spitzer's money, from his family real estate fortune, bought a campaign team, two of them former Obama advisors, and other operatives who weren't put off by working against the preferred candidate. Some of them had a checkered past, further undermining Spitzer's image. But as Team Spitzer now packs up boxes — with Spitzer's precise future unknown — they take comfort that it was so close.
What the money arguably couldn't buy Spitzer was a coherent message. He didn't have many specifics about what he would do with the office, apart from leveraging pensions to press for corporate reform. Pressed for an example, Spitzer could only site breaking up the leadership of JP Morgan Chase. Spitzer basically said "trust me." And trust was a problem.
"His whole message was overshadowed by his past misdeeds," said one political consultant. "He should have known that."
It may be a stretch, but I'm going to try to make a point by noting Spitzer's fashion sense: sometimes people shed pieces of their wardrobe that remind them of difficult stretches in their lives. Eliot Spitzer hasn't changed dresswear for years. He often wears the same pinstriped suit on multiple days. He was even spotted wearing the very red and white striped tie he wore when he resigned five years ago. It seemed faded but still he crisply crossed it with a divot.
Maybe there's something to analyze between this and his political strategies. Like a familiar suit, he wore the same political themes he had wielded successfully before: fancying himself a renegade advocate for the neglected; an unbought critic of run-amok capitalism.
The problem isn't so much that those styles have changed, but rather that Spitzer wasn't the same model. Of course his admitted affairs with prostitutes is the best known stain. But those who follow politics — and therefore vote in primaries — also recall that his shortcomings extended to official acts. The results of last Tuesday's primary indicate others didn't share his grand recollection of 14 months atop Albany. He may have raised funding for New York schools, invested in infrastructure, and sure made life interesting in Albany.
But he also left New York unprepared for a financial collapse that Spitzer now says he was almost alone in predicting. To carry out the simile, maybe more than half of voters saw the sheriff of Wall Street as an emperor with no clothes — or at the very least as someone who doesn't notice that he was wearing the same tie he wore on his worst day ever.
Josh Robin is a political reporter and anchor for NY1, New York City's all-news station. He can be reached on Twitter @joshrobin.