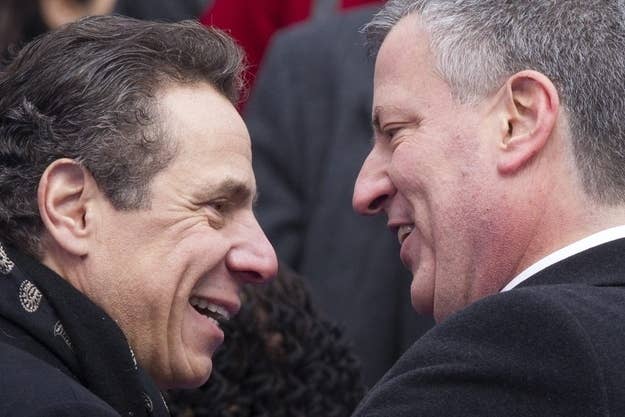 The 31-degree weather may have numbed his fingers and toes, but Andrew Cuomo's eyes were on fire.
It was Jan. 1, Inauguration Day for New York City Mayor Bill de Blasio. Surrounding the governor on a City Hall stage were enough political puzzles to confound lesser operatives: two seats to his left, Hillary Clinton, who stands in the way of Cuomo's own White House run; at the podium, the new mayor, whose demand for more income equality is igniting the left and throwing into stark relief Cuomo's own silence on the issue.
The governor's eyes darted this way and that, perhaps processing variables and plotting a game plan stretching months in advance. His brow furrowed, raised in levity, or set in rapt discipline.
It's long become a cliché to call Andrew Cuomo a Machiavellian genius, but right now the prince's game plan is particularly curious. Contradicting the reputation of both his family name and the office he holds, and a Democratic zeitgeist demanding the rich pay their "fair share," this eldest son of Mario Cuomo is sounding like anything but a fiscal liberal.
"This state has no future if it is going to be the tax capital of the nation" is Cuomo's latest mantra. He is pushing tax cuts, particularly for suburban and upstate homeowners. He's allied with Republicans on taxes. He steers state money upstate at the expense of New York City. He is pushing for the closure of a money-losing Brooklyn hospital, over the objections of most locals, including de Blasio, who got arrested in a protest this summer, jump-starting what had been a flagging mayoral bid.
That hospital commotion is nothing compared with differences between the governor and mayor on taxes. The new mayor wants higher rates for the richest New York City residents to pay for universal free pre-kindergarten and more after-school programs. Through a relic of state law, de Blasio's plan requires Albany's approval. Cuomo says he supports de Blasio's goal, but not necessarily the method.
De Blasio's mention of the tax in his address Wednesday drew whoops from his inauguration crowd. Perhaps sensing his opposition isn't doing him favors with his base, Cuomo gave up a handful of half-hearted claps.
Competing agendas reached a fever pitch Monday, with dueling news conferences. De Blasio's featured a gaggle of labor leaders insisting on a tax hike or bust; in Albany, Cuomo hosted a dozen or so pro-business admirers. Set before them, a banner read "Cutting Taxes for New Yorkers."
Governor and mayor may reach a deal that doesn't hike taxes — finding the money by carving out a chunk of the labyrinthine state budget. But that may not satisfy a restless left — or even de Blasio — who see recurring higher taxes as equally important as more pre-K. With national eyes upon him, de Blasio is forming a lobbying movement fusing Occupy Wall Street with political sophistication.
"It's imperative that we have a tax that's dedicated to the proposition of universal pre-K and after-school centers," Peter Ward, president of the New York Hotel and Motel Trades Council, said at de Blasio's event. "Taxes basically reflect the values that we have."
Asked Monday about de Blasio's plan, Cuomo said, "I'm in agreement with the mayor that pre-K is the direction this state has to head." But crucially, he added, "The question becomes how do we pay for it. And that's going to be a broader conversation with the legislature, when everything else is on the table."
For much of his term, Cuomo endured grief from the left that he's a Wall Street sellout. The moaning seemed to reassure Cuomo he's doing the right thing.
"Everything raises eyebrows in this business," he said in a recent radio interview. "This is a business of eyebrow raisers."
As my colleague Blake Zeff has pointed out in BuzzFeed, Cuomo insulates himself from being stigmatized as a conservative by amassing numerous legislative victories on liberal social issues, including legalizing marriage for same-sex couples and limiting gun rights. Continuing keen attention to the national agenda, Cuomo also recently reversed his opposition to medical marijuana by announcing the state would legalize small amounts for limited ailments. (He isn't seen as being assertive on a state Dream Act, offering college financial aid for undocumented immigrants).
Those social stances may be one reason why Cuomo retains strong support among liberals. (A recent poll found more liberals had a favorable view of Cuomo than de Blasio, though it was a statewide survey, and 3 out of 10 didn't know who de Blasio was). Polling also finds state voters supporting de Blasio's tax hike plan by about 2 to 1.
"I feel like his standing on the left has diminished, even as his standing on the right has diminished," notes one longtime political observer. While there has even been some talk of a Democratic primary challenge, Cuomo's abundant campaign coffers and name recognition would likely render it nothing more than a protest vote.
Why is Cuomo where he is on fiscal issues? Ask around, and you get different reasons, from the Freudian to the practical. Someone who has known him for decades theorized that much of what guides Andrew Cuomo is to be different than his dad, the former governor from 1983 to 1995, whose liberal reputation remains.
Bruce Gyory, a longtime political consultant from Albany, says it's not psychology but political math that's stirring Andrew Cuomo's brain.
"New York State isn't a liberal state. New York is a Democratic state," he says. This is especially true when you count who votes. Gyory notes that in the last election, New York City accounted for less than a third of the vote, even though it's about 40% of the population.
Cuomo's support hinges on suburban counties like Nassau on Long Island and Westchester in the Hudson Valley. Republicans lead both counties, with the Westchester County executive one of the few serious names to surface as potential Cuomo challenger in November. (That may be why Cuomo heaped praise on the Nassau County executive at his recent swearing-in.)
And maybe Cuomo truly believes it's in the state's best interest to keep taxes as low as possible. It should also be noted the governor is not exactly a strip-the-budget-bare executive. He's reportedly set to announce more than $100 million in new spending on housing and jobs for inner-city kids.
Cuomo's office declined to comment for this story.
Whatever the rationale for his controversial fiscal positions, de Blasio's demands will test a years-old relationship with Cuomo. De Blasio worked for Cuomo when the latter was Bill Clinton's HUD secretary. Cuomo aides note who was in charge.
Underlings have a curious way of seeking to someday best their old bosses.