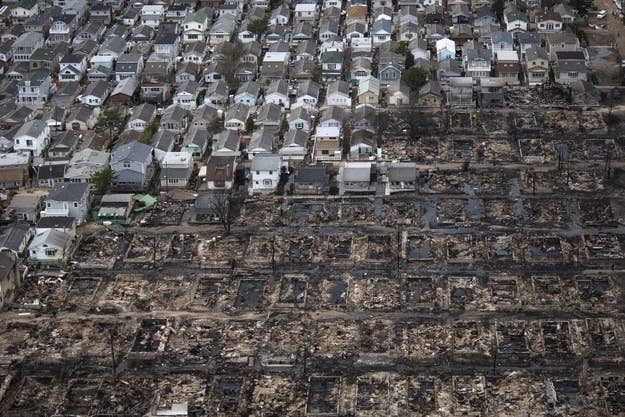 New York City doesn't stay still. That's not just sentimental boosterism for the city that never sleeps; it's a matter of geographical fact. Long after streams were filled and coastline jags straitened, the five-borough map is again changing — and this time it's a matter of survival for New York as we know it, with ramifications for other coastal cities everywhere.
You'll see big changes to the city's 520-mile shoreline. Small new islands in the harbor. Removable storm barriers in Manhattan. View-blocking (but potentially life-saving) sand dunes in Queens. That's the plan, at least. Mayor Michael Bloomberg proposed it, but he's leaving office at the end of the year. It's up to his successor to decide whether to continue the highly expensive projects, even as Sandy's exact path of devastation may have been a catastrophic freak of nature.
What is clear is that even a smaller storm could soon wallop New York with greater ferocity than last's year's so-called Super Storm. Here are the depressing statistics: Water has risen a foot over the last century. Experts say it could go up more than another 2½ feet by 2050. By then, an estimated 800,000 New Yorkers will live in a floodplain. Here's another nugget to chew on as you sip iced coffee from a plastic takeout cup: The world is getting hotter — so hot that by the middle of this century, New York will have as many days over 90 degrees as Birmingham, Alabama, has now (57).
Bloomberg's what-to-do blueprint is laid out in a 438-page book, A Stronger, More Resilient New York, which may turn out to be his most important legacy. Bicycle lanes and lower crime are important, but not if you are literally treading water. He talks about rebuilding post-Sandy with Churchillian resolve.
"Let me be clear," he said shortly after the storm hit. "We are not going to abandon the waterfront."
(That drive has its limits — just days after Sandy, Bloomberg pressed ahead with plans for the New York Marathon. He retreated as word spread that generators were powering runners' tents while Staten Islanders shivered in storm-battered hovels.)
More people will remember the blueprint, especially if Bloomberg's successor embraces it after Inauguration Day. Bill de Blasio, the overwhelming favorite in the mayoral race, won the Democratic primary by searing the billionaire on policing, education, and inequality. But on Sandy, he tells me Bloomberg's proposals are "a good plan, and that's where I would start."
Renderings of what different parts of New York City might look like under Mayor Bloomberg's plan.
You can see the first glimpses of changing borders along the south edge of the Rockaway Peninsula. Before Hurricane Sandy a year ago, the 11-mile finger of Queens at the end of the A train was becoming known for in-city surfing and cute snack shacks. Then winds and water surged off the Atlantic. The wooden boardwalk buckled, the ocean ripped into homes, and within minutes it looked like Chechnya.
Now, to prevent floods, crews are stretching the beach, dredging and dumping millions of cubic yards of sand — much more sand than Sandy took out to sea. By Memorial Day, more sand will be under your toes than since Ed Koch was mayor. To go for a dip, you will pass undulating dunes, elevated lifeguard offices, and a sturdier boardwalk, though it will be made of concrete, not quaint old wood.
If all goes to plan, that will be just the start of what could be the biggest reshaping of the New York City map in generations. To weaken waves before they hit land, Bloomberg is also calling for new uninhabited islands off the Rockaway's Breezy Point neighborhood (where more than 100 homes were destroyed in a storm-related fire) and Staten Island's South Shore (where 24 people were killed). More wetlands would fill Jamaica Bay, the flood-prone body of water you see when you take off from JFK.
Brooklyn's Gowanus Canal would have a storm surge gate, to keep Superfund water from oozing into Carroll Gardens — but no big barriers, say, from New Jersey to Brooklyn, which Bloomberg dismisses as unrealistic. Near South Street Seaport, a whole new water-resistant neighborhood would rise — a Battery Park City on the East Side. Raised riverfront sidewalks would double as river-blocking walls. Where there are gaps, workers would install temporary storm surge barriers — in place when meteorologists warn floods are coming, in storage when the forecast is calm.
"What this resilience effort is about is adapting our infrastructure, adapting our city, to the new reality of what climate change will bring into the city," says Daniel Zarrilli, the city's director of resiliency (Bloomberg people like this word, "resiliency").
The proposals have drawn worldwide attention. Government officials everywhere are worrying about the same problems related to climate change (or they should be). In New York, though, observers aren't worried about the start — it's about the follow-through.
When Bloomberg announced this resiliency plan in June, he noted the $19.5 billion project is mostly federally funded, and only had a $4.5 billion gap. But a closer look shows that $19.5 billion is just for the first phase — an ambitious set of goals, to be sure, but one that doesn't complete most of the barrier islands or most of the storm surge barriers, just to name a couple of cases.
Shocking, with that recent shutdown and all, but the city can't bank on Washington to make up the difference. And if there isn't another storm soon, people may forget the next one may be worse than Sandy. Does the next mayor have the appetite to continue paying for big things, when that money could instead be used for labor contracts, or smaller classes, or cynically, projects that will be ribbon-cutting-ready in his first term?
Bloomberg hopes not — not for Sandy-related projects, or other big things. He made that point marking the completion of a spur of an extra water tunnel.
"It's not sexy, and nobody says thank you, but we should be sleeping better because of this," he said, noting that the city abandoned such projects in the 1970s, leading to rust and breakdowns, not to mention a lot of graffiti.
But when it comes to retrofitting the City for higher sea levels, some question why taxpayers should continue fighting against nature, when nature seems to have the game rigged.
"Bloomberg's categorical statement 'we will and cannot retreat from the waterfront' is not sustainable in the long-run, meaning by and beyond the end of the century," Klaus Jacob of Columbia's Lamont-Doherty Earth Observatory said in an email.
"We need to take advantage of existing higher topography in all five boroughs. The notion of waterfront development, still the mainstay of developers, is a thing of the past and should be outlawed."
A politician would probably be tarred as defeatist should he utter those words — not unless, god forbid, an even bigger storm than Sandy socks the city. But something else might force our retreat: the cost of flood insurance. For decades, the federal government kept flood insurance prices artificially low; now an obscure law is gradually bringing them to market levels, which could spell sticker shock in many coastal communities and drive people to higher/cheaper land (not just in New York, by the way).
While that plays out, New Yorkers seem to be leaving only one neighborhood. Residents of hard-hit Oakwood Beach are behind a state plan to turn over their property to the state, which would make it parkland. It's Gov. Andrew Cuomo's idea, and a rare flash point between the mayor and governor when it comes to Sandy.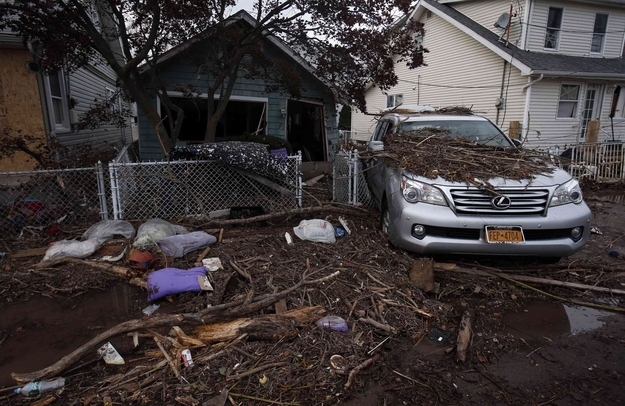 There is progress. But a year later, some homes are boarded-up shells. Clean-up and mourning continues for those who suffered in Sandy. For most of us, though, the hurricane's upcoming anniversary is background buzz — secondary to postseason baseball and Bansky's graffiti. By even the most dire accounts, climate change is only incrementally affecting us.
That abstractness may make it harder to focus on preparations. On the other hand, it also forces the mind to contemplate the future — what human existence will look like generations from now.
That existential panic attack multiplied for several Bloomberg aides who wrote the blueprint for a Stronger, More Resilient New York, that big book of ideas to adapt the city to rising sea levels. They had kids shortly before, or during, the frenetic seven months they worked on the book. Seth Pinsky, Bloomberg's point man on Sandy recovery, came back from paternity leave to oversee the project.
"It's the most ambitious, realistic plan that could be developed to deal with the effects of climate change over the next 40 years," he says now.
"Nothing can protect the city 100% of the time," Pinsky says. "Nature can always overwhelm the defenses, whatever they are, which is why we need to make sure that we can bounce back quickly when that happens."