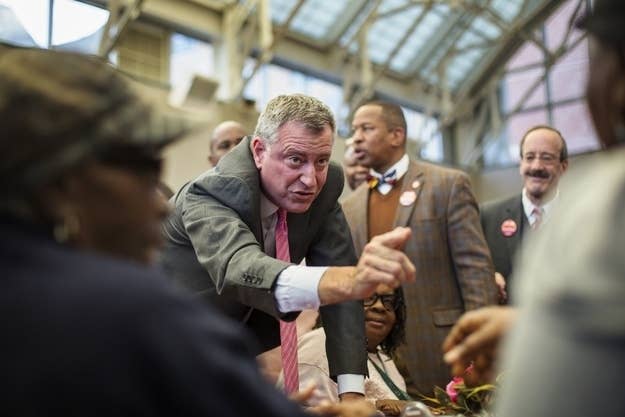 It's only a matter of time before Bill de Blasio's face starts sprouting up on T-shirts, Che Guevara-style, for lefties everywhere.
The crusading progressive who was just elected New York City's 109th mayor has become a liberal hero in recent months, and has the history to prove it. He honeymooned in Cuba, worked alongside the Sandinistas in Nicaragua, visited the USSR the same year Reagan called it the Evil Empire, and his platform is the stuff of which progressive dreams are made.
Enjoy it now, liberals. Because, in the phrasing of former New York Gov. Mario Cuomo, de Blasio's campaign poetry is about to transform into the considerably less inspiring prose of actual governance.
Once he assumes office in the new year, de Blasio will press the progressive agenda that propelled him to victory: increasing taxes on the wealthy; limiting stop-and-frisk; requiring more businesses to offer sick days. He very well may achieve some version of it. But compromises will be required. Purists will no doubt call him a sell out. And there will be other municipal decisions he will face that haven't gotten as much attention now — expired union contacts; expanding taxi service outside Manhattan — that will place de Blasio in an unusual spot, after his blowout Tuesday: unliked, even (and perhaps especially) by those on the left.
Cuomo's son, current Gov. Andrew Cuomo, is the man who can block de Blasio's signature target: a higher tax on those earning $500,000 or more a year. De Blasio, a public school parent, says the tax hike is needed to expand public school for 4-year-olds and after-school programs for all students. Andrew Cuomo is giving the strong impression the higher tax is DOA in Albany.
Of rich New Yorkers, he recently told the Daily News editorial board: "What they fear is that they're in a place where the taxes will continually go up and there will be a ceiling and they'll say, 'I'm going to Florida.'"
He added: "I believe that."
Cuomo has since softened, saying he'll try to work on a plan with de Blasio. But the governor has already backed himself into a corner — denying de Blasio a full victory seems inevitable, despite Cuomo's well-established presidential ambitions and the tricky politics of shooting down a proposal to help expand preschool.
Then there's stop-and-frisk, in which police question people thought to be acting suspiciously. Critics say cops often engage in nothing more than racial profiling, as the vast number stopped are black or Latino and let away without so much as a jaywalking ticket. De Blasio has given himself some wiggle room. During the Democratic primary, he billed himself as the only one who would end the "era" of stop and frisk. Now, it seems, he highlights how well cops have lowered crime in the city. Then again, he also lamented a recent federal ruling that effectively stopped a slate of changes to the stop-and-frisk program, including a provision requiring a city monitor for the New York Police Department.
Once mayor, though, de Blasio may decide that he does not want a monitor telling him how to run the police department. De Blasio will be under pressure to keep crime rates low — as well he should (does anyone want to see crime actually go up?). The good news is that de Blasio may be able to have it both ways. Even under Michael Bloomberg, stop-and-frisks are a fraction of what they have been in the past, and crime is lower than anyone can remember. Still, the new mayor may have to convince supporters that stop and frisk is here to stay — a price to pay for safety.
After Bloomberg, New Yorkers are also on the verge of a novel situation: a mayor who raises money and doesn't give it away. While public labor unions are helpful, so are real estate and financial interests. Their largesse, and the power they wield in the city's chattering class, will no doubt soften the edges on legislation de Blasio may have championed when he was a lowly member of the City Council — like demanding more sick days, or an end to subsidies.
De Blasio has strong ties to another industry that may lack Wall Street's big bad guy notoriety, but wields tremendous influence over regular New Yorkers, especially those who don't live in Manhattan south of Central Park. The yellow cab industry has pumped hundreds of thousands of dollars into de Blasio's coffers. They are upset that their power may be diluted under a new taxi program that allows street hails of special green-colored cabs in four boroughs, and a sliver of Manhattan. The yellow cab industry also dislikes the growth of taxi apps like Uber, which dispatches black town cars; those apps have become an intersection between some types of consumers and tech industry backers. Watch to see how de Blasio handles regulation, and how he explains away perks to yellow taxi fleet owners (who are, believe it or not, often extremely wealthy).
Then there are unions. Every municipal unit is working without a contract — more than 150 separate groups, and about 300,000 workers in all. Like anyone would, they all want raises, and backpay. The city plum can't afford it — not without gutting everything else. The champion who labor leaders toasted Tuesday night may be the mocked in placards in City Hall Park before long. Inevitably, de Blasio will be compared to Barack Obama who disappointed many with governance more in the middle than desired.
Asked for a model mayor, De Blasio cites Fiorello LaGuardia. And why not? No one can remember him here, but we know that he must have been good because they named an airport after him. LaGuardia earned the lasting plaudits not only by reading the funny pages to kids on the radio. He had the advantage of large federal subsidies to guide the city through the Depression, with major public works. De Blasio isn't going to have that. The subways are expanding, but with more city money than many hoped. Washington isn't paying up for projects like updating the city's nearly 110-year-old transit infrastructure.
When I interviewed him last month, de Blasio didn't veer much from his talking points, other than to show a new peevishness at questions he didn't like ("Listen to what I'm saying!" he barked). But I don't think anyone would quibble with how he ended our chat. I asked him about how he will handle the enormous responsibility of guiding New York.
"I think New Yorkers are looking for someone who is going to level with them about the challenges that we are facing," he told me. Here's hoping his administration lives up to that vow, with candor, openness, and shared responsibility. And if he's too nervous about dashing all of these dreams, well, he may suggest putting his son Dante's face on those T-shirts. They may sell better.
Josh Robin is a political reporter and anchor for NY1, New York City's all-news station. He can be reached on Twitter @joshrobin.