Ubisoft Is Excluding Women From The New "Assassin's Creed" And People Are Furious
One of games' biggest series faces a representation crisis.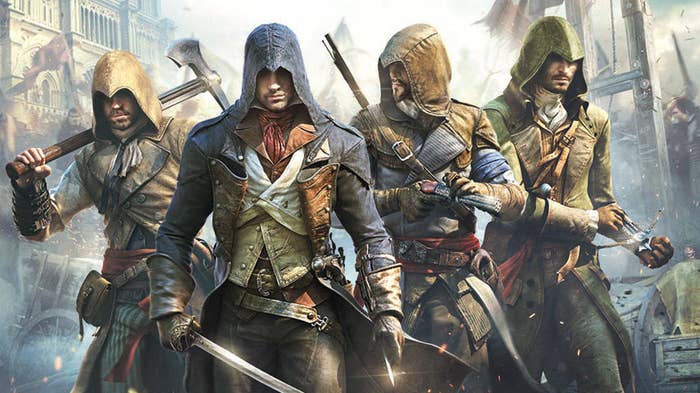 The newest game in the multimillion-dollar Assassin's Creed series, Unity, has some fascinating features: A painstakingly-recreated revolutionary Paris, bleeding-edge next-gen presentation, and for the first time in the series, four-user cooperative play.
One thing it does not have is the option to play as a woman.
Despite Ubisoft's oft-cited commitment to diversity—something they conspicuously tout in writing at the beginning of every Assassin's Creed game—the company axed the inclusion of playable female characters in their new game because of resource constraints, according to Ubisoft technical director James Therien in an interview with Videogamer.com:
"It was on our feature list until not too long ago, but it's a question of focus and production," Therien explained. "So we wanted to make sure we had the best experience for the character. A female character means that you have to redo a lot of animation, a lot of costumes [inaudible]. It would have doubled the work on those things. And I mean it's something the team really wanted, but we had to make a decision... It's unfortunate, but it's a reality of game development."
This "reality of game development" has been seized on by hundreds of angry gamers, game developers, and thinking human beings on Twitter, who are currently excoriating Ubisoft—the third largest games publisher in the world with nearly 10,000 employees—for the lack of female representation in what is perhaps their biggest series.
In the Assassin's Creed games, Ubisoft is committed to making believable alternate histories for gamers to explore. It sounds like a lot of people don't want anything to do with this one.