A leading voice of the new "alt-right," Breitbart.com tech editor Milo Yiannopoulos, does not write many of the articles that appear under his byline on the conservative news site, two sources who have worked directly with him told BuzzFeed News.
These sources — a former intern and someone who has worked with Yiannopoulos for years both in and outside of the Breitbart News Network — as well as a video taken from a private chat offer a glimpse behind the curtain of one of a new movement's leading provocateurs. The sources also suggest that much of the commentator's work is written by a bevy of mostly unpaid personal interns.
Yiannopoulos confirmed in an interview with BuzzFeed News that he has "about 44" interns — "a mix of paid and unpaid" — writing and conducting research for him. But he denied that other people write stories for him start to finish.
"Two people write Breitbart stuff for me," he told BuzzFeed News, but "ghostwriting is too great a word." He said that the majority of his interns are researchers and that some write speeches for him. "I have two books coming out this year," he said. "It's completely standard for someone with a career like mine to have researchers and assistants and ghostwriters."
Yet the sources who came forward to BuzzFeed News tell a different story. "Milo Yiannopoulos is not one person," said the Breitbart employee. "That person does not exist. It is a collective consciousness of various different people who come and go."
The former intern said Yiannopoulos delegated frequently. "I wrote articles for him," he told BuzzFeed News. "His articles on Breitbart. He writes some of them, but most no. He has other people writing his shit."
Yiannopoulos directs these personal interns — who are not associated with Breitbart — through a private group on the chat service Slack. BuzzFeed News obtained a minute-and-a-half-long video that appears to depict activity in the group, which is called PROJECT MILO.
In the clip, the user "milo" warns the group not to use racial epithets because of the way it would look if the group chat became public: "Can't believe I have to say this but no n-words in shitposting or anywhere else, thank you. Please THINK about how this could appear if leaked to the wrong person."
#shitposting is another channel in the PROJECT MILO Slack.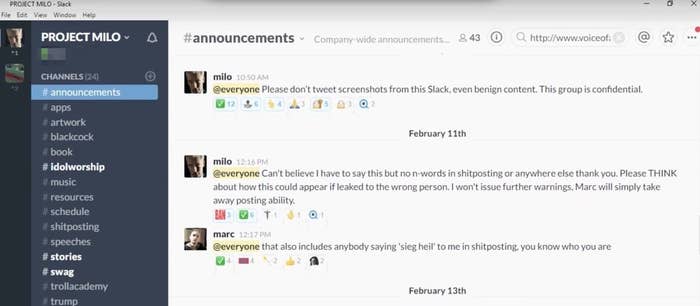 Immediately after the warning from "milo," a user named "marc" adds "that also includes anyone saying 'sieg heil' to me in shitposting, you know who you are."
According to the former worker, "marc" is Marc Geppert, who is listed as Yiannopoulos's executive assistant on his personal website. (Geppert did not immediately respond to a request for comment from BuzzFeed News.)
Yiannopoulos told BuzzFeed News that all uses of the n-word in PROJECT MILO were ironic. "A lot of these guys are young 4chan guys," he said, referring to his interns. "They use it in the sense that message boards use it ... It was the n-word with an -a, not with an -er — they were quoting hip-hop lyrics."
"I know they don't mean it in a racist way," he continued. "It wasn't like I had to police racism out of my Slack."
Elsewhere in the video clip, "milo" writes, "does anyone need anything else from Daddy tonight?"; instructs the group to tweet a link to a Breitbart story about Twitter censorship of conservatives from their accounts; and tells workers to tune in to an appearance on Fox News. He also asks several workers to write a speech about feminism: "include (1) feminism attention seeking for ugly people (2) wage gap (3) campus rape culture... a load of mean jokes."
Yiannopoulos insisted that this kind of delegation was normal for public figures, adding that "I take a much more hands-on approach than most people." Indeed, Yiannopoulos has tweeted about the headaches of having the amount of assistance he enjoys: