The World Is Forgetting Sonic. Could Mario Be Next?
Gaming's most iconic characters struggle to stay relevant to a new generation.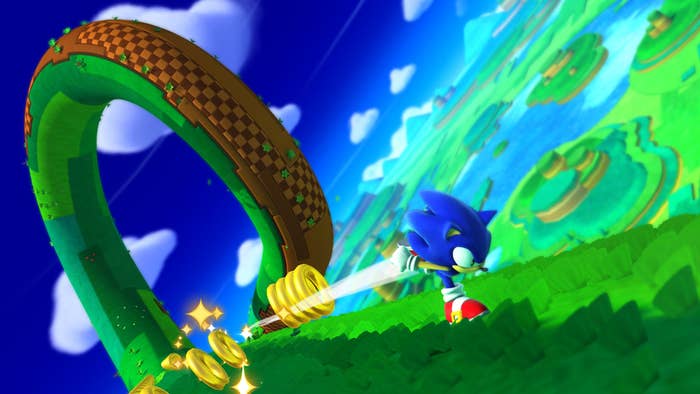 Sonic the Hedgehog came out in 1991, twenty-two years ago. In the heyday of the Sega Genesis, Sonic was the perfect mascot, an annoyed little speed freak who was puckishly opposed to Nintendo's creepily optimistic and plodding plumber. Do you remember the way Sonic used to tap his foot and stand arms akimbo and look at the screen huffily if you dropped the controller for five seconds, like, hurry up loser or I'll find some cooler kids to play with? Cool, fast badasses played Genesis; dorky little pissants played Super Nintendo.
Sonic and Knuckles, the last Sonic game for the Genesis, the last Sonic game from the era in which the velocious blue furball was a credible rival to Mario as a cultural phenomenon, came out in 1994, during the first Clinton Administration. Another way of thinking about this: If the years since Sonic was an icon were a person, he'd be a college sophomore. In the time this young man has been alive, Sega has been pushed out of the hardware business and pushed out over twenty new Sonic titles, none of which have even grazed the cultural influence of the first four games. After years of floundering, Sonic is now locked into a three game exclusive contract with Nintendo, the parents of his nerdy once-rival. Sonic the cool kid grew up and now Mario the dork is his boss.
Today, I played a preview of the new Sonic title for Wii U and 3DS. It's called Sonic: Lost World, and it looks like it's going to be a really good game. It takes the out-of-control 3D platforming that has alienated so many players in the past fifteen years of Sonic games and slows it down just enough to make it feel manageable. It borrows the best trick of the Super Mario Galaxy games—limited three dimensional environments that can be traversed in a rotating 360 degrees—and adds to it that classic Sonic propulsion. If you handed it to 8-year-old-me, I'd say holy shit, futureman!, but then I'd also say, awesome!.
But building a good enough game for their famous mascot is no longer Sega's biggest problem. Rather, it's making a new Sonic game feel like it matters. The Sonic brand, between reboots, spinoffs, and a series of terrible 3D games, has been diluted to the point that consumers may no longer even be aware when a new one comes out. It's just another video game.
I asked the three Sega reps who showed Sonic Lost World how they thought they can promote Sonic to a generation that doesn't really understand what Sonic is, or associates Sonic with mediocre games. They gently corrected me. Young gamers, obsessed with mobile, have flocked to Sonic Dash, the free-to-play iOS endless runner that is basically a really fun and beautiful Temple Run mod. The Sega reps speculated that Dash's huge success would drive awareness of Sonic among young gamers and result in big numbers for their console game. Maybe they're right, but on mobile Sonic is merely one of dozens of iconic characters, and far from the most. It doesn't necessary follow that just because young players like Sonic Dash they will have any more loyalty to him than to, say, a sparkling piece of candy. (And if there is another Mario-level gaming icon today, it doesn't run, it flies.)
Speaking of Mario, there's a lesson here for Nintendo. Earlier this week I saw the bevy of new games for the Wii U and 3DS that the company is showing off for the holidays. The Wii U has rightly been criticized for a lack of legacy first-party software, and the company touts the new 4-player, Mario game Super Mario 3D World as the immediate solution to that problem. Like Sonic Lost World, it looks like it's going to be a great game. On the other hand, what non-Nintendo fanboy in his right mind can keep it straight from New Super Mario Bros. U, or New Super Luigi U, or plain old Super Mario 3D Land, not to mention the handful of forthcoming titles that feature Mario in some capacity?
What there is not is a Mario 64 or a Super Mario Galaxy, a tentpole, event game, a potential cultural landmark. Instead, Nintendo is making a handful of extremely polished, fairly unambitious games that may have the unintended effect of diluting the Mario brand, making it feel less significant, less essential. And that's ironic, because Nintendo is so fiercely protective of the Mario brand—as Jeff Ryan and others have written—that they won't even consider porting their games for mobile devices. There's simply no game among the new Wii U titles that could make an 8 year old remember Mario forever, keep buying Mario forever.
And that's a tough reality for a company that hasn't sold a lot of their current console. Even if Nintendo did makes a landmark Mario game at this point, the fact that gamers can only get it on a single, underperforming console — or a decreasingly relevant dedicated handheld device — limits the potential cultural impact of such a title. Nintendo is in the position of having to make a Mario game so good that it compels gamers to buy their hardware. (And how about that for an old-school idea, the killer app?)
So Nintendo needs to figure out how to make that game, or they may find themselves, in 10 years, hoping that Angry Birds: Super Mario Bros. can drive sales of their new, great, Mario game.