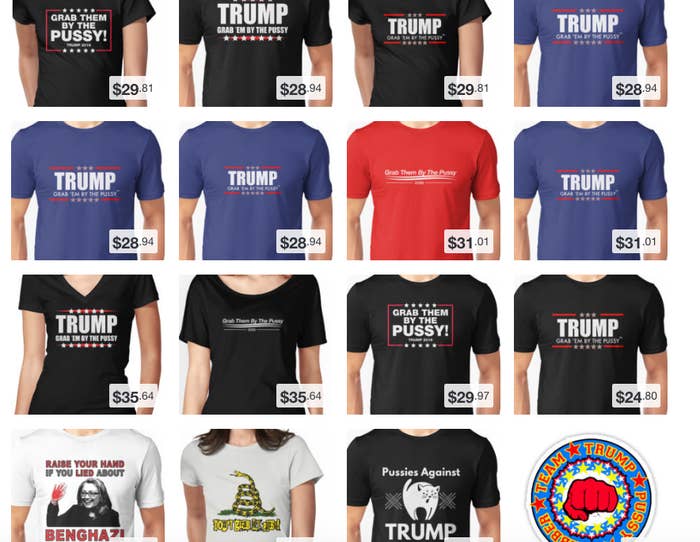 We've all been there: about to buy a cool new shirt, but afraid of showing up to the party and everyone's wearing the same thing.
Donald Trump enthusiasts, however, are in luck: They've got options.
It's only been four days since the Washington Post reported Trump's vulgar 2005 suggestion to an NBC reporter to "grab them by the pussy," but there are already 43 different styles with the quote available for sale on Redbubble.com.
On the social marketplace, which makes it easy to design and sell shirts, mugs, and posters, creators have already emblazoned Trump's latest not-quite-disqualifying remark on a wide range of designs. They include a tasteful red-and-white, a cartoon speech bubble coming out of Trump's mouth, and, for the subtler customer, a screen print of a black cat beneath the words "Locker Room Talk." And these few dozen represent just a tiny fraction of the more than 10,000 Trump-related products ready for purchase on Redbubble, ranging from "The H Is Silent in Benghazi" T-shirts to "Pussy Game Strong" mugs to "1-800-Hotline-Trump" stationary.

They're all part of a frantic, obscene, and crazily prolific market in unofficial and knockoff Trump merchandise that has flourished on big sites like Etsy and Redbubble (an Australian company that is sort of like Etsy crossed with DeviantArt) and small web shops alike. Though the Trump campaign has its own official slogan and a corresponding acronym, this merch market is hardly limited to "Make American Great Again" and "MAGA." Like the roiling internet communities that support Trump, the goods take the images and words of history's most meme-able presidential candidate as a starting point from which to iterate endless $25 variations. It's like 4chan or r/the_donald that you can wear.
"A picture of a red hat with 'Grab Them by the Pussy' written on it had 2,000 retweets. That's when it hit me."
And like the global coalition of nihilists, ironists, racists, and actual conservatives who form these communities, the people who make merchandise are drawn to Trump's image and speech for a variety of reasons.
Take Tyler Djokovic, a 19-year-old marketing student from Michigan. He got his start in viral T-shirts when he designed one featuring the inspirational musings of DJ Khaled when those were a meme, all the way back in January. His Redbubble page also offers shirts featuring Harambe, Dat Boi, and Arthur's fist.

Last week, shortly after the release of the now-infamous Access Hollywood video in which Trump lewdly discusses his pickup methods, Djokovic was searching the Twitter Moments tab, where he often goes to get an idea about trending memes. "Someone had tweeted out a picture of a red hat with 'Grab Them by the Pussy' written on it, and it had 2,000 retweets," he said. "That's when it hit me."

And so the "Grab Them by the Pussy" T-shirt was born. Or, maybe: The market for meme merch moves so fast that Tyler can't be totally sure he was the first.
Djokovic said he didn't make the T-shirt because he supports Trump — he declined to say whom he would vote for in November — but because it's fun for him to try to predict what will go viral, and it's a way to build his already robust social media presence. In fact, he considered the actual contest between Trump and Hillary Clinton an afterthought, merely a catalyst for creating internet culture.
"We're not paying attention to the election," Djokovic said. "We're paying attention to the memes."
Other meme-chandisers are paying attention to Trump's speech — specifically his disdain for political correctness.

Cameron Lee, a 37-year-old designer from Southern California who lives in Tokyo, started making Trump T-shirts in March after being inspired by an image of Trump in World War One-era military regalia on 4chan. Shortly after, he came across a Facebook post in which several of his friends called all Trump supporters racist.
"I was standing there in my room thinking, This is horrible, this is terrible that I can't say something like that without people thinking that I'm something I'm not," Lee said. "Thats when I decided to go for it."
Lee, who has a background in streetwear design (he once made T-shirts for Monarchy — think Ed Hardy and Affliction) moved on to other 4chan-inspired images like "Cuck Hunt," a T-shirt depicting a rifle-toting Trump-Pepe in the style of the NES classic Duck Hunt; a Supreme-style MAGA snapback hat; and a coffee mug entitled "Sakura Bloodbath" that features a drawing of Trump clad in futuristic battle armor while bearing a blood-stained sword and plucking cherry blossoms.

And then there is the rare viral Trump merchandiser who finds inspiration offline. Kristie, a 44-year-old graphic designer from Kentucky, was eating her annual birthday dinner at Red Lobster when she overheard a couple complaining about a comment Hillary Clinton had made about "deplorable" Trump supporters.
"I looked at my husband and said, 'Hmm, that's going to be a moneymaker,'" she said.
"I don't like Hillary as far as I can throw her. But I have some Hillary stuff on Etsy."
After dinner, Kristie came home and "threw something together that looks good on a shirt." She uploaded it to Etsy and Redbubble. Within days, she was selling over $1,000 a day in shirts.
Kristie considers herself a Trump supporter. "I can't wear my own Trump shirt because I'm afraid I'm going to get shot," Kristie said. "I'm one of those silent people." But like many of the Trump merchandisers, her ultimate allegiance is to what sells. "I don't like Hillary as far as I can throw her," Kristie said, "but I have some Hillary stuff on Etsy."
Indeed, success in the viral merchandise market depends on a hyper-awareness of what is popular and current. Kristie said she hasn't sold any "Deplorable" T-shirts in two weeks. (Though, she added, her Deplorable garden flags are still a hot item); Tyler said his Dat Boi and DJ Khaled merch is "dead." (Meanwhile, there are already 40 Ken Bone T-shirts available for sale on Redbubble.)
While the Trump merchandise market appears vast, like the campaign and the online communities that inspire it, its depth and its staying power are unclear. The Redbubble sellers are hardly making a killing. Djokovic said he'll make a couple thousand dollars off of the shirts; Lee said he's sold at the most a thousand T-shirts.
And though the shirts do sell, and though Lee said happy customers send him pictures of themselves in his clothing, it's difficult to find people showing the merchandise off on social media. Perhaps that's because, like Kristie, there is a legion of Trump supporters who have stayed quiet and are waiting to flaunt their shirts on Inauguration Day, if their candidate wins. Or perhaps it's because the shirts are, as Djokovic put it, "impulse buys," forgotten as soon as they arrive.
The Republican nominee will probably keep saying crazy stuff through November 8, so Trump viral merchandise will persist at least that long. Beyond that, well, it depends on what people like Djokovic see trending on Twitter.
And for Lee, no matter what happens next month, there are always ways to cater to 4chan: "I thought I'd make a nice comfy green Pepe shirt for the winter."