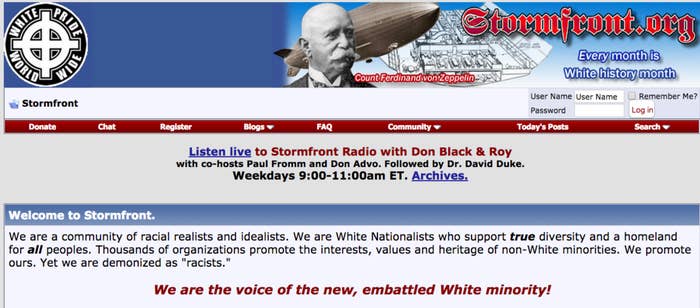 The white power ideology espoused by Dylann Roof, who last week murdered nine African-Americans at the Emanuel African Methodist Episcopal Church in Charleston, has brought Stormfront, the internet's preeminent white nationalist destination, back into the national spotlight. Though Roof hasn't been linked to the website, Stormfront's size and history — according to the Southern Poverty Law Center (SPLC), Stormfront was "the first major hate site on the Internet" — make it a natural symbol of American race hate in the 21st century. It is nearly a metonym for the white supremacist internet.
But while Stormfront's roots are Southern (it was founded by Don Black, an Alabama-born former Grand Wizard of the Ku Klux Klan), today the community is a global rather than a regional phenomenon. Nearly half of its traffic comes from outside the U.S., and it boasts subforums in a dozen languages. In a New York Times op-ed on Monday entitled "White Supremacists Without Borders," Morris Dees and J. Richard Cohen, the founder and president of the SPLC, discussed the international influences on Roof's ideology:
White nationalists look beyond borders for confirmation that their race is under attack, and they share their ideas in the echo chamber of racist websites.
Indeed, while the antebellum and Jim Crow South may be the most resonant symbols of white supremacy for Americans, Stormfront reveals the white nationalist internet as a complexly international place, where a narrative of "global struggle" has subsumed local racial conflicts. Free speech protections under the First Amendment make Stormfront the ideal destination for white supremacists living in countries where their ideology is legally suppressed. Stormfront is not just a hangout for American white supremacists, it is a hub that brings together white nationalists from around the world.
"White supremacists don't see themselves as members of countries, but members of a white tribe," Heidi Beirich, the head of the SPLC's Intelligence Project, told BuzzFeed News. "That's the ideology that they're pushing."
Stormfront makes recent traffic data public, and even those limited numbers are revealing. More than 40% of the site's traffic over the past three months comes from outside the U.S., including 10% from the United Kingdom. That, according to Black, is low; he told BuzzFeed News that foreign traffic has hovered around half of the total since he started using Google Analytics five years ago. And the city that sent the most visitors to Stormfront in that time period isn't Atlanta or Charleston; it's London.
These foreign visitors don't go to Stormfront to read about race war in America, necessarily. Instead, they flock to thriving, country-specific subforums, where they share news reports of violence against white people and lament the decline of white influence. Thriving: Stormfront Britain features some 100,000 threads and nearly a million posts; the Netherlands, 29,000 threads and almost 350,000 posts; Australia, 16,000 threads and 190,000 posts; and Canada, 14,000 threads and 120,000 posts. Serbia, Croatia, South Africa, France, Ireland, Poland, Russia, Hungary, and Spain all have active pages.
Google Trends data shows Americans search for Stormfront proportionally far less than other nations. Since 2005, Serbia, Croatia, and the United Kingdom have showed, proportionally, the most search interest in Stormfront. (The U.S. is ninth by this metric, after New Zealand, showing a third of the level of search interest as Serbia.)
There, according to the SPLC, white nationalists from different countries share ideas and recruitment tactics. One notable example: the "Mantra," a 2006 dispatch by the American white supremacist Bob Whitaker that warns of a "White Genocide," infamously equates "anti-racism" with "anti-whiteness" and has grown enormously popular on the white nationalist internet. According to Heidi Beirich, the "Mantra" has spread over the internet to become popular in other countries, including the Scandinavian nations. (Anders Breivik, the white supremacist terrorist who murdered 77 Norweigans in 2011, was a poster on Stormfront.)
In a phone interview, Black told BuzzFeed News that the global exchange of ideas is part of Stormfront's mission: "It's an international struggle, of course. We're fighting for the survival of our people. We're suffering from genocide. Our numbers are declining worldwide. We have no white countries anymore."
Stormfront has had an international presence from the very beginning. The site launched in 1995 with Spanish- and German-language sections; within a month or two, with Black's permission, Russian readers had set up a mirror, Stormfront.ru.
America's robust speech protections are one of the major reasons foreign white nationalists — particularly those in Western Europe — came to Stormfront in such numbers. According to Black, who lives in Florida, it's simply too risky for like-minded parties in those countries to set up their own sites. In 2002, Black shuttered the Stormfront auf Deutsch subforum because there were so many undercover German police accounts that he felt the moderators were in legal danger. And in 2012, Italian police arrested four moderators of that country's Stormfront affiliate and shut down the site.
In the U.S., strict enforcement of Stormfront's first guideline for posting ("DO NOT advocate or suggest any activity which is illegal under U.S. law") helps keep the site on the right side of the law. Indeed, Stormfront is enabled by active moderation. To a certain degree, that holds true in the foreign boards. In administrative forums, international moderators discuss users who come too close to violating the guidelines for posting, as well as conflicts that invariably arise among posters from different countries (recently, Russian and Ukrainian Stormfront posters have clashed).
But ensuring that these subforums don't encourage violence is a particularly difficult task when they are written in more obscure languages. The SPLC singled out the South Africa subforum, written in Afrikaans, as a particularly hateful one. Black says that Stormfront has "had a few problems" with the Afrikaans forum, and that he doesn't know the current moderator.
"We don't necessarily know what's going on in these forums," he said.
Black told BuzzFeed that this lack of control led him to consider making Stormfront an all-English website, but that he decided against it. It's a risk, one that causes Black to worry, paradoxically, about the same thing as the SPLC: lone wolf killers who may use the site.
"Our enemies try to use this," Black said. "But there's nothing we can do about that except prohibit the discussion of illegal violence."
That, right now, appears to be the main conflict for Stormfront: how to spread the idea of white nationalism throughout the world while staying within the letter of American law. The next Dylann Roof may not live in the South, or in the United States at all.