The Games Of The Future Aren't Just Games, They're Billion-Dollar Ecosystems
What Destiny and Microsoft's acquisition of Minecraft say about the future of gaming.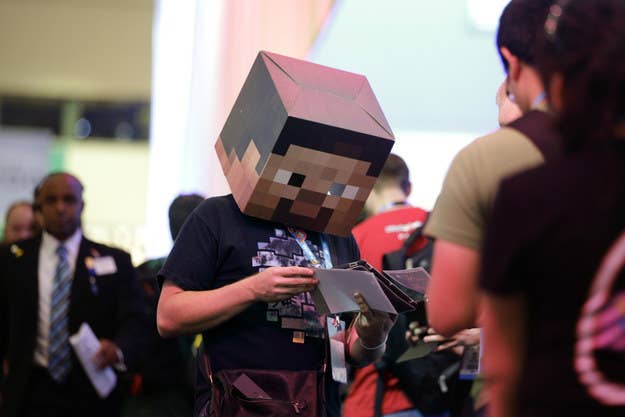 One is a $500 million blockbuster, a sure-thing atom bomb of hype and polish from one of the gaming industry's most powerful and storied studios. It recouped its budget on its first day of sales.
The other is the definitive indie success story, a quirky Swedish side project gone supernova, a game that steadily built a massive following — and massive profits — via word of mouth. It's sold more than 80 million copies.
I'm talking, of course, about the two games dominating the conversation about games this week: Destiny, the first new game in seven years by the creators of the mighty Halo franchise, Bungie; and Minecraft, the digital Lego set made by the Stockholm company Mojang, which sold today to Microsoft for $2.5 billion.
Superficially, these games don't have much in common — besides success. Destiny is a first-person shooter set in space, that hoariest of game types, and looks like, well, 500 million bucks. It may be one of the most visually beautiful games ever made. Minecraft is, let's say, not a looker, but a blocky, pixelated tool kit, the simplicity of which bespeaks its humble origins. And its basic unit of play, building, would seem totally opposed to the basic unit of the guns-and-explosions-heavy Destiny: destruction.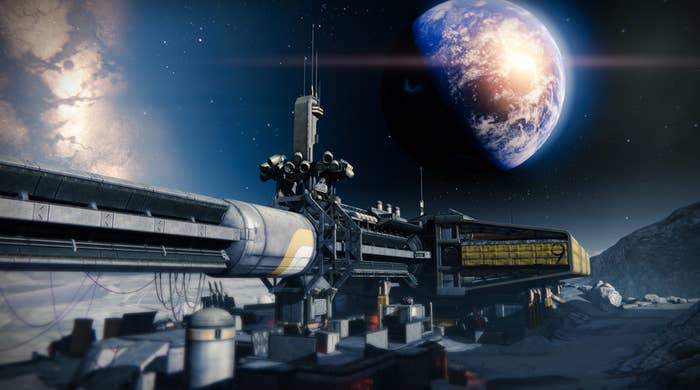 Of course, Microsoft hasn't just bought a company and its game. It's also acquired a vast, organically built, fervently devoted fan culture, one that is dauntingly, beautifully complex. Any given one of the thousands of active Minecraft servers might be best thought of as a kind of social hub, a collaborative science project, or a competitive computer game (and any given one might be all three!). And it's a fan-driven universe that is constantly refining and updating itself, with player-created mods, graphics upgrades, and, crucially, for-sale content packs on the big online stores run by Microsoft and Sony. Minecraft is never finished per se; it's an ongoing service, subscribed to by millions, and whoever owns and distributes it can sell (or give) new features to its subscribers in near perpetuity.
(And look for the conversation about the acquisition to turn into a conversation about player fears that there will be a lot more selling than giving. Minecraft creator Markus "Notch" Persson, in a resignation letter released concurrently with the announcement of the sale, seemed to suggest as much, writing, "I'm not an entrepreneur," and, "It's not about the money.")
For those inclined to scoff at Mojang's price tag, there's precedent, though not in gaming. Paying top dollar for the native audiences in a coveted social ecosystem is the tech business trend of the last few years. Think of Facebook buying Instagram, or Yahoo buying Tumblr. The latter deal, especially, has shades of Microsoft and Mojang, a legacy tech giant grabbing the eyeballs and credibility of a swelling startup.
While Minecraft is bursting with more sheer stuff than any given player could conceivably see in a playing lifetime, the consensus on Destiny, one week after its release, is that it feels a little empty. Critics have groused that the plot is wanting, that the main story isn't long enough, that the multiplayer parties aren't big enough, that the missions are repetitive and so on, and so forth. All of these criticisms are right. They may also be missing the point.
Consider the fact that Bungie has boasted to its publisher, Activision, of a decade-long, Lord of the Rings-sized arc for the game. Consider that they'd announced two expansions to the game before the game was even released. Consider the way the game is laid out, not as a series of sequential levels, but on top of a map of the solar system into which new content can be simply dropped. Consider the endless iterations of gear the game asks you to use. Consider the low cap for character progression, one that could be easily raised. Consider the fact that the game is built on a pitch-perfect shooting mechanic that hasn't gone out of style in 15 years. Consider the frighteningly simple and integrated, one-click way in which the game asks you to purchase a special online membership to access its cooperative multiplayer. Just consider its name! This game is about what is still to come.
Quite simply, Destiny is Bungie's attempt to leverage its expertise as a maker of first-person shooters and its impeccable brand to create a game service. Think of the game itself as the cable box, and the add-ons and skins and expansions as the pay cable channels. While Destiny can't ever approach the order of magnitude of a game like Minecraft (without player-created content, at least), it could, with rigidly controlled microtransactions and new content packs, come close, at least financially. Of course, that's not a sure thing — it's contingent on creating and sustaining a fan culture. Minecraft (and to a lesser extent, the hugely profitable shooter Team Fortress 2, the makers of which, Steam, cleverly take a cut of the sale of every user-created item) has proven that the best way to nurture this kind of culture is to let players build their own content. If Destiny fails to keep the interest of the people who buy it now, it will probably be because it doesn't give players enough of a stake in its universe. That's a tricky thing to do without letting players build their own world, but massively multiplayer games like World of Warcraft and the now insanely popular League of Legends have shown that it can be done, through a steady drip of new content, through player-player interaction, and through world building, or what the gaming industry likes to call "lore." Bungie's biggest challenge for Destiny, in other words, is building a culture that will keep players around between new content. Microsoft's —when it comes to Minecraft — will be restraining its corporate instincts to the extent that it does not threaten the culture that has already been built.
Earlier this month, I wrote about the decreasing role the single-player narrative game — and the idea of the single-player gamer — will play in the culture at large: "Interaction with other people from around the world is the prerequisite to enjoying the gaming that will dominate the next decade."
The future of gaming are services in the style of Minecraft and Destiny, each with their own unique culture, their own balance of content versus cost, and their own unit of play. The kind of game service you subscribe to or pay for incrementally, whether that's a story-based shooter or a block-building sandbox, may eventually say as much about you as whether you pay extra for HBO, or NFL Red Zone, or Netflix Instant, or all three. And as today's acquisition and the phenomenal early success of Destiny show, those services will be offered by some of the biggest publishers in the world.