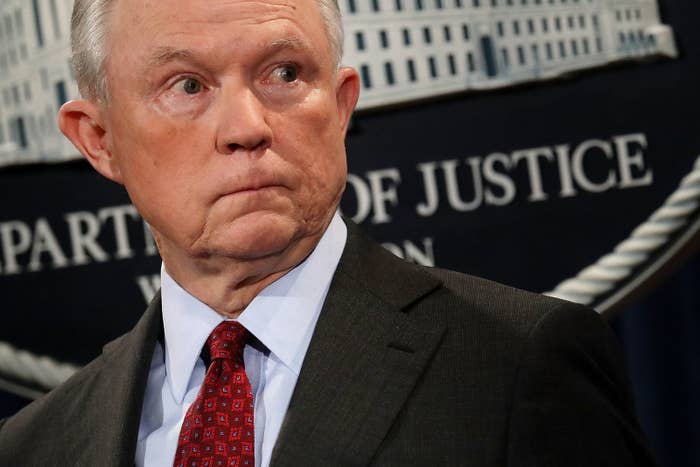 Digital marketplace AlphaBay was, at its height, host to hundreds of thousands of listings for illegal drugs, making it 10 times the size of the infamous Silk Road marketplace.
Now, the largest darknet marketplace in history is no more.
The Department of Justice announced the shutdown and seizure of AlphaBay on Thursday, the culmination of a joint operation with a half dozen other nations that Attorney General Jeff Sessions called "one of the most important criminal investigations of this year."
Hosted on the darknet — a hidden network of sites only accessible through software that anonymizes traffic — AlphaBay facilitated the sale, in addition to drugs, of fake IDs, malware, hacking tools, firearms, and toxic chemicals. These purchases were all made with cryptocurrencies such as bitcoin and ethereum. According to a DOJ press release, the site was also used to launder hundreds of millions of dollars in profits from sales made on AlphaBay.
AlphaBay creator Alexandre Cazes was indicted on June 1 in the Eastern District of California on racketeering, narcotics, money laundering, and other charges related to the creation and administration of the marketplace. A civil forfeiture filed against Cazes' assets includes documentation which estimated his net worth at over $23 million dollars. Those assets included luxury cars, millions of dollars in cryptocurrency, and real estate in Cyprus and Thailand, where he was arrested by Thai authorities on behalf of the US government on July 5. Authorities were able to seize millions of dollars of Cazes' cryptocurrency holdings, according to the DOJ.
On July 12, Cazes, who was Canadian, was found dead in the Bangkok prison where he was awaiting extradition, in an apparent suicide.
Cazes' isn't the only death linked to AlphaBay. Per DOJ materials, numerous overdose deaths around the country have been linked to opioids purchased on the marketplace.
"Transnational organized crime poses a serious threat to our national and economic security," said FBI Acting Director Andrew McCabe. "Whether they operate in broad daylight or on the dark net, we will never stop working to find and stop these criminal syndicates."