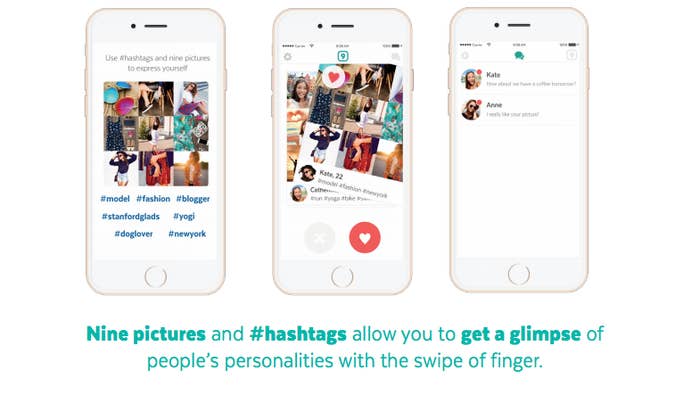 UPDATE
Nine founder Yusuke Matsumura told BuzzFeed News that the original email sign-up prompt included language that designated the forthcoming service as a match-making app: "Match with other Instagrammers using your BEST NINE!"
Over the last nine days of 2015, 15 million Instagram users posted a Brady Bunch–like grid of nine images under the hashtag #2015bestnine. They did so using 2015bestnine.com, an austere website that automatically compiled the nine most-liked posts of the year.

It seemed like a one-off, except for one detail: an email prompt to pre-register for a mysterious forthcoming "match-making" service:
One hundred thirty thousand people signed up. And those 130,000 people are now the inaugural members of Nine, a "dating app that matches people through picture collages on Instagram."
Yes, last year's final social media craze was a Trojan horse for a dating app.
The app — and the hashtag — is the brainchild of Yusuke Matsumura and Mai Sekiguchi, the co-founders of Lip, a Japanese app company. Matsumura started thinking of building a dating app in 2014 while attending Tradecraft, a startup training program in San Francisco.
"During my stay, I was surprised to see that many people were "swiping faces" on apps," he said in an email. "At the time, this was somewhat of a rare thing to see in Japan. I quickly downloaded as many apps as I could and started swiping. At first, matching with someone was an exciting experience, but I soon learned that the thrill died when nobody actually started talking. Because really, what do we know about those people? Nothing."

After moving back to Japan, Matsumura, with the help of Sekiguchi, decided that Instagram, which is hugely popular in that country, was the shortcut to a dating app that "focused on one's inner self and personality."
Shortly thereafter, the two co-founders decided that the 2015bestnine.com site was the best way to get the idea of the app into people's heads. That nine-image collage? The app's standard profile.
Nine, which launched in the App Store today, may or may not succeed, but it already has one highly differentiating factor from its competitors like Tinder and Match: 76% of the 130,000 early sign-ups for the app were women. Of perhaps equal interest to advertisers will be the fact that users between 18 and 24 were the largest age group, and that New York and Los Angeles were the two best-represented locations.
And all it took was some clever thinking, a little bit of mystery, and a pinch of misdirection. As anyone who has dated online can tell you, those three things go a long way.